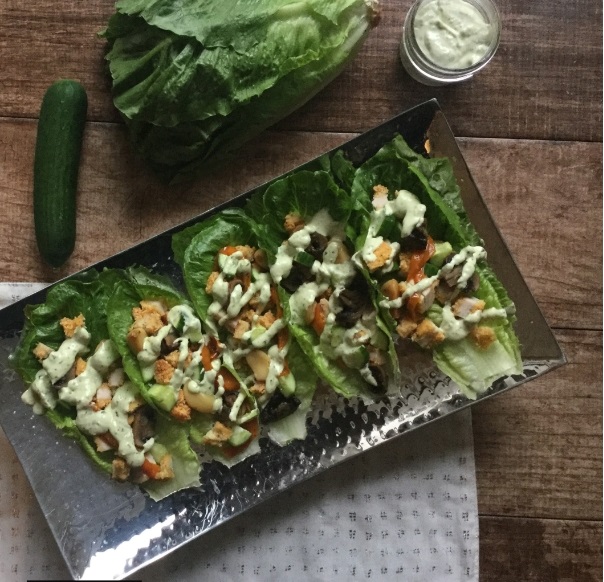 Adina Yaakov
Tired of the same chicken salad? Shake things up a bit with this savory dish that can be eaten sans cutlery. Chicken lettuce wraps are super easy and makes a surprisingly quick and healthy weeknight meal. If you can't find mini romaine hearts, you could also use long leaves of romaine, cut in halves. Bibb or butter lettuce leaves work well too.
Ingredients:
2 lbs thin chicken cutlets
2 cups corn flake crumbs
2 tsp garlic salt
2 tbsp sesame seeds
1 cup canola oil
Mini romaine hearts, cleaned and dried
1 head garlic, skins removed off each clove
2 bell peppers, washed and sliced into strips
8 mushrooms, sliced
1 tsp salt
¼ tsp black pepper
2 tbsp olive oil
Dressing:
1 cup parsley, washed
2 tbsp olive oil
1 cup light mayo
1 tbsp mustard
3 cloves minced garlic
1 tbsp salt
¼ cup lemon juice
1 tsp Worcestershire sauce
2 tbsp honey or 1 packet artificial sweetener
Directions:
Prepare two baking trays lined with foil. Set aside.
Use two medium-sized bowls to prep chicken. Place sesame seeds, cornflakes crumbs, and garlic salt in one bowl and stir until combined. Place canola oil in the other bowl.
Dip chicken cutlets one by one first into oil and then into cornflake crumb mixture and then place onto lined baking tray.
Bake uncovered at 325 degree for 45 minutes. When cooled, dice baked into cubes. Set aside.
In the other lined baking tray, add garlic, mushrooms, and pepper strips. Toss lightly with olive oil, salt, and pepper. Bake at 350 degrees for 45 minutes.
In the bowl of a food processor or blender, combine all dressing ingredients. Blend until smooth.
Place cubed chicken in each lettuce cup. Top with grilled vegetables. Drizzle dressing and serve immediately.
Recipe, Photo, and Styling By Adina Yaakov Dietetic Intern and Recipe Developer.
For more recipes follow @OnceUponAThyme__ on Instagram