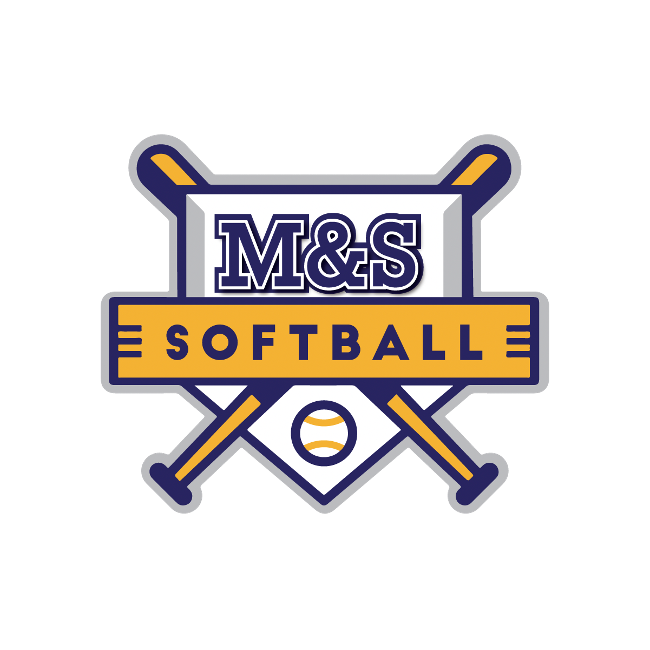 The M&S Softball League is about midway through the 2020 season and the playoff picture is starting to get clearer. Almost all seven teams feel they have what it takes to hoist the M&S Cup this season and things are starting to get really interesting!
Who to Watch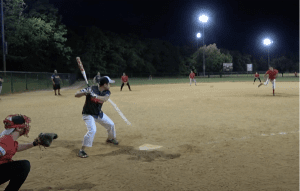 At the top of the standing is WWG1WGA – run by Teddy Ishak and Sammy Esses – who started the season pushing all the right buttons and are an impressive 6-2. This team is extremely talented. Anchored by a star-studded outfield featuring former league MVP Michael Cohen, Aharon Cohen, and break out star Alan Jemal. The team also features a rock solid infield manned by Sammy Esses, TI, stud Yanky Gutman, and David Harary. But this team does have some question marks come playoff time. As currently constituted, this team throws out two starting pitchers on game day. Yaakob Seruya starts the first game and then hands the ball to the rising young gun Eddie Harari for the second game. Will they keep up the two-headed monster approach?
Now here is where it gets interesting. Currently there is a tie for 2nd place at 5-3.
Spindrift, led by Steven J Gindi, is a team built on discipline and fundamentals. Spindrift is paced by the SJG and Joe S combo, but Joey Cohen on the mound has been the story of that team. In his first year in the league, Joey is pitching like a battle-tested veteran. Joey is, of course, the son of softball legend Abe Cohen, and was taken with a premium pick in the 2020 draft.
Two-time reigning Cy Young Max Yedid leads the G.O.A.T. organization, which features star shortstop Jon Eliezer and a great supporting cast, such as 2019 batting champ Nathan Kushner, Juber, and Butchy Cohen. The one question mark is the team's back end of the lineup, but so far so good, they have been producing and have been clutch.
At 4-4, the Punishers, led by captain extraordinaire Michael Melech Solomon, are feeling good about themselves. After starting the season in a hole, they have dug their way out and have been enjoying great pitching by Ralph Hanan paired with slugging by Saul Cohen, Archie Eichorn, and Shimi Cohen. This team plays with confidence and is extremely dangerous. The one bugaboo with this squad is they are not fleet of foot, which can be a problem come playoff time.
Anything Is Possible! Watch for These Teams, Too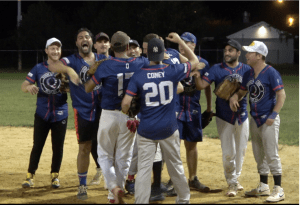 Currently 5th in the standings, Michael Sabon Salomon's Supreme has a record of 3-3 due to an unbalanced schedule. It's way too early to make any assessments but any team with Abe Saka on the mound will be in the heart of the chase for the cup. Supreme's deep lineup makes them dangerous. Featured players are Natan Safdieh in CF, reigning MVP JoJo Seruya at SS, along with a strong supporting cast.
Currently at 2-6 Jimmy Malack's Fauda are scoreboard watching. This team on paper was one of the preseason favorites. A lineup featuring first ballot hall of famer Allie Marshal, Five Towns legend Yanky Itzkowits, Jimmy, and more. Unfortunately, this team has not played crisp ball but if they finish out strong, anything is possible.
In the cellar the Joe Greenberg-led Blue Moon is 1-5 and has been playing without Joe, who injured himself early on. This team has talent. Zack Ashkenazi dominates the shortstop position, Ike Mavorah continues to mash, and Mokass is playing an exceptional right field.  The injury to Joe has hampered the team, but Greeny will be back as soon as next week just in time for the stretch run.
League Sponsors
M&S would like to acknowledge their league sponsors, The Sephardic Food Fund, who does amazing things on a daily basis, and American Friends of Ariel University.
M&S now in its 13th year is firing on all cylinders. Each game is streamed live on Youtube. You can also catch all the highlights via their extremely popular Instagram @MandS_Baseball and website www.MandSBaseball.com.