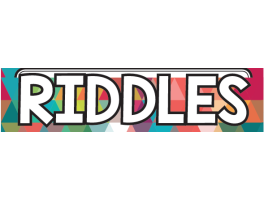 Riddle: Cats & Dogs
SUBMITTED BY NANCY H.
Fido is staring only at Jamie, but Jamie is staring only at Felix. Fido is a dog and Felix is a cat. Jamie is either a cat or a dog, but you don't know which. Given just this information, is a dog looking at a cat – or are you unable to know for sure?
Previous Month's Riddle: A Numbers Game
What number comes next in each of these four mathematical sequences?
A) 6 9 12 15 18 ____
B) 29 25 21 17 13 ____
C) 2 4 8 16 32 ____
D) 13 17 19 23 29 ____
Solution:
A) 21 – multiples of 3
B) 9 – subtract 4 at each step
C) 64 – multiply by 2 each step
D) 31 – prime numbers in increasing order
Solved by: Meir Nakach, Mr. Lacher, S. Levy, David Weiss, Berta Kassab, Mazie Betesh, Morris Kabani, Big Mike, and The Dweck Family.
Junior Riddle: At The Market
SUBMITTED BY SION D.
The grocery store is charging the prices listed below for milk, juice, cheese, and butter. Your aunt buys one of each, plus spends an additional $7.50 on other products. In her purse, she has several $1, $2, $5, and $10 bills. What is
the least number of bills your aunt can use to pay for her groceries? (She does not have any coins.)
Milk: $2.25 / Juice: $2.75 / Cheese: $1.50 / Butter: $3.50
Previous Month's Junior Riddle: Crack The Code
Each letter in the cryptogram below has been replaced by the letter that comes immediately after it in the alphabet. For example, B has replaced A, C has replaced B, and so on throughout the entire alphabet. Can you figure out the message below?
Dpohsbuvmbujpot po efdpejoh uijt tfdsfu nfttbhf. Zpv bsf b nbtufs tpmwfs!
Solution: Congratulations on decoding this secret message. You are a master solver!
Solved by: Meir Nakach, Moshe L., Abie Cohen, Raymond Dabbah, David Weiss, Berta Kassab, The Shmulster, Eliyahu Cohen, Lenore H., and Alice P.