"We always saw it as food being 'culinary diplomacy,' a way of bridging cultures, a way of getting to know each other, because your food is your identity."
DAVE GORDON
As the lone kosher food provider in the United Arab Emirates, Elli Kriel used to deliver about a dozen or so meals a month to businessmen and travelers passing through.
Two major events happened that changed her small upstart boutique catering business, into a giant one, now globally recognized.
For one, the UAE government proclaimed 2019 "The Year of Tolerance," a breakthrough for interfaith and religious relations. It meant that the 1,500 or so Jews believed to be living in the UAE were recognized as an "official" part of the country's cultural fabric.
Towards the second half of 2020, the UAE was the first country to sign the Abraham Accords, the deal that normalized ties with Israel. This spurred some 130,000 Israelis to visit UAE. And as it happened, many sought homemade kosher meals, which Elli provided.
Today, Elli's business flourishes. Demand for her kosher delicacies has skyrocketed, to the tune of 15,000 meals produced in the past 12 months. Elli's UAE-based kosher food has attracted global attention, including articles by Thomas Friedman in the New York Times, among others, who marveled at Elli's trailblazing kosher business in a formerly quite unlikely place.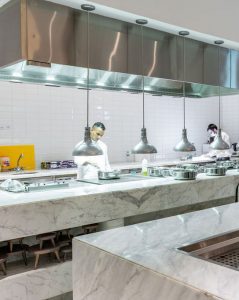 In the Beginning
Ross and Elli Kriel and their three children moved from South Africa to Dubai in August, 2013. A major hurdle was figuring out how to create a Jewish life for the family in a place where there was almost none before. They managed to cobble together a regular minyan in their living room, and while they never hid their Judaism, they did not flaunt it either.
"We never really spoke about our Jewish identity publicly. We were very quiet about it. So, if people would ask us about our religion, we would tell them. And if people wanted to know why we couldn't go out on a Friday night, or why my children couldn't come to birthday party on Saturday morning, we would say why, and we never experienced any negativity. We always experienced, 'Oh, you're Jewish. My friends back in New York, or my friends back in Toronto, or my friends back in Montreal, or my neighbor was Jewish.'"
Today there are two synagogue buildings and two kosher restaurants in UAE, but when they arrived, the Kriels were the only kosher family they knew of in the city. As word got out there was a family who kept kosher living in Dubai, Elli began to receive requests from travelers to provide kosher meals.
"They obviously bring crackers and tuna, and maybe some vacuum-packed meats and whatever else. But you know, people needed food. So, they would contact us, and ask us to help them with food, and my husband would say, 'Don't worry, my wife will help you,' and off, I would send some food."
Originally a sociologist and an academic, Elli became a de facto caterer virtually overnight. "And that just grew over time."
By November 2019, Elli's business had blossomed to the point where she was able to attend the New Jersey-based Kosherfest – the world's largest kosher industry convention – to showcase her catering company, Elli's Kosher Kitchen.
The Catering Business Takes Off
Elli's first official foray into large scale catering was for a conference in Abu Dhabi, where a group of rabbis were gathering. Some hotels made inquiries, too. "Requests were getting bigger and bigger, and this turned into something that was enough to be a business," she recalled. "I was working with two people at home. We were constantly on our feet, sending packages and packages of food around the city daily."
The Abraham Accords caused an influx of diplomatic missions, President Donald Trump's son-in-law and adviser Jared Kushner, and Israeli leaders, on their visits to the UAE. Elli's food was in high demand during the normalization deal.
"It was amazing. But not only that, also just an honor, really, being this homegrown business, in the UAE. I was representing the government of the UAE in welcoming Israelis," Elli recalls.
"Everyone was shocked at how sudden this was. That automatically put a massive focus on my business."
Hotels, Israeli tour groups, and government offices in UAE contacted Elli, having realized a need to provide kosher food. December began the wave of 130,000 Israeli visitors. "My business just sort of skyrocketed."
Her deliveries "went crazy" and to keep up with demand Elli had to close the delivery section down for two weeks. To fill the slack, she opened a popup restaurant, inviting people to come eat, rather than sending off parcels.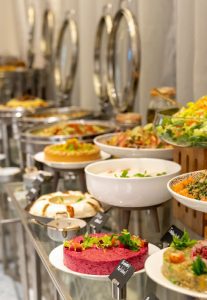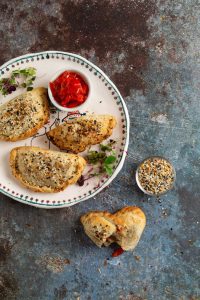 Food Featuring the Best of Both Worlds
Elli realized that she could combine Emirati cuisine with Jewish cuisine and she developed a hybrid menu for customers to enjoy the best of both worlds.
"Customers don't necessarily want to eat gefilte fish and latkes every day. They want to try something with a local flavor. I want to make it familiar to them, and blend things, to come up with something new, and to give them access to Emirate food."
Elli dubbed the fusion cuisine Kosherati. "If you look at Jewish cuisine around the world, it reflects the local environment. You have all these influences. So, you know, Ashkenazi food in the U.S. is going to be different from Sephardic foods coming from Morocco," she noted.
"Because the UAE doesn't have any real direct history with the Jewish community or Jewish individuals and Jewish culture, I thought that if we are going to start developing Jewish foods in the UAE, it should take on the flavor of the environment. And that's how Kosherati came about."
Food as a Vehicle for Sharing Cultures
This culinary fusion had been a work in progress for some time. It grew out of Elli's desire to experience Emirati culture through food.
"I couldn't just eat the local food because I needed to keep kosher. So, I started making it myself, looking at recipe books," Elli noted. It was difficult to find recipe books for Emirati food in English, however, but one of two she discovered was written by the German ambassador's wife, who had interviewed a number of Emirati women, who offered their traditional recipes.
"So, this resonated with me, because I was also using my own home-cooked recipes, both Jewish and international."
Prior to the "normalization" with Israel, Elli befriended a local Emirati woman, Mai Al Budy, who ordered fela from Elli. They found common ground and met regularly for coffee, eventually gravitating to discussions of food and to sharing recipes.
"We always saw it as food being 'culinary diplomacy,' a way of bridging cultures, a way of getting to know each other, because your food is your identity. Basically, it reflects your history, reflects where you come from, it reflects where you are today, it reflects your social status and life," Elli says.
"By presenting one's food to another culture, you get to know their culture intimately; you get to know the identity of each other. This was a way of building a friendship. And we were hoping that it would be a way that others could also, through our food, come to experience each other positively."
Today, Elli blends (and sells) her own Emirati spices, including one called bazaar. She also cooks an Emirati pancake called chebab, made with saffron and cardamom. The pancake is folded, and then eaten with date syrup or labneh. Elli has dubbed it her version of "Emirati blintzes." Another fusion creation is balaleet kugel, cooked with sugar and saffron, made with vermicelli and eggs, with an omelette on top. Her gefilte fish is made with local spices.
Much to her surprise, many Emiratis who had studied or traveled to the U.S. had discovered Jewish foods and came to Elli with their wish lists of Jewish cuisine. They enjoy her traditional rugelach, kugel, babka, latkes, matzo ball soup, and Israeli dishes.
"People just went crazy here for it, locals and residents, and it was what I described as 'nostalgia eating.' Sitting in their homes, wanting something of comfort," Elli says. "I had an overwhelmingly positive response."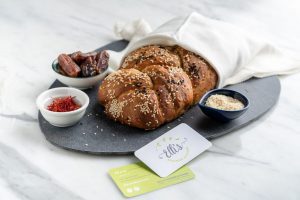 Elli's Business Explodes
In recent months, Marriott Hotels franchised Elli's business in Abu Dhabi, invested in the business, and opened a production kitchen, the main distribution center for products in and around the UAE. There, Elli caters for 70 hotels.
This past Passover, Elli partnered with V Hotel Dubai by Curio Collection, where she and her team cooked daily meals for kashrut observant guests staying at Habtoor Palace Dubai, LXR Hotels & Resorts, V Hotel Dubai by Curio Collection, and Hilton Dubai Al Habtoor City. Food products were shipped from
the U.S. and Israel, and were prepared by local chefs, as well as chefs from Egypt, Syria, India, and Nepal, overseen by a mashgiah from Iran.
The menus featured local cuisine, such as Arabic sausages, molehea (a local vegetable similar to spinach) cooked with chicken, bamriya (okra with tomato sauce), Arabic salads, as well as dishes made with rosewater and pomegranate molasses.
This month, Elli will be providing supermarket-ready pre-packaged foods and will be providing sandwiches to a local coffee chain, three airports, the mall of Emirates, and the touristy Dubai Mall.
"It's an exciting time, and I think it's going to get more exciting," Elli says.
"I'm so thrilled with the way the business has grown over time, and the acknowledgement I've received from people in the UAE and from around the world who have eaten my food."