The U.S. Congress is often a place of such strife, such acrimony and enmity, but for a small chunk of time last month, it was a place of tremendous kiddush Hashem and achdut!
Who would have believed that the millions of people watching C-Span would hear words of the deepest praise and value for limud haTorah from the podium in Congress?! Who would have believed that a prominent congressman would get up and hail Torah education and limud haTorah as very important American values while expressing appreciation that there are lomdei Torah throughout the country devoting their time to learning Jewish texts of Torah?
That is exactly what happened last month when Congressman Don Bacon, a representative of the 2nd District of Nebraska, took the floor last month and made an unprecedented speech. Certainly, there has never been a time when the walls of Congress heard such praise for the ideal of limud haTorah and of learning Jewish texts. Indeed, the congressman told the august body that advancing Jewish scholarship and learning is what should be done in the face of evil.
Mr. Bacon's unique remarks on the floor of Congress came in the aftermath of a seminal meeting between Rav Dovid Hofstedter and the congressman last month. At that meeting, Mr. Bacon, who had somehow heard about the Dirshu World Siyum held last year in Newark's Prudential Center, expressed his admiration over the fact that such a massive public gathering was held to praise engagement in Torah scholarship and the moral lifestyle promoted by the Torah.
When Rav Hofstedter asked the congressman whether gatherings such as these should perhaps be minimized because of potential anti-Semitism, Congressman. Bacon replied, "No! The world needs to see how your community studies and embodies the uprightness and morality reflected in the Jewish texts that you study."
Torah Umesorah's Shabbat of Chinuch for Jersey Shore Community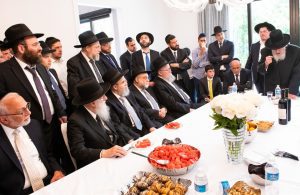 It's been two years since the first Shabbat of Chinuch, held for Jersey Shore's Syrian Jewish community. While COVID closed down such Torah Umesorah events, now, with the cloud lifting, both Torah Umesorah and the community jumped right in.
Setting the tone was a Friday kabalat panim, welcoming rashei yeshivot who came from abroad as well as the community rabbanim. It was hosted by Mr. and Mrs. Danny Srour and chaired by Rabbi David Ozeri.
The grand finale, following a uniquely uplifting Shabbat was a melava malka in the home of Rabbi Meyer Yedid, held in conjunction with a siyum HaShas for the hilula of Rav Yedid's father, Hacham Yom Tov Yedid, zt"l, last Chief Rabbi of Aleppo. A moving statement made there by Rabbi Frand, he stated, "If it were not for Torah Umesorah, I would not be here today!"
Torah Umesorah, in tandem with the mesirut nefesh of the local community, have created a beautiful tapestry of chinuch. It comes as no surprise, then, that next year's Shabbat of Chinuch is already in the planning stages.
Deal Welcomes Camp Simcha Without Borders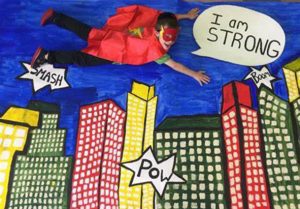 Following the success of last year's inaugural season, Camp Simcha Without Borders will be back in Deal for another incredible summer. Launched in 2020 during the COVID-19 pandemic, Camp Simcha Without Borders was developed to safely bring the magic of Camp Simcha, Chai Lifeline's flagship summer program for children with life-threatening and lifelong illnesses, to communities across the country. Camp Simcha Without Borders operates day camps and hosts special events in all of Chai Lifeline regions across the country.
Camp Simcha Without Borders girls session ran on July 6th. The boys session will take place on August 3rd. The girls session was generously hosted by community members Ricky and Jamie Cohen and the boys session will be hosted by Jeff and Rachel Sutton.
"To provide a moment of joy in anyone's life is something that is incumbent upon each of us" said Ricky Cohen. "To do so with children in pain is what the Borei Olam wants and expects."
Chai Lifeline is an international children's health support network providing social, emotional, and financial assistance to children with life-threatening or lifelong illnesses and to their families. To learn more, visit www.chailifeline.org.