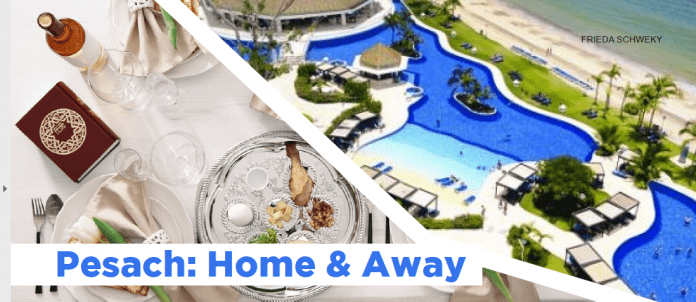 Our community has rich traditions, and this especially applies to Pesach and the seder. In recent years, many families have opted to pack up for Pesach and observe it in a different setting altogether. Rather than detail cleaning their homes and spending days cooking and inviting lots of guests, some sign up for Pesach programs in warmer locations and enjoy fun itineraries and catered meals. I have only experienced Pesach at home with my family (lots and lots of family). The last two years, of course, looked different. It was just my immediate family for 2020 and 2021. It looks like we will be able to spend this coming Pesach with all the family again, and I look forward to it. The traditions run through all of us so deeply. Although it sounds awesome to go away and I'd jump on the opportunity if presented, I can't imagine not being home for such a holiday. To me, going away sounds fun but I would feel like I was taking a shortcut. Although my family and I could probably keep our same traditions somewhere else that might be more fun, my feeling is that but I would feel nostalgic for home! Let's hear from other community members about what they think.
Raquel Vogel
I enjoy being home for Pesach, I get to do the seder with all my husband's minhagim and with family. It's really a beautiful thing. Although I will say, it takes a lot of effort compared to the alternative. The truth is it takes some effort to go on a trip as well. You have to make sure each family member has outfits for every day and night because you can't rely on washing machines while away. It all adds up, the shopping the lists and the organizing, but once you get there and the holiday starts, you're able to relax. I feel the holiday spirit more at home because that's pretty much all there is to focus on. When you're away it's easy to focus more on the vacation aspect, and sometimes you can almost forget it's Pesach! Especially now with all the incredible kosher for Pesach food options.
Julie Dayon
There are pros and cons to both going away and staying home for Pesach. A Pesach program away is enjoyable because it's basically around-the-clock catered food service with dining rooms and tea rooms, etc. There's usually nice weather and activities for the kids, which we all appreciate. However, the downside is that you don't really feel like it's a holiday, and that's a shame because it is such a significant holiday. Also, you've got to do a lot of clothing shopping
to keep up as prep for a trip like that. On the other hand, staying home comes with all of the hard work cleaning and preparing. But when the holiday comes it's rewarding and enjoyable. You get to be with lots of family and extended family and enjoy home-cooked meals and an intimate seder.
Audrey Sutton
Going away on a Pesach program can create an everlasting connection between community members. While we're all living amongst each other in our communities in Brooklyn and Deal, sometimes it takes a little get-away for us to really feel a connection. A Pesach program can be an amazing opportunity to meet others, and you connect with them because you are sharing such a special time. And sharing the Pesach seders with fellow Jews helps enhance the full experience of Pesach.
Sarah Bahary
I've only stayed home for Pesach, and I've been making the seder since my second year of marriage! It is a lot of work. It takes a lot of organization and preparing in advance. Lists are how I survive! But there is no better feeling than sitting around the seder table with your family knowing you made it happen. It is very special and somehow makes all the work worth it.
Shelly Srour
I've been on a few Pesach trips and I always loved it! I felt the holiday a lot and it was fun just being with family and a lot of people, and even meeting new people. And of course it's a huge blessing to enjoy being in a location with nice weather. Plus, during hol hamoed, if you're in a cool place you can tour around!
Miriam Sabzehroo
The best part of staying home is having family around my table for the holiday; We can talk and laugh and enjoy our traditions. Otherwise, if we all went on trips we wouldn't see each other. We like testing out all the new Pesach food products that came out that year, as well as enjoying certain holiday staples. I always have to buy, for example, Bazooka bubble gum, marshmallows for roasting on the stove top, and chocolate spread for matzah in the morning. These are things I've been buying for years and they just became nostalgic to the holiday. Also, breakfasts on Pesach we particularly enjoy. Cousins and aunts and uncles walk over (my house is really where the majority of the holiday takes place) . I serve coffee and various desserts and cheeses as well as spreads and mazza, and sometimes someone offers to cook everyone's eggs. Another tradition we all look forward to is erev Pesach, after burning the hametz but before we can eat matzah, my mother makes a huge pot of carrot rice for anyone to enjoy who is cooking in the kitchen or just stopping in to drop off supplies and groceries for the hag. This holiday and its food are really
such childhood staples for my children, nieces, and nephews, and I just feel as though for Pesach, home is where the heart is.
Leah Nachmani
I don't go away somewhere warmer for Pesach. To me being away doesn't feel like a holiday and Pesach is a very serious holiday. We enjoy being at home with extended family. I live in Deal and I pick up my house each year and go to my mother in Brooklyn. Ordinarily I wouldn't clean my house specially for the holiday, I'd just close it off and go to my mom until it ended. Ever since 2020 when I was forced to do it all on my own, I realized it's really not so difficult to clean for Pesach and we enjoy being home, so I've been cleaning it and coming back home for hol hamoed. We enjoy things that I make yearly such as chocolate covered matzah nougat and homemade charoset. This year I'll actually be selling limited amounts of my charoset. Point is, I am all for staying home for the holidays. That's where it feels like a holiday and also like childhood. I've been doing it all my life and don't intend on changing that anytime soon.
Laila Cohen
What's nice about going on a Pesach program is that it's a vacation that's something different. The kids have fun, you don't have to clean your house or make any food, and you meet new people! Some cons are you're not going to your regular shul, (if you're not going with your family) you're not with your extended family. Also, some people tell me that when they go away they don't feel like it's Pesach. These programs have so much of a variety of different foods so they don't even miss bread. Another con may be that you or your kids don't like the food on the trip, and it's very expensive.
In conclusion, there is no right or wrong when it comes to going away or staying home for Pesach. I have been reminiscing about Pesach's past, and I cannot wait to see my family for hag and to eat the delicious home-cooked meals everyone has to offer. I'm hoping I'll be able to coast as I have done in previous years – only cleaning and leaving the cooking and the hosting to the pros. With Covid entering our rear-view mirrors, a more wholesome and nostalgic family- filled Pesach is what I'm looking forward to!
Happy and healthy holidays everyone! And safe travels!