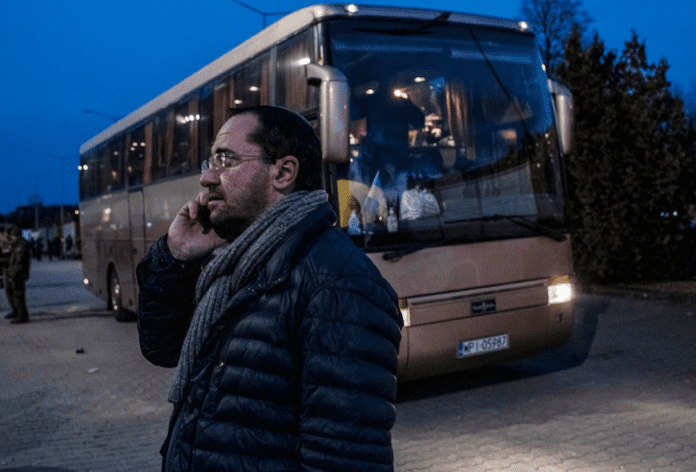 As the devastating Russian conflict rages on, Ukraine's most vulnerable Jews are in distress and humanitarian needs are continuing to soar. With one of the world's largest Jewish populations, Ukraine is home to many elderly Jews, including thousands of Holocaust survivors.
The Sephardic Heritage Museum (SHM), together with its global partner agencies, is providing support to help protect the more than 200,000 Jews living in Ukraine.
Last month, the SHM held an emergency meeting to raise funds for Ukrainian Jews living under the cloud of war and to coordinate assistance for those affected. The meeting, chaired by Mr. Harry Adjmi and coordinated by Rabbi Raymond Sultan and SHM's chairman Mr. Joseph Sitt, brought together over one hundred people, both in-person and via Zoom.
The attendees were addressed by Rabbi and Mrs. Moshe Moskowitz of Kharkiv and Rabbi Moshe Fhima of Pinsk, Belarus, who underlined the overwhelming need for help, and the dire straits of the Jews still in Ukraine.
The project, called The Ukraine Rescue Mission, raised close to $3 million in its first week. This funding has directly helped to rescue and evacuate over 5,000 people from Ukraine into the safety of neighboring countries.
Ongoing support to The Ukraine Rescue Mission is needed to enable SHM to fulfill their mission of evacuating Ukrainian Jews as well as sending funds for those trapped in shelters and synagogues to purchase food, diapers, necessities, and medications from local stores.
Support SHM's efforts to aid our
Brethren in Ukraine!
To donate funds via credit card go to: Donate – Sephardic Heritage Museum
To find out how to get involved, contact Rabbi Raymond Sultan at: rsultan@theshm.com