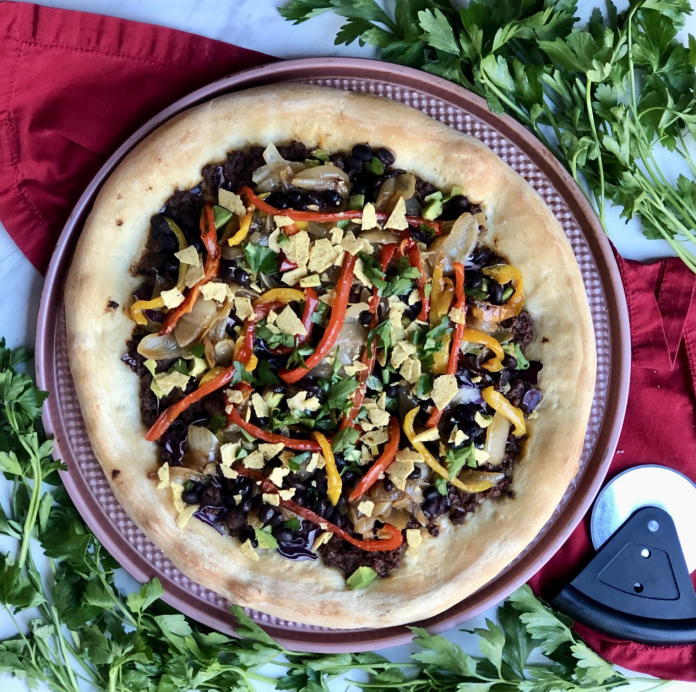 Pizza is the perfect food. It can be eaten without cutlery and appeals to people of all ages. Virtually any flavor combination can be translated into a pizza form. Although the thought of pizza tends to invoke cheese and tomato sauce vibes, meat pizzas are equally delicious. This taco style pizza is a great weeknight dinner idea or can work as a superb Shabbat meal appetizer as well.  
Ingredients: 
2 large onions, cut lengthwise  
1 tbsp canola oil  
1 lb ground beef  
1 packet taco seasoning  
1 tsp salt 
3 tbsp tomato paste  
1 package of frozen store-bought pizza dough, thawed 
½ red bell pepper, sliced into strips 
½ yellow bell pepper, sliced into strips  
1 clove fresh garlic, minced  
1 tsp olive oil 1 avocado, cubed 
1 cup black beans  
1 hard taco shell or 1 cup tortilla chips 
½ cup fresh parsley 
Preheat oven to 350 degrees Fahrenheit.

In a large pan, sauté onions in canola oil until golden. Remove half for pizza topping.

Add ground beef to half the onions in the pot and cook on a medium flame until browned. Use a potato masher or fork to break up beef into small pieces. 

Add tomato paste, salt, and taco seasoning to the pan and cover to cook, about 20 more minutes.

Stretch or roll out room temperature pizza dough until thin.

Spread the ground beef evenly on the raw pizza dough. 

Bake pizza uncovered for 10-15 minutes until the bottom is crisp and lightly golden.

Place pepper strips in a separate pan with olive oil, minced garlic, and salt to taste. Bake for 15 minutes. 

Top with reserved onions, roasted peppers, black beans, and avocado. 

1 Top with crumbled taco shell or tortilla chips, and fresh parsley.