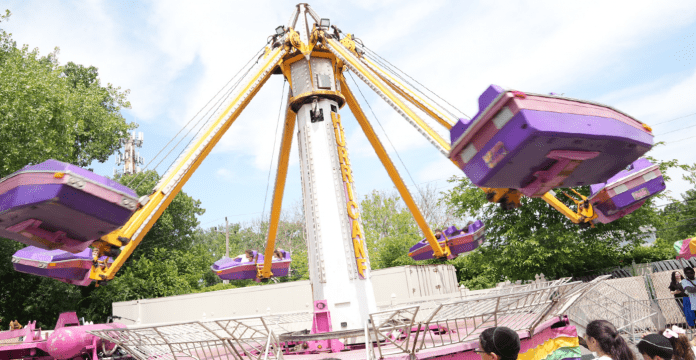 The 8th Annual Carnival 
Ahdut and Fun 
Pnina Souid 
The 8th Annual Carnival of the Hatzalah of the Jersey Shore was held at the JCC in Deal, NJ, on Sunday, July 10th. The first Hatzalah Carnival was created not only to spread Hatzalah's message of togetherness and community safety, but also to give the community a day of fun and ahdut (unity). 
Each year the Carnival gets bigger and better, due to all the volunteers' dedicated work, which starts every year the very day after that year's Carnival.  
This year's Carnival was the largest yet, with over 1,000 families attending. The Hatzalah members were positively overwhelmed. Families came from every walk of life, Sephardic, Ashkenazic, and from near and far – from Deal and the surrounding neighborhoods, Lakewood, and even Brooklyn! 
The action-packed day featured a petting zoo, pony rides, a dunk tank, amusement rides, games, prizes, a Rolex watch raffle, a Chinese Auction, special treats like ices and cotton candy, and a BBQ hosted by the Hatzalah members. On site were ambulances, open for the public to take a look inside.  
Hatzalah distributed 1,500 bicycle helmets and 1,000 reflective vests. 
We are all familiar with the life-saving work of Hatzalah. Hatzalah's EMTs also strive to be a support for the community and to promote safety education, including safety in the home, at school, and on the road. They also are ambassadors to promote bicycle safety and pool safety. Their mission is "total commitment to the sanctity of life." 
Stanley Cohen, the coordinator of the Carnival, said that Hatzalah wanted to have an amazing community event for everyone – a day of togetherness and fun. He said that all the children left with smiles on their faces and prizes in their hands. And the adults were smiling too!