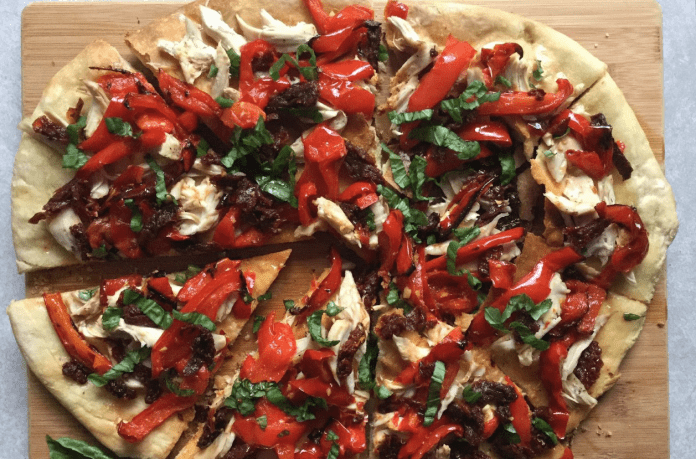 Sun dried tomatoes are the concentrated essence of summer's favorite fruit. They are sweet, chewy, and bursting with flavor. Both the tomatoes and roasted red peppers in this recipe contain lycopene, an antioxidant found in many red fruits and vegetables. Together with shredded roasted chicken and fresh basil, this pizza is a nutritious appetizer to any meal.
Ingredients:
1 package of frozen store-bought pizza dough, thawed
1 tbsp + ¼ cup olive oil
1 lb chicken cutlets
1 tbsp + 1 tsp kosher salt
¼ tsp black pepper
1 tsp garlic salt
2 cloves fresh garlic, minced
3 red bell peppers, cleaned, seeded and cut into strips
½ cup sundried tomatoes
2 tbsp honey
6 fresh basil leaves, cleaned and cut into strips
Baking spray
Directions:
Preheat oven to 350 degrees Fahrenheit.

Place chicken in a glass baking dish or tin and sprinkle with 1 tbsp salt and black pepper.

Cover and bake chicken for 30 minutes.

In another glass baking dish or tin, mix pepper strips, garlic, ¼ cup olive oil, and 1 tsp salt. Bake uncovered for 25 minutes.

While the chicken and peppers are baking, line a large baking sheet with foil and spray with pam.

Roll out pizza dough until it's thin and fits to the size of the baking tray.

Place dough onto an oil-sprayed baking sheet and brush dough with 1 tbsp olive oil and sprinkle with garlic salt.

Bake dough uncovered for about 15-20 minutes, until the bottom is crisp and golden.

When dough is baked, Brush dough with honey.

When chicken is done baking and cooled, use a fork to pull apart and shred.

Layer the ingredients: place the shredded chicken first, then arrange the red peppers and sundried tomatoes. Finish with chopped basil.

Cut into slices and serve while warm.