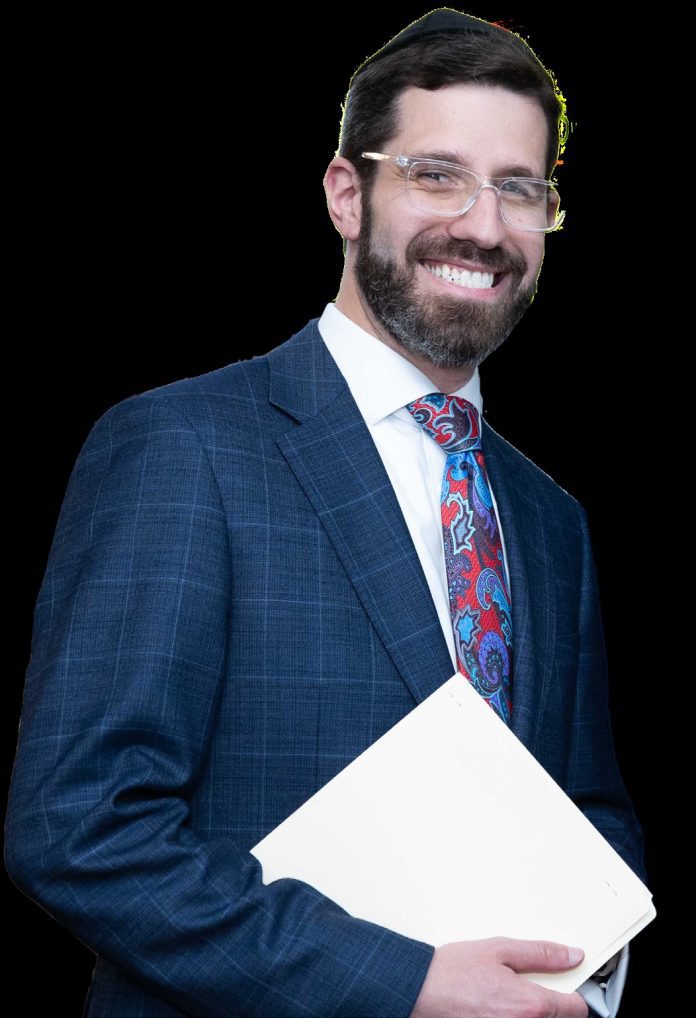 When the doctor said, "It's cancer," I literally fell off the exam table. This is not possible, I think. This is not supposed to happen to guys like me. I don't drink, I don't smoke, I never did drugs in my life! And I exercise, literally every single day. My friends laugh at me because I eat too healthy. This is not possible. But I look at my wife's face and I started to believe. And then my doctor confirms: "This is not the kind of cancer that you can live with. This is the type that kills you." Except it didn't – RCCS took on my case.
One Act of Hesed Snowballs
Rofeh Cholim Cancer Services, RCCS, is the global organization that helps Jewish patients navigate the harrowing journey through cancer care with financial assistance, medical guidance, and emotional support. The legacy of RCCS began 27 years ago when Rabbi Herschel Kohn discovered that a neighbor who was diagnosed with cancer could not afford his health insurance premium and Rabbi Kohn offered to pay it for him. Rabbi Kohn soon learned that there were many people in the same situation and he wanted to do more. After consulting with rabbanim, he received haskama from Rav Pam, zt"l, and Hacham Ovadia Yosef, zt"l, to form the organization now referred to as RCCS. Rabbi Cohen, and his son Eli, continue to support the organization financially, as well as serving as president and executive vice-president of the board, respectively.
What began as a generous act of hesed, has expanded exponentially to service the needs of the greater global Jewish community. RCCS currently has a staff of 75, working both here and in Jerusalem. They serve 40-50 new patients per week, worldwide, seeking guidance on how to manage and finance the patients' cancer care. When a client contacts RCCS, regardless of where they are in their cancer journey or what services they require, they are assigned a case manager who oversees and coordinates the services they receive. "Our patients may come to us strictly for help with the financial aspects of their cancer care, or only for medical referrals, or to access all our services," explains Rabbi Chaim Rapfogel, COO of RCCS. "We follow the patient's wishes and work b'shalom with any other organizations already providing services to the client. Our goal is to bring light into the black hole of a cancer diagnosis." The care manager establishes a main point of contact within the organization. He follows the details of a client's case, and refers them to appropriate departments as necessary. The care manager assures that the patient is aware of all RCCS services available to them. This streamlines the process, during a very stressful time. 
Managing Health Insurance
In keeping with the initial objectives of the founders, RCCS's foremost goal is to help cancer patients and their families navigate through the perplexing puzzle that is health insurance coverage. A cancer patient's chances for survival and recovery are greatly reduced if he or she lacks the best insurance policy and access to the best doctors, life-saving procedures, and exorbitantly priced medications. Rabbi Rapfogel describes how RCCS helps patients with the whole insurance piece of their cancer care. "By assessing the patients insurance plan, we can determine if their insurance policy will allow them to access the best cancer care. Once we have found their plan to be sufficient, we educate the patients and ensure that they are accessing and receiving everything they are entitled to." Recognizing the staggering cost of cancer care, RCCS will, in many cases, pay insurance premiums on behalf of the patient, alleviating one stressor, as they did for Solomon Zarif. "When my wife, who was pregnant, was diagnosed in 2019, we didn't have the health insurance that would cover the treatments she needed. When we contacted RCCS, not only did they guide us in the complex world of insurance, they paid our premiums for three years. RCCS handled one part of the cancer war for us and their guidance was immensely helpful." RCCS also offers financial assistance to help defray prohibitive expenses not covered under patients' standard insurance policies, such as deductibles and co-pays, and RCCS also covers consultations and second opinions when a specialist does not participate with the patient's insurance policy.
The staggering debt associated with cancer treatments can destroy a family's finances and peace of mind. According to CNBC, a new study from academic researchers found 66.5 percent (two thirds) of people who file for bankruptcy cite medical issues – either because of high costs of care or time out of work – as a key contributor to their financial downfall. RCCS financial services department ensures that this statistic is not an inevitable outcome for families already fighting the excruciating battle against cancer. Whether the primary breadwinner is the patient or becomes the caregiver to a sick spouse or child, the financial security of the family can be ruptured. In cases where there is a loss of wages, RCCS will search for outside grants to support the family.
Aside from paying insurance premiums, which usually average $18,000 – $24,000 per year per patient, subsidizing out of pocket costs and other costs not covered by insurance, RCCS staff members are trained to advocate for patients when insurance companies deny their claims. One client shares : "Our bill for the medical care our son received was $274,000. We were ready to mortgage our home to pay the bill. Then we contacted RCCS who assured us they would do everything they could to help us. A few weeks later they called to say 'your bill is $0.'" RCCS recouped over $12 million dollars for patients last year alone.
Guiding Patients
RCCS knows that fighting cancer is more than just dealing with health insurance. It's about being thrust into an overwhelming and complex medical system and being desperate for the right information – which doctor to use, what to ask and which life-saving decision to make. There are many wonderful doctors and hospitals and a myriad of treatments. How can a patient propelled into the obscure world of cancer find the proper course that will help to bring about their cure? The RCCS medical services staff have that knowledge, and dedicate themselves to sensitively guide patients so that they are informed and directed to the best resources for them.
The Medical Staff Par Excellence
RCCS has many volunteers who play important roles in the organization. But the RCCS medical staff are paid employees of the organization. Staff members are trained by RCCS and undergo intensive, immersive training in specific areas of cancer, allowing them to form connections in the medical field and to have extensive knowledge of cutting-edge treatments available worldwide for that type of cancer. Doctors will often come to the RCCS office to train staff members and answer their questions on new procedures and protocols. Some physicians will spend after-work hours consulting with an RCCS medical staff member on particular cases.
Unlike most employees, though, those on the RCCS medical staff are not bound by the classic 9-5 in the office schedule. Because cancer patients do not have the luxury of time, the medical staff are on call seven days a week, 24 hours a day, 365 days a year. Most doctors do not keep those hours! So, when a nine-year-old girl living in Israel was told she must have her eye removed due to cancer of the retina, within six hours of the diagnosis, RCCS medical staff had secured an appointment with a doctor at Sloan Kettering, arranged for flights to the U.S. There the child received treatment that shrunk the tumor and saved her eye.
Saving Lives
Another family was told that their loved one would be permanently intubated, meaning she would never breathe on her own, or be able to speak or eat and drink normally. At that point the family reached out to RCCS – it was erev Yom Kippur. The doctor they contacted in Pittsburgh said, "Get the patient to me within 24 hours." The RCCS team worked through the night, making all the arrangements necessary to get the patient to her destination. Baruch Hashem, after several months, she returned home breathing on her own.
And then there is the story of the man who was diagnosed with stage 4 colon cancer – a cancer with no cure. When the member of the RCCS medical staff looked at the radiology reports and scans in the patient's file, the reports did not add up to that diagnosis. Cautiously, they advised the family to look further. After more testing and research, doctors discovered that the patient had a rare, but curable, form of lymphoma.
The Medical Team
Rabbi Zishe Lowy, Global Director of Medical Services, eloquently describes the RCCS medical team as "a unique group of 25 individuals, both here and in Israel, who have a strong innate curiosity and interest in understanding diseases and their treatments, an in-depth ability to understand, and a desire to live the lifestyle of 24/7 accessibility to our patients. They literally live the cancer journey with the patient and their family. Their involvement is much more than a desire to help people. Ninety-nine percent of klal Yisrael want to help people. This is a lifestyle that they embrace wholeheartedly.
"The medical staff are the forceful advocates who diplomatically fight for the best options for the patient, while safeguarding their relationship with the medical professionals. RCCS has cultivated a relationship of mutual respect and support with the global medical community. When doctors have difficulty coordinating financial arrangements between the hospital and the insurance company that is denying the patient's claim, they contact RCCS to intervene. Because of long standing relationships with all insurance companies, RCCS was able to get the insurance company to reconsider the claim and guaranteed the hospital payment if the insurance company did not reverse its decision. Doctors will regularly refer to RCCS as 'our colleagues.' They see RCCS as part of the team, dedicated to curing cancer patients.
"Our medical staff is a well set up machine that eliminates all obstacles, insurance, bureaucratic, financial, or otherwise, to get the patient the best medical care possible," Rabbi Lowy concluded. But it is a "machine" with a heart of gold. Asher Antebi became familiar with RCCS when his mother-in-law, a"h, was diagnosed. "The guidance they provided was most valuable, but the level of caring was outstanding. They do everything with feeling, both for the patient and the family members."
Joey Shamie had a similar experience. "In everything they did for me, they treated me like I was one of their own. They opened doors for me and made connections that helped me every step of the way. How blessed are we to have organizations like this one."
Funding for the Cause
An organization that has served 4,630 patients worldwide with an annual budget of $19.5 million does not thrive without the financial help and support of the global Jewish community. The organization holds parlor meetings and fundraising events that are successful in raising funds for the organization. But with so many worthy organizations to support and charitable dollars being limited, fundraising can be a challenge.
Daniel Hadar, Director of Community Outreach and Development, cultivates one-on-one relationships in his efforts to find supporters of RCCS. "Many donors will tell me, 'I only support Torah institutions,' and I tell them that by supporting RCCS, you are supporting Torah because we prevent rabbanim and Torah scholars from going bankrupt due to the medical costs of cancer care. We help them to continue learning Torah." This philosophy encourages supporters to expand their mindset of giving. Hadar continues, "It hurts me to hear that people are sick, and unfortunately this illness does not discriminate based on our background or heritage. I have seen patients from every segment of the community utilize our services, and likewise, I have been gratified to receive donations from generous community members." Rabbi David Ozeri commends the work of RCCS and says, "I have seen the care, the concern, and the amazing efforts that RCCS puts into each case. They are an important organization serving our community and they deserve our generous support."
Sharing the Responsibility
Joey Shamie shares this heartfelt message, "We have been blessed to be part of our illustrious community and a remarkable worldwide community. It is our responsibility to support RCCS, not just for ourselves or our loved ones, but for our neighbors, our friends, and our entire Jewish family across the world. Everyone should be involved, as this is the legacy of Am Yisrael. It will be the most rewarding thing you do."
Like a homeowner's insurance policy, we must have or the Hatzalah sticker we affix to our telephone but hope we never have to use, RCCS is the organization that we vitally need and whose services we hope we never utilize. When the doctor says, "It's cancer" as the title of Betty Rollin's 1976 book suggests, First You Cry, and then you call RCCS.
RCCS' goal is to ensure that every single family battling cancer has the information, care, and support they need to know that they are never alone.
To access RCCS services call: 718-722-2002. To become a partner in funding miracles contact Daniel Hadar at 646-648-0877 or visit the website at rccscancer.org.