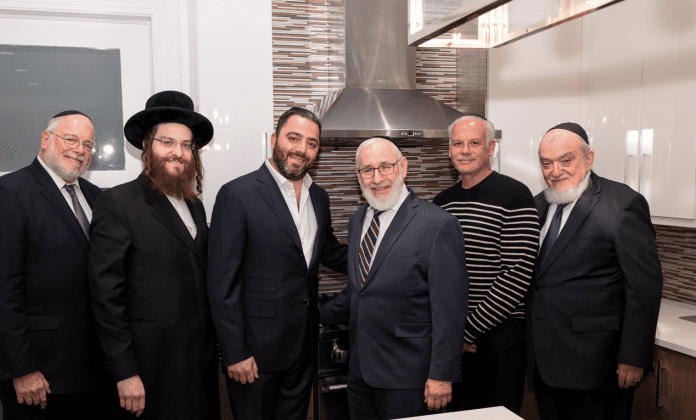 Chayim Aruchim, a well-known organization that provides assistance and support to individuals and families during end-of-life situations, hosted a successful event last month to create awareness in the Sephardic community. The event was graciously hosted in the Brooklyn home of  Murad and Paula Nasiri, including rabbinical leaders, community activists, Chayim Aruchim Board members Rabbi Gedaliah Weinberger, Rivie Schwebel, and Chayim Aruchim's Care Navigator Mrs. Leah Horowitz.  
Attendees were treated to an emotional audio-visual presentation where members of the Sephardic community shared their personal experiences of how Chayim Aruchim stepped in and provided crucial support during their own loved ones' hospitalization and end-of-life situations.  
The moving testimonies by Sammy and Seymour Esses and Ike Sutton highlighted the importance of having a dedicated organization like Chayim Aruchim to assist and guide families during such trying times. 
The event featured a presentation by Rabbi Shmuel Lefkowitz, who spoke about the many different services that Chayim Aruchim offers to help individuals and families navigate the difficult challenges that arise during end-of-life situations.  
"The overall mission of Chayim Aruchim, a project of Agudath Israel of America, is to help members of the Jewish community make decisions when confronted with critical illness," said Rabbi Lefkowitz. "With a team of medically-trained Rabbis with many years of experience, doctors, legal experts, and high-level government policy advocates, Chayim Aruchim upholds the right of patients and their family to decide about their care." 
Rabbi Raymond Beyda, Rabbi Raymond Haber, and Dr. Albert Matalon – who are all respected as leaders within the Sephardic community – are stationed at the helm of what is known as Mahon Hayim Aruhim, and will help guide Chayim Aruchim as it steadily grows. 
"Hayim Aruhim serves as a lifeline for the Sephardic community, by providing valuable guidance and 24-hour support to families navigating end-of-life issues," said Rabbi Raymond Beyda. "We combine medical knowledge with Halachah to give direction in emotionally stressful situations." 
Dr. Albert Matalon echoed those sentiments saying, "As a physician and as a Sephardic community member, I can tell you firsthand how much of a valuable resource Hayim Aruhim proves to be for anyone seeking assistance and guidance during difficult end-of-life situations." 
The creation of Mahon Hayim Aruhim reflects Chayim Aruchim's commitment to serving the needs of all communities, and ensuring that everyone has access to the support and resources they need during difficult times. By tailoring their services to the unique needs of the Sephardic community, the organization hopes to further spread awareness about what they do and ensure that everyone who needs their help can benefit from it. 
"It was truly inspiring to see so many members of the Sephardic community come together to support this important initiative," said Rabbi Menachem Horowitz of Chayim Aruchim. "We are thrilled to be able to offer services to this community, and we look forward to continuing to provide vital support and guidance to families during end-of-life situations." 
Chayim Aruchim's 24-hour phone hotline is staffed by a team of trained experts who help families facing tough medical or end-of-life decisions choose the best path forward, both medically and halachically. It is for this reason that local families often turn to Chayim Aruchim when the life of a critically ill relative or elderly loved one is on the line.  
"In the Jewish community, there is a strong emphasis on the importance of preserving life," explained Rabbi Horowitz. "There are many religious and ethical considerations to take into account, including issues related to palliative care, hospice, and end-of-life decision-making. We provide support to ensure the needs of both the individual and the family are being met with sensitivity and compassion." 
As such, Mahon Hayim Aruhim will be specifically focused on servicing the needs of the Sephardic community. This is a significant development, as it will further spread awareness about what the organization does and ensure that the Sephardic community benefits from its services.   
Perhaps Rabbi Raymond Haber summed it up best when describing the inherent value of Mahon Hayim Aruhim from his perspective.  
"Hayim Aruhim has started to make a real impact in the care of critically and terminally ill patients in our community," he said. "There's nothing more sacred to us than life. People now have an address to help navigate these challenging moments." 
For more information about the launch of Mahon Hayim Aruhim, please call 347-578-8200. For general information about the Chayim Aruchim organization, please call 718-ARUCHIM or visit www.chayimaruchim.com.