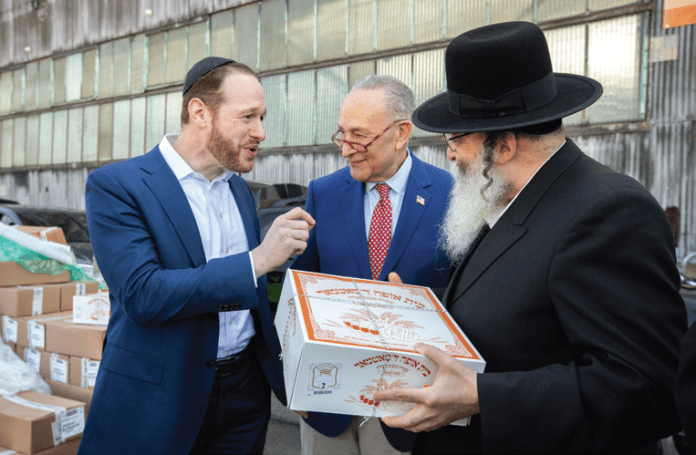 In the weeks leading up to Pesach, Met Council, America's largest Jewish charity dedicated to combatting poverty, distributed nearly $10 million in kosher for Pesach provisions to more than 321,000 people suffering from food insecurity.
This year's Pesach food distribution, America's largest, was made possible by the generous supporters of Met Council, its partnership with the UJA Federation of New York, and millions of eggs that were donated by Deb El Food Products. The free kosher for Pesach food packages included matzah, kosher for Pesach chicken, gefilte fish, eggs, tuna, grape juice, apple juice, tomato sauce, applesauce, jam, oil, pickles, lemon juice, macaroons, imitation vinegar, sugar, potato starch, and a wide variety of produce.
More than 1,200 volunteers, and many of New York's political and communal leaders, participated in the efforts to help distribute the Pesach food packages.
Founded in 1972, the Metropolitan Council on Jewish Poverty (Met Council) has been fighting poverty and promoting the social welfare of New York's struggling populations including the impoverished, immigrants, and the elderly. Its "Kosher Food Network" is the largest kosher food pantry program globally. Its social services programs support tens of thousands of New Yorkers through direct assistance and by helping to register them for applicable government programs. These include programs supporting victims of domestic violence, the elderly, Holocaust survivors, and those experiencing other financially-based crises. Met Council is also the largest owner and operator of affordable housing in the Jewish community.
For more information, please visit https://www.metcouncil.org.
Thousands Enjoy Free Hol Hamoed Extravaganza Sponsored by Assemblyman Simcha Eichenstein
Assemblyman Eichenstein and Councilman Yeger Addressing the Crowd at the Hol Hamoed Extravaganza in Midwood.
The sun shone brightly on Hol Hamoed Pesach this year, as thousands of Brooklyn residents enjoyed two free Hol Hamoed Extravaganza events sponsored by Assemblyman Simcha Eichenstein.
The first event, which was hosted in conjunction with the BPJCC, was held on Sunday, April 9th at Gravesend Park in Boro Park and featured over two dozen rides, attractions, a magic show, and outstanding entertainment. The second event, hosted with COJO Flatbush, took place in Midwood, at East 17th Street and Avenue M, and included many rides, arcades, shows, and a dynamic concert featuring top-tier entertainment. At both events, all snacks, rides, entertainment, and activities were completely free of charge.
"Kids look forward to Hol Hamoed as an opportunity to spend quality time together with their families in a warm, joyful, and fun-filled environment," said Assemblyman Simcha Eichenstein, "while adults look forward to providing a genuine Hol Hamoed experience without breaking the bank or traveling for hours. My Boro Park and Midwood Extravaganzas managed to make both parents and children happy. As I looked around during both events, I was delighted to see that everybody, both young and old, was thoroughly enjoying themselves. This was truly simchas Yom Tov!"
Monthly Update From Assemblywomen Kim Eulner and Marilyn Piperno
This past month, we observed Yom HaShoah, Holocaust Remembrance Day, to honor the memory of the six million Jews and countless others brutally persecuted and murdered during World War II. As representatives of Monmouth County, home to a vibrant and resilient Jewish community, we are unequivocally devoted to stamping out anti-Semitism in any way we can and ensuring that the legacy of these victims is never forgotten.
To ensure the next generation is adequately informed of the atrocities of the Third Reich, we proudly support several pieces of legislation, such as A-4720, which requires the Commissioner of Education to distribute a survey to school districts regarding their Holocaust instruction. We are also taking further steps to combat anti-Semitism in our state by supporting AJR-211, which establishes a working definition of anti-Semitism in New Jersey, based on the International Holocaust Remembrance Alliance's definition, as an analytical and educational tool.
Additionally, we are proud to support and work with various community schools and organizations, such as Hillel Yeshiva, Sephardic Bikur Holim (SBH), DSN, Hatzalah, and many others, to ensure a thriving and unified Jewish community. Through these collective efforts, we are showing that the abhorrent and hateful ideologies of the Nazi regime will never triumph.
By building strong, resilient community networks and supporting progressive education initiatives, we can take meaningful steps to eradicate anti-Semitism while upholding the pledge to "never forget," and "never again" allow such systemic hatred to occur.
Community Highlights
Chazaq and Suki and Ding Bring Unprecedented Success with their Hol HaMoed Pesach Circus
It was an electrifying and joy-filled extravaganza as Chazaq, in partnership with Suki and Ding Productions, hosted two unforgettable Hol HaMoed Pesach circus events at Staten Island Mall. The performers captivated audiences of all ages, creating lasting memories for families during the holiday season.
The atmosphere was charged with excitement as families gathered under the big top to witness jaw-dropping acrobatics, thrilling stunts, and hilarious clown antics. The awe-inspiring performances left the audience on the edge of their seats, mesmerized by the incredible talents on display.
Adding to the excitement of the event were the special guest appearances by the renowned "Twins from France." They brought their unique flair to the show, creating an unforgettable experience for everyone in attendance.
The energy reached its peak when popular Jewish music sensation "Nachas" took the stage for a special guest performance. His electrifying performance had the audience on their feet, clapping and dancing along to the catchy beats. "Nachas" brought his signature style and infectious energy to the circus, adding an extra layer of excitement to an already unforgettable event.
The Chazaq Organization, whose main mission is to provide fun and educational afterschool programs for Jewish public school students throughout the calendar year, worked tirelessly with Suki and Ding Productions to create a safe and enjoyable event for families to come together and celebrate during the holiday season. The meticulous planning, attention to detail, and dedication of the organizers and performers were evident in the flawless execution of the event.
Governor Phil Murphy Signs Bill to Review Holocaust Curriculum in NJ Public Schools
NJ Governor Phil Murphy
On Holocaust Remembrance Day, April 17, Governor Phil Murphy signed legislation (A4720) requiring the Commissioner of Education, in conjunction with the New Jersey Commission on Holocaust Education, to craft and distribute a survey for public schools relating to educational instruction on the Holocaust and genocide.
The survey will measure how each school district is meeting the State's current requirement that every Board of Education include instruction on the Holocaust and genocide in an appropriate place in the curriculum of all elementary and secondary school students.
"By taking this action today, we are honoring the memory of the six million Jews and the millions of others murdered by the Nazis during the Holocaust," Murphy said. "As we witness truth being stripped from education systems in other states and anti-Semitism on the rise across the country, our responsibility to future generations must be to lead by example and defend the promise with which our nation was founded – equality and freedom for all. This law guarantees that our children will be prepared with the knowledge and understanding necessary to learn from the mistakes of history and build a world that is stronger and more united than ever before."
Primary sponsors of the bill include Senators Linda Greenstein and Vin Gopal and Assemblymembers Gary Schaer, Lisa Swain, and Robert Karabinchak.
"Given the recent spike in anti-Semitic attacks, it is imperative that we continue to modify our teaching methods to adequately convey the horrors of the Holocaust," Greenstein said. "This law is a critical first step to collecting enough data and research to properly address any discrepancies or outdated Holocaust teaching materials."
"We would like to thank the Legislature and Governor for supporting the Jewish Federations of New Jersey's efforts in bolstering Holocaust Education throughout New Jersey," said Harris Laufer, State Director Jewish Federations of New Jersey. "Education and awareness are among the most effective ways to stem the rising tide of anti-Semitism and hate. We look forward to continued advocacy and collaboration on combatting anti-Semitism and hate throughout New Jersey."