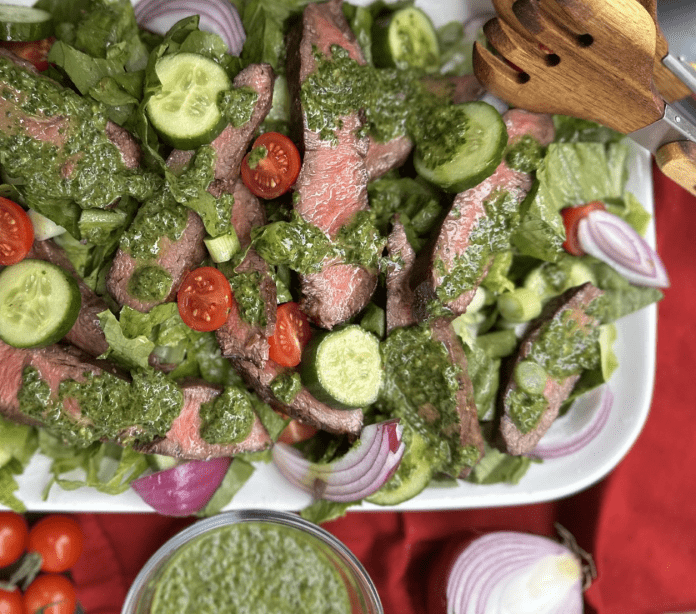 This steak salad is a great dinner for a warm summer night. Don't feel like turning on your oven? Minute steak cooks even better on the barbecue. The intoxicating aroma and rich chlorophyll hue of the chimichurri pulls the dish together in more ways than one. First, it is used as a base for the salad dressing, and then as a steak topping. I highly suggest making double the chimichurri and storing it in the freezer to use all summer long!
Ingredients
2 lb minute steak split
Salt
Black pepper
1 tbsp lemon zest
2 cups various green herbs like basil, parsley, or cilantro
½ cup olive oil
6 garlic cloves
½ cup mayonnaise
½ cup lemon juice
1 bag Romaine lettuce
½ cup cherry tomatoes, halved
½ red onion, sliced thin
1 bunch scallion, chopped
2 Persian cucumbers, sliced
Preheat the oven to 350 degrees Fahrenheit.

Place the minute steak in an 8×13 tin or baking dish. Season both sides with salt and black pepper. Seal with foil and bake for 15-20 minutes. If cooking on the barbecue, cook 5-10 minutes each side.

Make the chimichurri by placing the lemon zest, green herbs, olive oil, garlic, and 1 tbsp salt in a food processor. Pulse until finely chopped.

Remove half the chimichurri and reserve for later. Add mayo and lemon juice to the remaining. Add salt to taste. This will be the lettuce dressing.

To assemble, place romaine lettuce in a large bowl or platter. Add the tomatoes, red onion, scallions, and cucumbers. Toss with the basil mayo dressing.

Remove the steak and let it rest for five minutes. Slice into thin strips and place on top of dressed salad. Generously brush reserved chimichurri over the steak. Serve immediately.