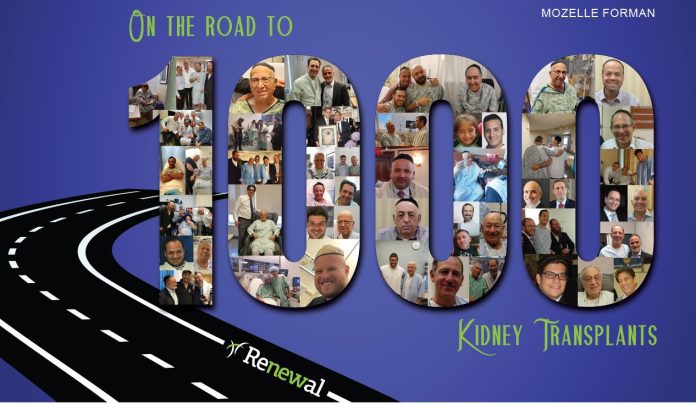 Mozelle Forman
Every milestone – a birthday, anniversary, graduation, or a siyum – recognizes an achievement or goal accomplished. We celebrate with parties, lots of food, and surrounding ourselves with our loved ones. Renewal, the world-renowned organization responsible for facilitating life-saving kidney transplants, is celebrating a milestone – their 1,000th kidney transplant. And they are celebrating in style with a brand-new state-of-the-art virtual laboratory housed in their new building in Brooklyn, New York.
On April 28, 2023, the ribbon was cut and the doors opened to the Renewal Aronow-Zupnick International Headquarters, generously donated by Marshall Aronow in honor of his father, Joe Aronow and his father's gracious kidney donor, Leah Zupnick. Mr. Aronow expressed his immense gratitude to Renewal for making the match that gave his father a new lease on life. Located at 4721 New Utrecht Avenue in Brooklyn, the building will be the strategic command center where the logistics of making matches between patients and donors takes place. Mendy Reiner, founder and chairman of Renewal, addressed the audience with gratitude to the "angel visionary donors" and to David Bawabeh for his encouragement in purchasing the Renewal building. "Renewal would not be here without you. When I was first introduced to the Sephardic community, we were a small, struggling organization. And I was told that the community would give us money but wouldn't give us kidneys. But that is not true or possible. It is within our DNA to help.
"Membership in Am Yisrael is priceless. We give from ourselves, to save another and, yes, the community has given kidneys, they have given life. We are standing in this conference room where lives are saved because of your generous support."
Renewal's Humble Beginning
Usually, great organizations begins with one gesture of kindness and grow exponentially with the support and guidance of many. In 2006, Mendy Reiner was made aware that there was a man in his community, a father of four, who needed a kidney transplant. Mendy wanted to help him.
On the advice of his wife, Mendy put out an advertisement looking for a donor. He received 30 phone calls from people willing to become kidney donors and one of them turned out to be a match. Now Mendy knew of 29 potential kidney donors, so he put out a new advertisement looking for patients in need of a kidney transplant. And just like that, Renewal was born. For the first few years, the organization was responsible for connecting one to two donors with recipients, and Mendy Reiner was extremely pleased. Little by little the numbers increased. Today, Renewal is responsible for 60 percent of all altruistic kidney transplants in New York, and with the formation of Renewal National the organization has created relationships with many major transplant centers across the nation. In addition, Renewal National sponsors awareness events, to educate the public about kidney donation and sponsors swabbing events for potential donors across the United States. All these efforts facilitate helping more patients and meeting them where they are.
The Syrian Community Joins In
In 2014, AJ Gindi joined the Renewal team as Community Advocate and introduced the organization to the Syrian community. In true form, community members immediately became involved in supporting the organization, both financially and by agreeing to be swabbed as potential donors for other community members in need of a kidney. The Renewal database continues to grow, as the organization hosts "swab parties" where friends and family gather to be tested to determine if they can be a donor for a loved one. Those attending who are not a match for the intended recipient are asked, with no pressure, if they would consent to becoming part of the Renewal registry. Many have later become donors for others in need. With over 1,500 participants, Renewal has the largest database of potential altruistic (living) kidney donors in the world.
In January 2022, AJ was approached by community members, Stanley H. Chera and Joseph Haddad who asked him, "What can we do to help you save more lives? There's so much more to be done. What can we do?" Their passion for the organization and their sincere desire to help the organization grow inspired AJ. He consulted with Menachem Friedman, Renewal National Director, who had been doing crossmatch testing for over a decade. He responded that if the organization had its own lab the process of matching donors to recipients could be accelerated. AJ brought this information to Mr. Chera and Mr. Haddad explaining the multi-faceted and time-consuming science of finding and matching a kidney donor. Mr. Chera and Mr. Haddad immediately pledged their support for a new lab and committed to getting donations from others as well.
State-of-the-Art Laboratory
With the financial backing and support of the community, Renewal set out to create its very own state-of-the-art laboratory. As an organization well known and connected in the transplant world, Renewal knew exactly who they would need to help them succeed in their project – Dr. Massimo Mangiola, Clinical Associate Professor at the NYU Transplant Institute at NYU Langone and Medical Board Member at the National Kidney Registry. With over 20 years' experience in transplant medicine, and considered to be the top immunologist in the country, Dr. Mangiola was the perfect partner needed to actualize the plan.
Dr. Mangiola suggested that rather than open a standard lab, which all institutions engaged in kidney transplants already possessed, the organization should, instead, consider creating a virtual laboratory that would use a highly developed computer algorithm to analyze the swab material, identifying all the data into usable, practical information to make the best possible match. However, that software did not exist – yet. Renewal would have to find and hire professional programmers to work with Dr. Mangiola to create the software that would analyze data faster and smarter. After a year of designing, consulting, and toiling, the team succeeded.
Grand Opening
At the grand opening of the Renewal Aronow-Zupnick International Headquarters building in April, Dr. Mangiola addressed the audience of supporters and their families and thanked them for their generosity and foresight in creating the world's first virtual lab of its kind. "It is a privilege to work with you and be part of a team that gives patients another chance at life. It is important to me that you understand what you have done here with this program. This is not just simply matching [donor and recipient], it is matching to a level of probability that nobody else can provide out there." He then shared a PowerPoint presentation of the intricate, complex biological explanation of how the matching takes place. The virtual lab uses the state-of-the-art, high-resolution software that examines hundreds of variables and crossmatches data from both donor and recipient. It utilizes DNA sequencing analysis to find more precise molecular matches. This reduces the probability of rejection, enables patients to safely reduce immunosuppressive medication, and increases the longevity of the transplanted kidney.
Although the biology was lost on most of the audience, Dr. Mangiola made it clear that finding matches is like trying to find a needle in a haystack and that Renewal's program is making miracles in the kidney transplant world, looking deep into the genetic material, and finding matches they were never able to find before. Dr. Mangiola continues to work with the Renewal staff, once a week consulting, overseeing, and reviewing to ensure the best, most compatible matches are found.
"Patient Zero"
While new buildings and virtual labs are cause for tribute, the real celebration is in the transplant success stories of which there have been almost 1,000. The story that was on everyone's minds at the open house was that of "patient zero," the first patient matched using the technology of the virtual lab.
Idie Lieber needed a new kidney. The transplanted kidney, which her friend graciously donated 23 years before (an unprecedented amount of time for a transplanted kidney to survive), was failing. Her children, who were swabbed and found to be matches 23 years before but deemed to be too young to donate, were no longer compatible donors, as her body had built up so many antibodies to the existing kidney. Her daughter, Shani, had for years reassured Mrs. Lieber, "Don't worry, Mom. I've got your kidney right here. I'm just keeping it safe for you." Shani was distraught when the news came that she was no longer a match for her mother. Mrs. Lieber reached out to Renewal, whose staff immediately began searching through their database for a match. After further researching, they discovered that Mrs. Lieber's chance of finding another kidney was only about one percent, even if they searched worldwide. Moshe Gerwitz, Executive Director of Renewal, describes how, "Our hearts sunk when after extensive searching we could not find a single match." But before the Renewal staff gave the heartbreaking news to Mrs. Lieber, they decided to "try out" the program that Dr. Mangiola was developing, inputting all the data manually, to see if they could find a match for her. And they did! Dr. Mangiola described this as "nothing short of a miracle."
In Mrs. Lieber's words, "My first transplant experience, before Renewal existed, was frightening and lonely. There was no one to hold my hand during the grueling process. But as soon as I contacted Renewal, I felt support and connection. Mendy Reiner said to me, 'I don't want you to worry. I don't want you to stress. I am going to worry for you.' Renewal never gave up on their promise to find me a kidney and I became the first recipient of Dr. Mangiola's brilliant work."
Mrs. Lieber's successful transplant is not the end of the story. "My daughter Shani felt her kidney did not really belong to her, as she had pledged it to me 23 years before. She contacted Renewal and in March donated her kidney to a 74-year-old man who is doing wonderfully well."
Mr. Raymond Ashkenazi's Story
Raymond Ashkenazi, who at the age of 82 was told he would need kidney dialysis for the rest of his life, was another one of the almost 1,000 Renewal success stories. Sharon, his wife, tells of their first encounter with Renewal. "From the very beginning, AJ and the whole Renewal family were so positive and reassuring that we felt so secure. We thought his age would be a factor but the surgeon reassured us that he would never consider doing the transplant if he didn't believe it would be successful. They gave us all the information we needed and stayed with us every step of the way. AJ even got to the hospital before us on the day of the surgery and never left us. We are truly a part of the Renewal family and couldn't be more grateful to them and to Ikey Rudy [Mr. Ashkenazi's kidney donor], for his generosity – an amazing young man." Ikey Rudy sees his role as a no-brainer. "I was best friends with Raymond's grandson. I grew up in their home calling Raymond 'Jido' and Sharon 'Grandma.' As a teenager in high school, I went to a swabbing event with my friends never thinking that I would actually donate a kidney. When I heard that Raymond needed a kidney, I didn't think twice – if I matched, I was going to be the one. If I could add an extra day, a week, a year to his life, I wanted to do it." As for Mr. Ashkenazi, he was not told who his donor was because Sharon believed her husband is the type to say, "I don't want it. You keep it." And indeed, when the two met after the surgery and Mr. Ashkenazi saw his donor was Ikey, he just cried and blessed him.
On the day of Mr. Ashkenazi's surgery, two other kidney transplants facilitated by Renewal were taking place in London and South Africa, and on the day of the ribbon cutting of the new building, three transplants took place. The altruism, the hesed, and the selflessness of each and every donor gives hope and the promise of a quality of life that patients with renal failure never dreamed of. And none of those transplants would have been possible without Renewal. As one donor has expressed, Renewal has made kidney donation something "normal." The care, empathy, guidance, encouragement, and support they give to both donors and recipients make the transplant process a relatively seamless and very rewarding event, as one person selflessly gives another a new life.
Join the Effort
Renewal's services would not be possible without the generous support of its donors – including those who donate their kidneys and those who donate financially. To join the Renewal family and support their lifesaving work please contact Renewal at 718.431.9831 or info@renewal.org and visit their website at www.renewal.org.