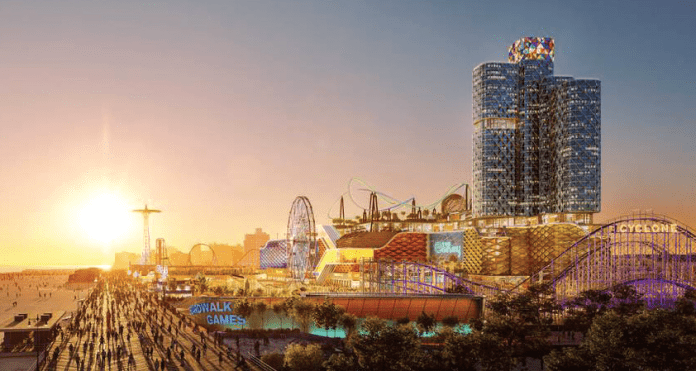 Coney Island residents appear skeptical of a bid to build a glitzy casino and resort on the sandy amusement stretch in southern Brooklyn, according to a public engagement report from the office of Borough President Antonio Reynoso.
The 40-page report, which came out on July 11, 2023, drew on and distilled feedback from two public forums held by the Brooklyn borough president. His office received about three responses opposed to the project for every response in favor, the report said.
Residents cited concerns about crime, displacement, traffic, gambling addictions, and pain inflicted upon local business, according to the analysis. More than 200 respondents gave feedback on the $3 billion casino plan.
Reynoso, a Democrat who has remained agnostic regarding the bid, said the findings in the report would not rule out his ultimate support.
But he said the feedback should serve as a guide for developers who are pushing to plant a casino in Coney Island through the state government's downstate casino sweepstakes.
"Now the casino operators know in more detail about how most of Coney Island is feeling," said Reynoso, one of six officials expected to have a voice on a panel that could vote down the proposal.
"This report clearly outlines the issues in Coney Island," Reynoso said. "They should be using it to make their proposal stronger."
Thor Equities, a real estate firm, has joined with Saratoga Casino Holdings, the Chickasaw Nation, and the Legends entertainment company to push for the bid.
The state launched the sweepstakes for three $500 million downstate casino licenses in January. Two permits are expected to go to existing so-called racinos with horse racing and digital betting in Yonkers and Southeast Queens, leaving at least ten developers angling for the final license.
Blink CPR Training Saves Lives
Last month, hundreds of participants divided up into small groups paired with volunteer instructors at Blink's free CPR class event.
There are moments in our lives when every second matters. Unfortunately, moments like those are usually moments of urgency. While no one should ever have to experience the blind terror of handling a life-threatening situation, being prepared for a crisis is imperative. That's why Blink CPR classes are such a necessity for everyone.
Blink CPR, which was founded in 2014, started out by giving classes in community high schools in Brooklyn, NY, and Deal, NJ. Even today, Blink trains every community high school senior in CPR. In 2015, they started "Blink Week," where free open classes were offered to community members. 2023 marks the ninth year that Blink Week has taken place.
Blink's website has dozens of "saved stories." These are the stories of people whose lives have been saved by someone with Blink CPR training. In almost every story the person who saved the victim was a relative. In many cases, the person had taken a CPR course several months or even years before, yet their instincts drove them to act in an emergency.
For more information, please visit their website: www.blinkcpr.org or contact them via email at info@blinkcpr.org.
Brooklyn Boro President Reynoso Addresses Anti-Semitism Concerns with FJCC Leaders
Last month, the Flatbush Jewish Community Coalition (FJCC) convened a leadership meeting with Brooklyn Borough President Antonio Reynoso to discuss issues and concerns of the Flatbush community. The discussion included rising anti-Semitism, small businesses, quality of life, crime, and sanitation concerns.
Borough President Reynoso, who served as a city councilmember in Williamsburg prior to becoming borough president, expressed his commitment to continue working with the FJCC to address these concerns.
FJCC Chairman Josh Mehlman thanked Boro President Reynoso for his interest in better understanding the needs of our community and the Jewish community borough wide. The meeting was attended by representatives of Flatbush shuls, yeshivas, and organizations.