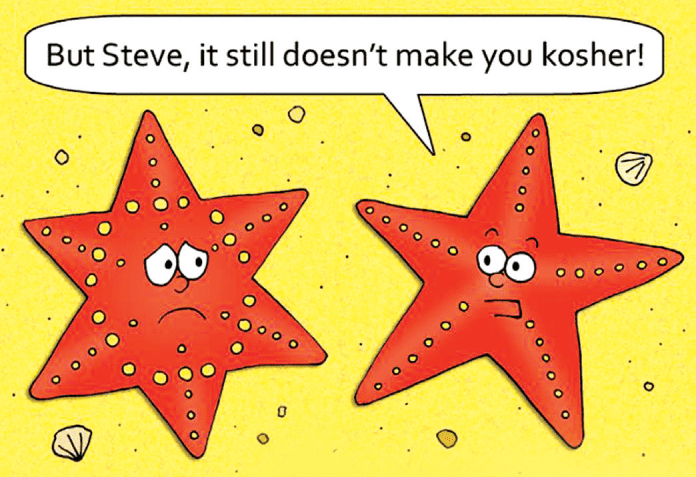 The Return Call
David was awakened one morning at 4:44 am by his ringing telephone.
"Your dog's barking, and it's keeping me awake," said the angry voice, belonging to Morty Himmleman, one of his neighbors.
David thanked Morty for calling and politely hung up the phone.
The next morning at precisely 4:44am, David called Morty back.
"Good morning, Morty. I just called to say that I don't have a dog."
Maurice D.
One-Liners
Q: What has three letters and starts with gas?
A: A car!
———–
Q: What vegetables do librarians like most?
A: Quite peas!
Esther P.
Very Appreciative
Eight-rear-old Morris came in the kitchen while his mother was setting the table for dinner. Quite surprisingly, he asked if he could help. His mother said, "No, but I appreciate you asking." Morris replied, "Well, I appreciate you saying no."
Rene W.
Cold Hand
Morah Rivka noticed that little Lisa arrived at school wearing only one glove. "Why have you only one glove?" asked Morah Rivka. "Well, Morah," explained little Lisa, "I was listening to the weather forecast and it said it was going to be quite sunny but on the other hand it could get quite cold."
Moshe K.
Pet Peeve
A police officer just knocked on my door and told me that my dog was chasing people on bikes. I told him that it couldn't have been my dog – because my dog doesn't even own a bicycle.
Victor C.
Newspaper Delivery
A paperboy said to a customer one day, "Mr. Jones, I wish I had 30 customers like you."
"Gee, that's so nice to hear," said Mr. Jones. "But, I'm a little surprised, considering I never tip and usually pay late."
The paperboy replied, "I know, but I'd still like 30 customers like you. The problem is I have 150 customers like you!
Arlene B.
Doctor Visit
Patient: Doctor, I get heartburn every time I eat a birthday cake.
Doctor: Next time, take off the candles!
Raymond F
Help Wanted
Sir Isaac Levy, the renowned Jungle Explorer is planning a dangerous adventure – this time to the deepest African jungles.
Sir Isaac needed someone to accompany him on the trip, so he placed the following ad in the paper:
WANTED:  A COMPANION TO ACCOMPANY ME ON A DANGEROUS TRIP TO THE DEEPEST JUNGLES OF AFRICA. IF YOU'RE INTERESTED, YOU MUST BE ABLE TO EXIST SOLELY ON PLANT ROOTS AND BERRIES. YOU MUST ALSO BE CAPABLE OF COOKING IN JUNGLES; HAVE KNOWLEDGE OF TROPICAL MEDICINE; KNOW HOW TO TRAP DANGEROUS ANIMALS; AND BE FAMILIAR WITH GUNS AND RIFLES.
Some days later, late one evening, there's a knock on Sir Isaac's front door. He opens it and there stands Hymie, a short, very thin, weak-looking man.
"Yes? what do you want at this time of night?" asks Sir Isaac.
"Are you the explorer that put the jungle advertisement in the paper?" asks Hymie in a strong Yiddish accent.
"Yes, I am that person," replies Sir Isaac, laughing.
Sir Isaac then looks straight at Hymie and starts to question him. To each question, Hymie answers "No" together with a qualification.
"Do you know jungle cookery?"
"No, but I can make cholent."
"Can you trap animals?"
"No, I can't even kill a carp for gefilte fish."
"Can you handle weapons?"
"No, I don't like guns. They frighten me."
Finally, Sir Isaac has had enough and asks, "So, why are you really here?"
Hymie answers, "I just wanted you to know that on me, you shouldn't depend!"
Jacky T.
Traffic Stop
A college professor runs a stop sign and gets pulled over by a sheriff. Being a big shot professor from New York, the professor assumes he's smarter than the sheriff.
The sheriff comes to the car window and asks for the professor's license and registration.
The professor asks, "What for?"
The sheriff responds, "You didn't come to a complete stop at the stop sign." The professor replies, "I slowed down, and no one was coming."
"You still didn't come to a complete stop," explains the sheriff.
The professor says, "If you can show me the legal difference between 'slow down' and 'stop,' I'll give you my license and registration and you can give me two tickets. If not, you let me go and don't give me a ticket."
The sheriff replies, "That sounds fair. Please exit your vehicle."
The professor steps out and the sheriff takes out his nightstick and starts beating the professor with it.
The sheriff says, "Now, do you want me to stop or just slow down?"
Nathan R.
Worthless Advice
Marvin Mandelbaum was waiting in the examination room of Dr. Gold, a famous specialist.
"So, who did you see before coming to me?" asked Dr. Gold.
"My local General Practitioner, Dr. Cohen," Mandelbaum replied.
"Your GP?" scoffed Dr. Gold. "What a waste of time. Tell me, what sort of useless advice did he  give you?"
"He told me to come and see you."
Alex G.
Car Chase
Two Alabama state troopers were chasing a speeding car on the highway that was heading towards Georgia. When the speeding car crossed the Georgia line the first trooper pulled over to the shoulder of the road.  The rookie trooper pulled in behind him and asked, "Hey Sarge, why did you stop chasing the car?"
The sergeant replied, "It's no use, he's in Georgia now. They're an hour ahead of us – we'll never catch him."
Janet H.
Restaurant Request
Customer: "Waiter, can you please bring me what the man at the next table is having."
Waiter: "Sorry, sir, but I'm pretty sure he wants to eat it himself."
Mark E.
On the House
A customer walks into a pet shop and asks for a dozen bees. The manager carefully counts 13 bees out onto the counter. The customer tells the manager, "Excuse me, but you gave me one extra." The manager replies, "No worries – it's a 'free -bee'!"
Jeff  M.
Professional Advice
A doctor and a lawyer are talking in the park. Their conversation is constantly interrupted by people describing their ailments and asking the doctor for free medical advice.
After an hour of this, the frustrated doctor asks the lawyer, "What do you do to stop people from asking you for legal advice when you're out of the office?"
"I give them advice," replies the lawyer, "and then I send them a bill."
The doctor is shocked, but decides to give it a try.
The next day, still feeling slightly guilty, the doctor prepares the bills. When he goes to place them in his mailbox, he finds a bill from the lawyer from the park!
Elaine D.