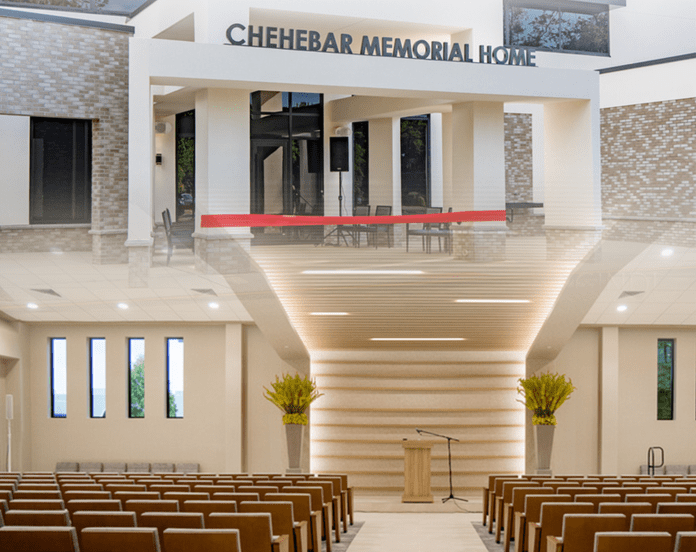 Michelle Shrem 
The Chehebar Memorial Home, housed in a brand new building at 1107 Logan Road in Ocean Township, New Jersey, is the first memorial home dedicated to serving our community.  
As a close-knit community that takes pride – for good reason – in our tight bonds of friendship, and our commitment to caring for one another, our life-cycle events are often large affairs, with hundreds of friends and relatives in attendance. This is true of our semahot, as well as – lehavdil – our moments of loss and grief.   
Now, for the first time, we have a memorial home built especially for our community's needs.  Ample parking is available to accommodate the large numbers of people who wish to attend, and the building is easily accessible from both Logan Road as well as from Highway 35 North and through local roads. The building's interior is large and aesthetically designed in a manner that affords the deceased the honor that they deserve. The design was specifically planned to maximize comfort for the grieving families and their guests who have come to pay their respects to the deceased and offer their much-needed support to the families. 
Grieving in Comfort  
Around seven years ago, a group of community members, recognizing the need for a memorial home that serves our community's needs, got to work on this project.  After a long, difficult process of getting the necessary approvals, the group broke ground with a 10,000-square-foot, two-story building consisting of an assembly room, two kohanim rooms, taharah rooms (where the bodies are prepared for burial), a mikveh, and several offices and storage spaces. The mikveh in the facility allows for the immersion of the body on site in a mikveh filled with rainwater, in accordance with our community's custom.  
The state-of-the-art building is spacious, with a 400+ seating capacity, and equipped with a top-quality audio and video system, and an excellent heating and cooling system. Every effort has been made to provide the family and guests with maximum comfort during their time of sorrow.  
Founders of the Chehebar Memorial Home include project leader Maurice Zekaria; Ronnie Shammah, who provided long-term operational support; and Harry and Alex Adjmi, who offered valuable guidance throughout the process, as well as financial support. The project was undertaken under the supervision of Rabbi Rachamim Aboud and Rabbi Edmond Nahum. 
Special Community Hotline  
The ribbon-cutting ceremony was held on July 7, 2023, featuring ten community rabbis who spoke, offered blessings, and inaugurated the building.    
In addition, a new community hotline, run by volunteer operators, is available for families seeking halachic and logistical guidance.  A volunteer will gather the information and direct the question to the proper address to ensure as smooth and comforting a process as possible. The hotline's number is: (732) 259 4774.
I would like to thank Ronnie Shammah and Maurice Zekaria for taking time out of their busy schedules to meet with me and discuss this important undertaking. And, of course, the entire community owes them, and everybody involved in the creation of the Chehebar Memorial Home, an enormous debt of gratitude for their vision and the hard work they invested to bring this project to fruition.