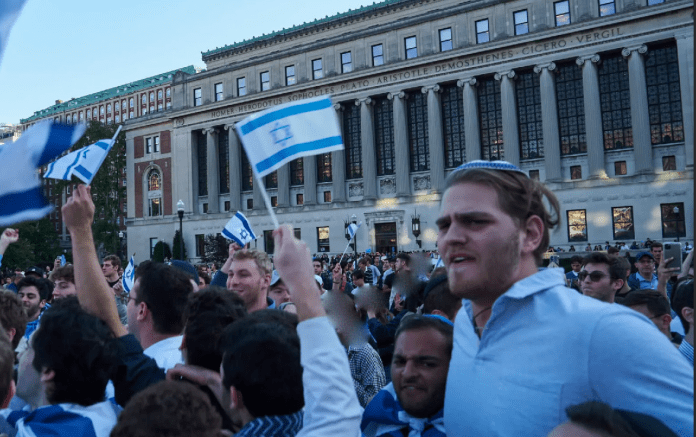 ~Avi Kumar 
Over forty nations have condemned Hamas and their heinous actions. The atrocities committed were incomprehensible, and the shockwaves were felt worldwide on Shabbat morning, reminiscent of the Yom Kippur War 50 years ago. Over 1,400 were left dead, – the largest number of Jews killed in a single day since the Holocaust. This ranks as the third-deadliest terrorist attack in recorded history, exceeded only by the massacres perpetrated by ISIS in Syria and Iraq and the 9/11 attacks of 2001. Close to 200 people are believed to be held hostage at this time with U.S. and other foreign powers negotiating their release. Citizens of the U.S., Britain, Thailand, Nepal, UK, and Sri Lanka were also among those killed or missing.  
Tragedy Brings About Unity 
The circumstances of fighting a common foe united both left and right-wing Jews worldwide, who had been sharply divided by the judicial reform process in Israel. Israelis themselves have put politics aside to face Hamas, as a unity government was formed.   
Many governments in the West, Asia, and Africa displayed solidarity with Israel, from official statements to tweets from government leaders. Many Jews and Gentiles in the Diaspora held vigils and rallies in support of Israel. 
In response to the Hamas attack, Israel has launched "Operation Swords of Iron," which has been met with mixed reactions. Let us look at who supports Israel, and who has closed their eyes to the atrocities, and support Hamas, nonetheless. 
The West 
In the U.S., President Joe Biden released a statement expressing his unequivocal  support for Israel. It read, "Terrorism is never justified. Israel has a right to defend itself and its people. The United States warns against any other party hostile to Israel seeking advantage in this situation.  My Administration's support for Israel's security is rock solid and unwavering."  
U.S. Secretary of Defense Lloyd Austin noted that the arrival of the aircraft carrier USS Eisenhower and its affiliated fleet signals Washington's "ironclad commitment to Israel's security and our resolve to deter any state or non-state actor seeking to escalate this war." 
Austin said that the Eisenhower joined the USS Ford carrier strike group, which had arrived earlier "as part of our effort to deter hostile actions against Israel or any efforts toward widening this war following Hamas's attack." The U.S. has sent fighter jets to its numerous bases in West Africa as a show of force to deter Israel's enemies, such as Hezbollah, Iran, and Syria from attacking while Israel is occupied with fighting Hamas. 
Canada's Prime Minister Justin Trudeau said, "Unrest is being felt in ways big and small. Canadians are deeply worried, no matter their background." He referred to tensions between Jews and Muslims in Canada and elsewhere.  
The UK announced that they were "poised" to help Israel militarily if it asked for any assistance and did not rule out evacuating British citizens, saying that their safety was of "utmost priority"
Britian's Prime Minister Rishi Sunak spoke to Qatari and Saudi Arabian leaders, emphasizing that the conflict "must not be allowed to destabilize the wider region and cause further bloodshed."
Vigils were held in Leeds and London mourning the victims of the attack. Protests erupted outside the BBC office as Israel supporters were outraged that the news network refused to use the word "terrorists" to describe Hamas, although they freely called others "terrorists" who perpetrated attacks in England. 
French police used tear gas and water cannons to disperse a pro-Palestinian rally in Paris as President Emmanuel Macron urged the French people to avoid bringing the conflict to its shores. 
Hungary's Prime Minister Viktor Orbán stated that he would not permit rallies in support of the Palestinian cause, such as those taking place throughout Europe. Pro-Israel and pro-Palestine rallies were held across Europe with France and Germany now having banned pro-Hamas demonstrations. 
The Middle East
Many Arab governments released statements supporting the Palestinian cause. The overarching theme was that they did condemn the violence, but also blamed Israel's treatment of the Palestinians as the root cause of the attack. 
Some nations, such as the Arab League members Qatar, Kuwait, and Iraq, put the blame and responsibility upon Israel. Syria, a "suspended" member of the Arab League, did the same. 
Asia 
Indian Prime Minister Modi told Netanyahu, "India stands firmly with Israel… strongly and unequivocally condemns terrorism." This is a major shift from India's previously cautious diplomatic policy in the Middle East. The previous government, had been pro Palestine or more "neutral."
A statement from Sri Lanka's  Ministry of Foreign Affairs read, "Sri Lanka is deeply concerned about the attacks and escalation of violence and the resulting loss of life in Israel and Palestine." 
Sri Lanka called for an immediate halt to violence and called on all parties to exercise maximum restraint to prevent further civilian casualties.
South Korea is a major trading partner of Israel. President Yoon Suk Yeol condemned Hamas' "indiscriminate" attacks, but did not overtly show support for Israel. 
Malaysian Prime Minister Anwar Ibrahim said he would not yield to Western pressure to condemn Hamas, arguing that his [Muslim] nation would continue to maintain relations with Hamas. 
Africa 
Reactions across Africa were also mixed. 
In a statement, the African Union (AU) Chairperson Moussa Faki Mahamat expressed "utmost concern" at the incident that has "grave consequences" for the lives of both Israelis and Palestinians. Mahamat lambasted the failure of the several long-term international efforts to solve the crisis, saying, "The Chairperson wishes to recall the fundamental rights of the Palestinian people, particularly that of an independent and sovereign state, is the main cause of the permanent Israeli-Palestinian tension."
In Kenya, President William Ruto "unequivocally" condemned terrorism by Hamas, adding Kenya stands in solidarity with the State of Israel: "In consideration of the complex and delicate context of the security situation in Israel-Palestine, Kenya also makes a call for the de-escalation of violence,"  Ruto said. 
Kenya itself has faced terror attacks in the past. There are unverified reports that Israel assisted the East African nation with hostage negotiation advice during the Westgate Mall terror attacks that occurred a decade ago.   
Meanwhile, Africa's largest nation, Nigeria called for a "de-escalation and ceasefire" via dialogue, adding that it was deeply concerned. "The cycle of violence … only serves to perpetuate an unending cycle of pain and suffering for the civilian population that bears the brunt of every conflict," Nigerian officials said.  
Latin America 
Israel currently maintains diplomatic relations with all Latin American countries except for Cuba, Bolivia, and Venezuela. Given Latin America's shift to the left, it is not surprising that the overwhelming majority support the Palestinians.  
Brazil and Colombia have sided with the Palestinians. Many of the leftwing governments are not pro-Israel. 
Notable among Israel's allies here was El Salvadorian President Nayib Bukele, who said, "As a Salvadoran with Palestinian ancestry, I'm sure the best thing that could happen to the Palestinian people is for Hamas to completely disappear. Those savage beasts do not represent the Palestinians. Anyone who supports the Palestinian cause would make a great mistake siding with those criminals." 
Australia 
Australia's Prime Minister Anthony Albanese told ABC radio, "We stand by Israel and its right to protect itself."
United Nations  
The U.N. Security Council convened and rejected a Russian-lead resolution condemning violence and terrorism against civilians, with no mention of Hamas.  
Voting in favor of the resolution were China, the United Arab Emirates (UAE), Gabon, and Mozambique. Opposing nations included the U.S., UK, France, and Japan. The other six nations abstained from voting. The resolution failed to pass, falling short of the required nine votes out of 15 in the Security Council.  
Globally, vigils and protests were held as both Israeli and Palestinian supporters took to the streets to proclaim solidarity to the side they supported. Many celebrities such as Israeli actress Gal Gadot and Harry Potter author JK Rowling took to social media to voice their support for Israeli victims of the Hamas attacks.
Take Away 
Although  the world is divided among Israel's supporters and detractors, and Israel faces the specter of war, we see that  many allies have emerged for Israel, some more unlikely than others. Our supporters worldwide and our faith in Gd provide a ray of light in these harrowing times.