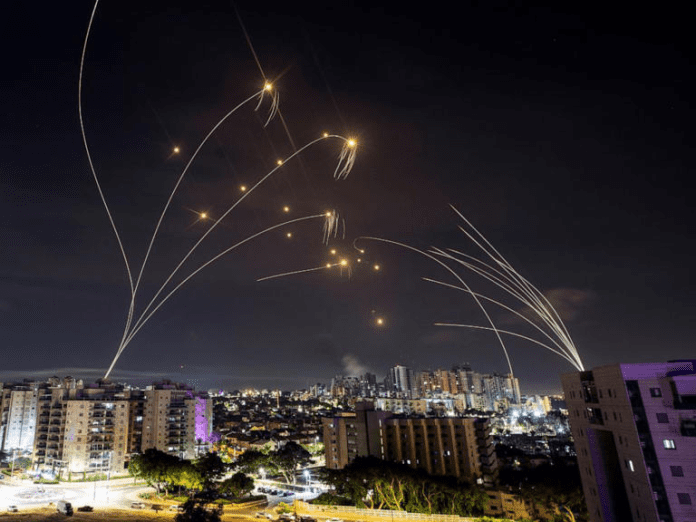 On October 7th, as Israelis were wrapping up the festival of Sukkot on Shabbat, sirens echoed across the country just before dawn, and citizens soon realized it was not a false alarm. A full-fledged surprise attack was being waged from the air, sea, and ground by hordes of Hamas militants. 
Thousands of missiles fired from Gaza streaked through the sky and began raining down on indiscriminate targets in Israel, sparking terror and leaving hundreds of bodies in the streets of cities and buildings decimated.  
Simultaneously, hundreds of armed fighters of the terrorist group, many on motorcycles, followed bulldozers that breached fences separating Israel from Gaza and charged into cities, taking Israeli soldiers off guard and gunning down citizens. 
The lightning-quick, multi-pronged ambush also included dozens of Hamas militants in motorboats storming Israeli beaches and engaging in fierce firefights with Israeli forces. Other armed Hamas attackers swooped into Israel through the smoke-filled skies on paragliders. 
As those under attack rushed to safe rooms and bomb shelters, groups of terrorists infiltrating the county marched into towns and into kibbutz after kibbutz, opening fire on homes and killing Israeli citizens at random.  
Militants burst into houses, shooting residents begging for their lives and taking others – including women, children and the elderly – hostage, driving the terrified captives back into Gaza as many of them screamed for help. 
Timeline of the October 7th Attack 
Oct. 7, 6:30am in Israel 
Air raid sirens began sounding in Jerusalem around 6:30am, warning citizens of the attack in progress and to immediately take cover. An estimated 2,200 rockets were fired toward southern and central Israel, including Tel Aviv and Jerusalem, by the Hamas militants, according to the Israel Defense Forces. Meanwhile, Hamas claimed at least 5,000 rockets were fired, all landing in southern and central Israel. 
One missile slammed into a hospital in the Israeli coastal town of Ashkelon, Israeli officials said. 
Armed Hamas militants, many on motorcycles, storm blockaded areas of the Gaza Strip, shooting at Jewish settlers in the Gaza Strip, officials said. Video footage surfaces of Hamas militants taking Israeli citizens – including mothers, children, and the elderly – hostage and taking them across the Gaza border. 
In one of its first public messages, the IDF said Saturday morning, "Over the past hour, the Hamas terrorist organization launched massive barrages of rockets from Gaza into Israel, and its terrorist operatives have infiltrated into Israel in a number of different locations in the south." Videos posted online captured hundreds of Hamas soldiers breaching the Israeli border from Gaza by boat, pickup trucks, and even motorized paragliders. 
Oct. 7, 8:00am in Israel  
Mohammed Deif, Commander in Chief of the Hamas' military arm Al Qassam Brigades, releases a video statement claiming responsibility for the attack. 
Oct. 7, 10:30am  
Israeli jet fighters launched retaliatory strikes in Gaza. Video surfaces of a high-rise residential building and the Al-Sousi Mosque in Gaza City being bombed and flattened by Israeli airstrikes. 
Oct. 7, 11:50am in Israel 
Netanyahu makes his first public statement, telling his country, "Israel is at war." 
"This is not a so-called military operation, not another round of fighting, but war," Netanyahu said. 
Oct. 7, Around 8:30pm ET 
U.S. Defense Secretary Lloyd Austin releases a statement saying he is "closely monitoring" the situation in Israel and extends his condolences to the families of those who have lost their lives in Israel. 
"Over the coming days, the Department of Defense will work to ensure that Israel has what it needs to defend itself and protect civilians from indiscriminate violence and terrorism," Austin said. 
Separately, a U.S. defense official said that Austin had a call with his team Saturday morning, including U.S. Centcom Commander Gen. Eric Kurilla. Israel falls under CENTCOM's area of responsibility. 
Oct. 7, Around 9:30am ET 
The White House announces that President Joe Biden has been briefed by senior national security officials "on the appalling Hamas terrorist attacks in Israel." 
Oct. 7, Just After 10am ET 
U.S. Secretary of State Antony Blinken issues a statement condemning Hamas' attack on Israel, saying the U.S. will "remain in close contact with our Israel partners." 
"The United States unequivocally condemns the appalling attacks by Hamas terrorists against Israel, including civilians and civilian communities. There is never any justification for terrorism. We stand in solidarity with the government and people of Israel, and extend our condolences for the Israeli lives lost in these attacks," Blinken said in a statement. 
Oct. 7, Around 11am ET 
The White House announces that Biden had spoken with Netanyahu, telling the prime minister the U.S. "condemns" Hamas' assault on Israel. 
"I made clear to Prime Minister Netanyahu that we stand ready to offer all appropriate means of support to the Government and people of Israel. Terrorism is never justified. Israel has a right to defend itself and its people. The United States warns against any other party hostile to Israel seeking advantage in this situation. My Administration's support for Israel's security is rock solid and unwavering," Biden said in a televised statement. 
Oct. 7, Around 5pm ET
Netanyahu makes a televised address in Israel, repeating his earlier statement that Israel is at war, adding, "We will win." 
"This morning, Hamas launched a murderous surprise attack against the State of Israel and its citizens," Netanyahu said. "We have been in this since the early morning hours. I convened the heads of the security establishment and ordered – first of all – to clear out the communities that have been infiltrated by terrorists. This currently is being carried out. At the same time, I have ordered an extensive mobilization of reserves and that we return fire of a magnitude that the enemy has not known. The enemy will pay an unprecedented price. In the meantime, I call on the citizens of Israel to strictly adhere to the directives of the IDF and Home Front Command. We are at war and we will win it."