The Torah world, especially the Sephardic community, mourns the passing of the Rishon LeTzion Hagaon Rabbi Eliyahu Bakshi-Doron, zt"l, who passed away on April 12th after complications from the coronavirus in the Shaare Zedek hospital, at the age of 79.
Rabbi Bakshi-Doron was born in Yerushalayim in 1941 to Ben-Zion Bakshi-Doron, an Iranian Jewish immigrant, and Tova, who immigrated from Aleppo, Syria. He had one older brother, a younger brother, and a sister.
As a bachur, he learned at Yeshivat HaDarom in Rechovot, under the tutelage of Hagaon Harav Meir Zvi Bergman, shlita, and later in Yeshivat Chevron and in Kollel Kol Yaakov in Yerushalayim. In his younger years, he served as a maggid shiur in Yeshivat Porat Yosef in Yerushalayim.
When the rabbi came of age, he married Rabbanit Esther, a"h, daughter of the former Chief Rabbi of Akko Harav Shalom Lopes, zt"l. They had ten children. His wife passed away in Nissan 5765/2005.
Start of Rabbinic Career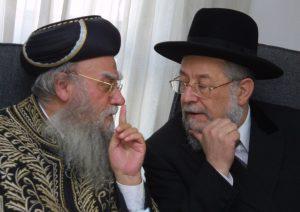 In 1970, Harav Bakshi-Doron started his rabbinic career, when he was appointed Rav of the neighborhoods of Ramat HaNasi and Ramat Yosef in Bat Yam. He was later appointed as Sephardic Chief Rabbi of Bat Yam, in 1972, and in 1975, he was appointed Sephardic Chief Rabbi of Haifa, where he remained for 18 years.
In 1993, Harav Bakshi-Doron was appointed to the post of Rishon LeTzion, Sephardic Chief Rabbi of Israel. He served his term concurrently with Ashkenazi Chief Rabbi Harav Yisrael Meir Lau, shlita. He held this post until 2003.
He was very close with all the Sephardic Rabbanim and Gedolim in Israel, notably with Hacham Ovadia Yosef, zt"l – whom he succeeded as Rishon LeTzion.
Rabbi Bakshi-Doron wrote numerous sefarim, including Sheilot U'Teshuvot Binyan Av, as well as sefarim on the Torah.
True Baal Hesed
Rabbi Bakshi-Doron and his wife always had their hands outstretched to the poor. Their home, with their ten children in their care, was always open to guests. The poor and needy ate at their home every Shabbat and Yom Tov. They ran tzedakah funds that distributed bridal needs to kallahs. Dozens of requests arrived every day and they would meet their needs. On Erev Pesach, they distributed tens of thousands of dollars to the needy.
Rabbi Bakshi-Doron is survived by his ten children, sons and daughters married to talmidei hachamim, and grandchildren, all following in his footsteps.
Yehi zichro baruch.