Cobblers, crisps, crumbles; they're all the same, right? Actually, while they're all baked desserts made with fruit, there are distinctions between the three. Cobblers have a biscuit topping which resembles a cobbled road, and so it was named accordingly. Though crisps and crumbles both have a streusel-like topping, they have but one difference. Crisps contain oats which tend to crisp up the crumbly topping, while crumbles do not. Whatever you call it, warm fruit with any sort of pastry dough is delectable. Add a scoop of vanilla ice cream and it's irresistible!
8 servings
Apple Filling:
1 tbsp cinnamon
¼ cup sugar
6 apples
Topping:
½ cup flour
½ cup oats
¾ cup sugar
1 tsp pure vanilla extract
¼ cup canola oil
1 egg
1 half pint vanilla ice cream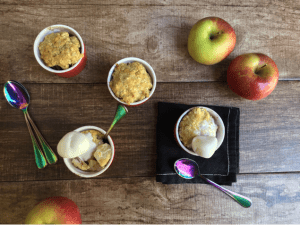 Preheat oven to 350 degrees Fahrenheit.
Peel and slice apples. Add cinnamon and sugar and toss gently in a large bowl. Evenly place apples in ramekins.
Mix flour and sugar together. Add egg, vanilla, and oil and mix well.
Divide dough into eight parts and roll into balls. Gently flatten dough by hand and place on top of each apple-filled ramekin. Bake uncovered for 30 minutes at 350 degrees Fahrenheit.
Serve warm with a scoop of vanilla ice cream.
Recipe, Photo, and Styling By Adina Yaakov, Dietetic Intern and Recipe Developer For more recipes follow @OnceUponAThyme__ on Instagram NEW!  Find more recipes on www.OnceUponaThyme.co