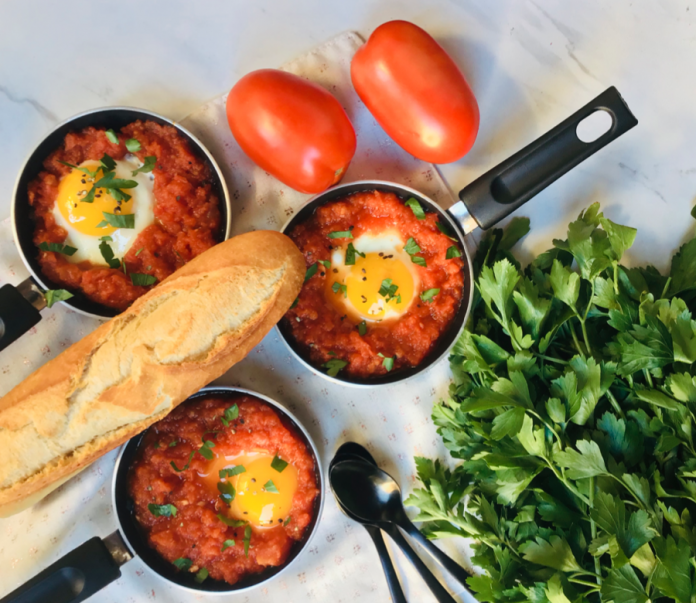 I'd love to tell you that to make this Shakshuka, you can bust open a jar of tomato sauce, heat it in a pan, and crack some raw eggs inside and call it a day. While some may choose to do the latter, tomato sauce made from scratch is entirely unparalleled. The piquant blend of slow simmering tomatoes with the aromatic garlic and the fine notes of sweet red wine is sensational. When you're in a pinch, canned whole tomatoes can work instead of fresh. Just don't use store-bought marinara, because a dish that consists of tomato sauce for the majority of its contents deserves an awesome homemade sauce.
INGREDIENTS:
6 vine-ripened tomatoes (or 28 oz. can whole tomatoes)
2 onions, diced
4 cloves garlic, sliced thin
1 tbsp salt
1 cup fresh basil
1⁄2 cup red wine
1⁄4 cup brown sugar
2 tbsp olive oil
6 eggs
1⁄2 cup fresh parsley
Red pepper flakes, optional
French bread for serving
In a large and wide skillet, heat olive oil. Add onions and sauté 10 to 20 minutes until caramelized. Add

the garlic and cook for another 5 minutes, stirring occasionally, making sure it doesn't burn.

In a food processor or blender, add tomatoes and process until well blended. Add tomatoes, basil, brown sugar, salt, and red wine
to the pot. Bring to a boil and then simmer on low for about 45 minutes if using vine ripened tomatoes.
If using canned whole tomatoes simmer for just 15 minutes.
3. Using the back of a spoon, make 6 indentations or "wells" evenly in the sauce. Crack your eggs and add them each in the wells you created.
4. Over low or medium heat, cover the skillet and allow the eggs to cook briefly until the whites are settled (shakshuka eggs are meant to be runny, but if you like your eggs hard – you can let them cook longer).
5. Garnish with parsley, and if you like it hot, add red pepper flakes. Serve immediately along with toasted French bread.