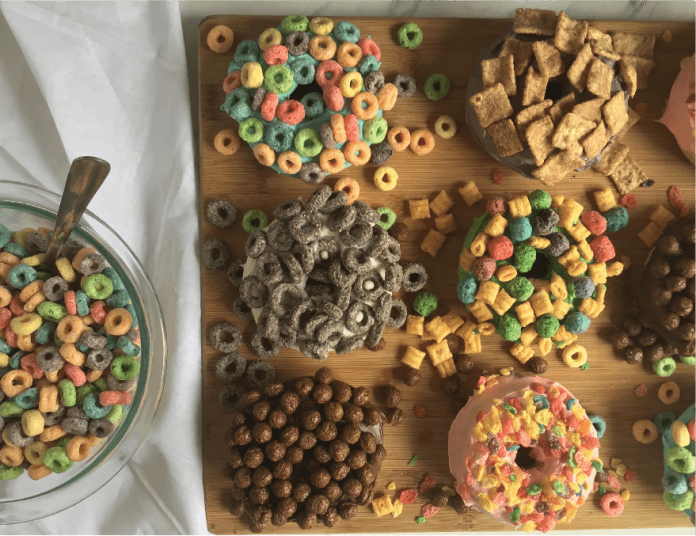 Homemade doughnuts are usually a time consuming project, but these baked doughnuts topped with colorful cereal are super simple to whip up. All you need are a couple of mixing bowls, a whisk, and a doughnut pan. If you don't own a doughnut pan, you need to get one ASAP. Using a doughnut pan means less time spending frying and less oil in the final product as well. Using classic, colorful cereals as doughnut toppings gives an awesome crunch along with a nostalgic taste of childhood. You may use soy milk and margarine instead of milk and butter to make these doughnuts dairy-free.
Makes 12
2 cups flour
⅔ cup sugar
2 tsp baking powder
1 tsp salt
4 tablespoons of butter
1 cup milk
2 tsp vanilla extract
1 can white frosting
1 can chocolate fro
sting
Cereal of choice such as Cocoa Puffs, Cinnamon Toast Crunch, Captain Crunch, or Fruity Pebbles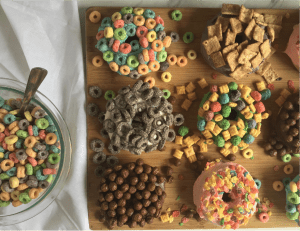 Preheat the oven to 350 degrees Fahrenheit.
Spray a doughnut pan generously with nonstick cooking spray and set aside.
Whisk together the flour, sugar, baking powder, and salt in a large bowl.
In another bowl, whisk together egg, milk, butter, and vanilla extract.
Mix wet ingredients to the dry ingredients and stir together until no flour bits remain. Do not over-mix.
Spoon the batter into a large Ziplock bag. Cut a corner off the bottom of the bag and pipe the batter into each donut cavity, filling 3 ∕ 4 of the way full.
Place the pan in the oven and bake for 10 to 12 minutes.
Remove from the oven and remove from the pan.
Split white frosting into 3 small bowls. Add 3 drops of desired food coloring into each and mix well.
When doughnuts are cooled, frost each doughnut with colored or chocolate frosting and immediately top with cereal.