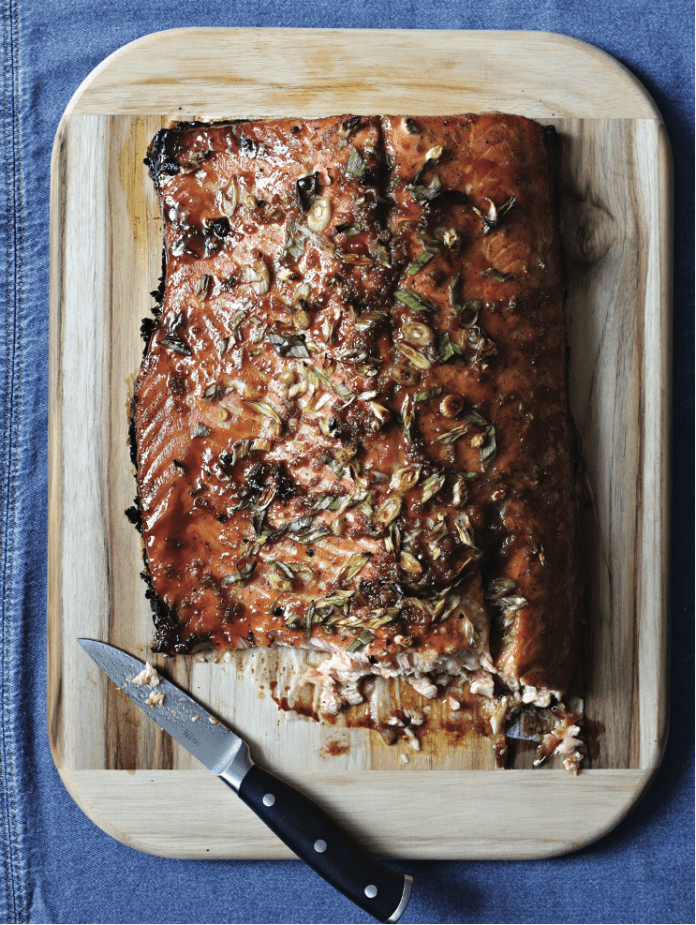 if teriyaki is your usual go-to, try this one instead.
Leah's mother has been making this salmon recipe for a while, and then her sister began making it. It's a favorite, and honestly, no one remembers where it originated! It's more up-to-date than teriyaki, but anyone who typically loves that sweet Asian flavor will love this, too.
1 side of salmon
3 scallions, sliced

Maple Sauce:

1⁄2 cup maple syrup
5 garlic cloves, crushed
1⁄4 cup soy sauce
1⁄2 tbsp honey
1 tsp mustard
3⁄4 tsp crushed black pepper

In a saucepan, combine all sauce ingredients and bring it to a boil.
Place scallions on the salmon. Pour sauce over the salmon. Marinate
for 1⁄2 hour.
Meanwhile, preheat oven to 400 degrees Fahrenheit. Bake for 1⁄2 hour.
Tip: Preparing less salmon? Don't need all the sauce? You can freeze it! Or prepare a double batch so it's ready to go the next time you make it.
Yield: 6-8 servings