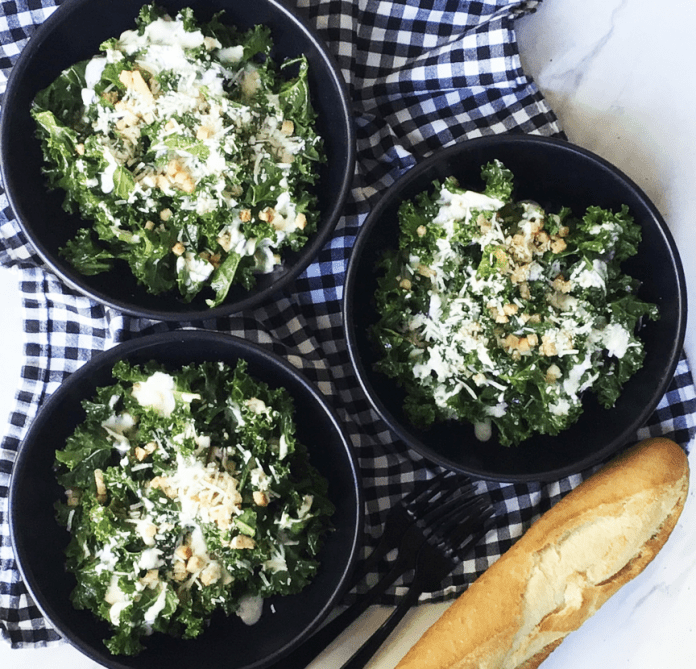 Before heading to the city for a recent dental appointment for my daughter, I stopped by a local store to grab some salads for lunch. With many different salad options, I called my daughter at home to see which one she would like. I told her there was romaine, iceberg, kale, and arugula salads. Unsure of which kind of lettuce she wanted, my nine-year-old paused for a moment and answered, "I want the lettuce that gets massaged!" It was a funny moment, but I was super proud of my foodie daughter who knows how to treat her lettuce, even if she may not know it by name. Kale is a nutrient-dense food loaded with vitamin C, vitamin K, and antioxidants, but is naturally tough and fibrous. Massaging it breaks down those characteristics, leaving an easier to digest, easier to chew succulent lettuce, which tastes great in a Caesar salad.
SALAD:
1 bunch kale leaves, washed and cleaned
2 tbsp olive oil
1⁄2 tsp salt
Grated parmesan
Croutons

CAESAR DRESSING:

1 tbsp olive oil
3⁄4 cup light mayo
1 tbsp mustard
3 cloves

minced garlic

1 tbsp salt
1⁄4 cup lemon juice
1 tsp Worcestershire

sauce

1 tbsp honey

1. Remove the stem from the kale with your hands by moving your hand
down the kale stem, and the leafy part of the kale will fall off. Chop kale into small pieces and place into a large salad bowl. Coat the kale in olive oil and salt and massage the kale with your hands. Work the kale with your fingers by pinching and squeezing the kale for about 4 minutes. You'll be done once kale is tender
and soft.

2. Add the garlic into the food processor and blend until chopped fine. Add the rest of the dressing ingredients until well combined and smooth. This recipe makes extra, it may be refrigerated in a sealed container for up to 2 weeks.

3. Optional: To make croutons, use a knife to chop a few slices of old bread into small pieces. Drizzle with olive oil and sprinkle with salt and Italian seasoning.
Bake for 10 minutes at 350 degrees Fahrenheit until crispy.

4. To assemble, place kale in a bowl and add Caesar dressing, toss to coat. Top with parmesan and croutons. Serve immediately.