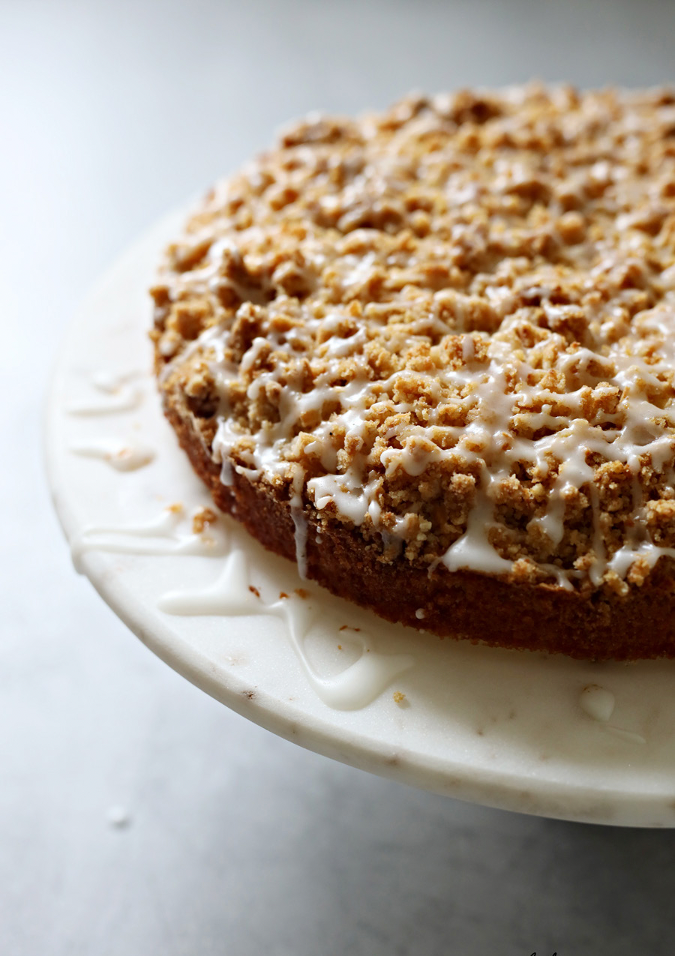 An incredible, moist, coconut-y cake is paired with the famous coconut crunch topping. The only question is…why did it take so long for this match to come about?
THE NEW CRUNCH CAKE
CAKE:
1 3⁄4 cups flour
3⁄4 cup unsweetened coconut flakes
1 1⁄2 cups sugar
1 1⁄2 teaspoons baking powder
1⁄4 teaspoon salt
1⁄2 cup canned full-fat coconut milk (mixed to an even consistency)
1⁄2 cup oil
4 eggs
1 teaspoon vanilla extract
COCONUT CRUNCH:
1⁄2 cup coconut flakes (sweetened or unsweetened)
2⁄3 cup flour
1⁄4 cup brown sugar
1⁄4 cup oil
ICING:
2 cups confectioners' sugar
Preheat oven to 350F. Line and grease an 8-inch springform pan or Bundt cake pan.
In a bowl, combine all ingredients for the cake. Mix well. Add batter to prepared pan and bake for 40-45 minutes. Let cool.
Line a baking sheet with parchment paper. Combine all Coconut Crunch ingredients. Spread on prepared baking sheet and bake for 12-15 minutes.
Combine all icing ingredients. Once cake is cool, drizzle icing over cake and add coconut crunch. The icing is meant to act as a "glue" to attach the crumbs to the cake. Continue to drizzle more layers of icing and crunch until all the crunch is "stuck" to the cake. Finish with a final drizzle of icing. You might not need all.
Yield: 8-10 servings; 1 cake
Sweetened or unsweetened coconut?
We used unsweetened coconut inside the cake. For the topping, the original recipe calls for sweetened coconut, so we left the "famous" topping as-is. Either would be interchangeable.