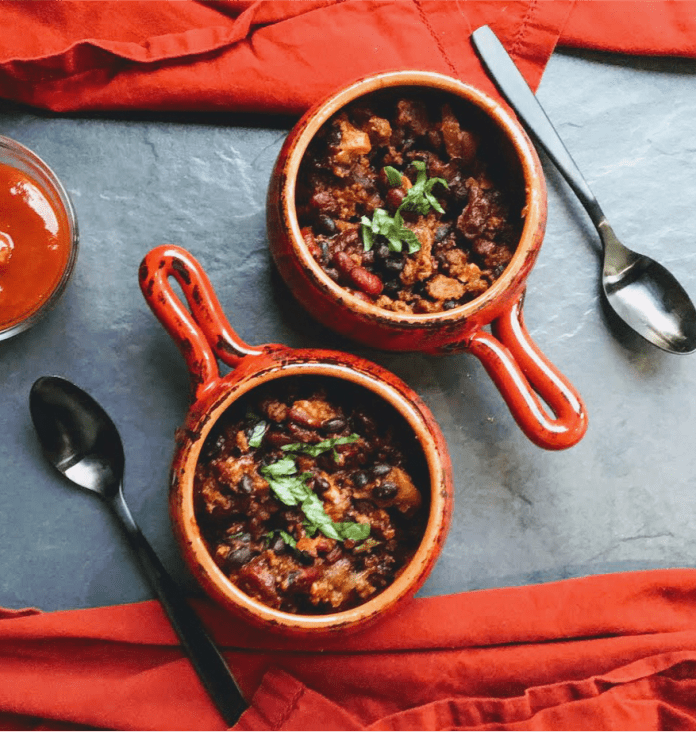 Thick, rich and flavorful, chile is one of those dishes that top the comfort food charts. Try it on its own, or serve it with corn chips or warm tortillas. Chile is also tasty over rice, fries or potato wedges. Chile can also be used as a hot dog topping, which takes it to the next level. Last but not least, my favorite way to use chile is as Sloppy Joe meat, stuffed inside fresh rolls.
INGREDIENTS:
1 lb. ground beef
1 onion, diced
2 tbsp canola oil
5 cloves crushed garlic
1 green pepper, diced
1 cup chicken or beef broth
14 oz. can crushed tomatoes
1 can tomato sauce
1 can black beans
1 can kidney beans
1 tbsp kosher salt
1⁄2 tsp cayenne
1⁄2 tsp smoked paprika
2 tsp cumin

OPTIONAL TOPPINGS:

• Lime wedges
• Tortilla or corn chips • Scallions
• Parve sour cream
In a large pot, heat oil and add onions. Cook until transparent and then add diced green pepper and cook for an additional 5 minutes.
Add ground beef and cook until browned. Break up any large chunks with your spoon.
Mix in cumin, cayenne, paprika, and salt.
4. Pour in drained beans, crushed tomatoes, tomato sauce, and broth and bring to a boil.
5. Lower flame to a simmer while stirring until the chili thickens.
6. Serve warm with your favorite toppings.