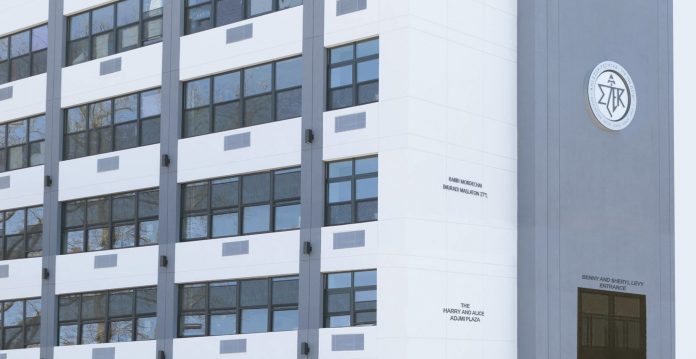 Staff Writers, with Pnina Souid
"Every student here knows that she is loved and valued. Our goal is to produce a true Bat Yisrael, and prepare her to fulfill her dreams…." Rabbi Raymond Beyda
"Every child that comes through these doors is valued. They become a part of the Ahi Ezer family."
The Ahi Ezer Yeshiva is a striking landmark on Ocean Parkway and has been dear to our hearts for over 60 years. Approaching Avenue X on my way to visit, the fresh and modern structure immediately caught my eye. The beautifully renovated façade is only a hint of the major transformations taking place within the school.
The renewed, state-of-the-art facility does not only reflect a physical face-lift: the school has quietly been on a growth trajectory for the last half decade, resulting in what we can only call a new school. A dedicated and innovative administration, a top-notch curriculum, and the updated physical environment of the school all play a part in the transformation of this all-girls elementary school.
The administration and leadership of Ahi Ezer Yeshiva Girls' School are truly visionary.
Enter Rabbi Raymond Beyda
Just over three years ago, Rabbi Raymond Beyda joined the faculty. As Rosh Yeshiva, he became part of the team guiding the school's newest spiritual and academic journey. As part of this journey, the best members of the existing faculty were joined by skilled young teachers from the community, among them Ahi Ezer alumni returning to give back to their community.
Rabbi Beyda emphasizes, "Every student here knows that she is loved and valued. Our goal is to produce a true bat Yisrael and to prepare her to fulfill her dreams. For this to happen, the child must feel good about herself, excited about learning, and comfortable in her environment."
Rabbi Beyda's mission statement is not merely words: it is a guiding principle that is evident in the school's atmosphere, from the preschool through eighth grade.
Early Childhood Division
The Early Childhood Department, under the direction of Mrs. Rose Lati, lays the foundation. Mrs. Lati describes the goals of her department: "We focus on middot and developmental growth. Our aim is to raise the expectations for students and staff, focusing on core life skills, professional development, and parent involvement."
With consistent advancements, including additional classes and programs initiated each year to incorporate the input from our families, our early childhood division has been recognized as a first-rate preschool in the community.
For Ahi Ezer, making the students feel loved from the first moment is a goal on par with the educational experience. Morah Bimi, beloved kindergarten teacher, stresses, "Every child that comes through these doors is valued. They become a part of the Ahi Ezer family."
As in all divisions, the Preschool Department is imbued with a spirit of growth and innovation. In addition to their regular classes, Ahi Ezer Yeshiva now has a toddler program and a weekly Sunday program for girls. And it does not end there! Mommy and Me classes will be starting this September, b'ezrat Hashem, led by Mimi Mizrahi, for children aged nine months to two years. Other plans for the preschool are in store as well, which reflect the forward-looking attitude that permeates this building.
Elementary Division
The Elementary Division is led by Mrs. Golda Winegarten, the Judaic Studies principal. Under her experienced guidance, the Judaic Studies Department has become a model for other schools. The school is recognized as being at the forefront of nation-wide educational ventures.
The school's Yediot Klaliot, Halacha, and Parasha programs were developed by Mrs. Nina Hidary, after consulting extensively with the principals of leading high schools. Mrs. Winegarten explains, "We wanted to find out what their expectations are for a successful student." Incorporating skills and general Judaic Studies knowledge, the cumulative curriculum has succeeded impressively. "This program has been sought after by other elementary schools," Mrs. Winegarten notes.
Another marker of the school's achievements is the J-SAT test, a placement test taken by hundreds of students from yeshivot and day schools in the New York area. "A significant majority of our students scored above-average in the J-Sat tests," Mrs. Winegaten states proudly. As a result, she notes, "We have schools fighting over Ahi Ezer Yeshiva graduates!" Clearly, the school's strong tradition of dedication to growth has led to impressive results.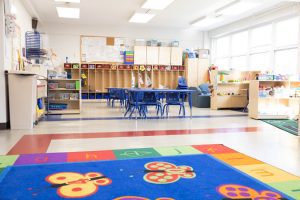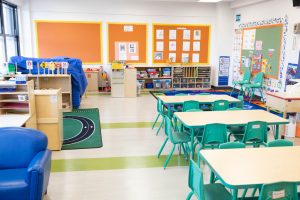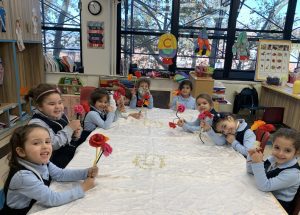 Ivrit Programs
The rest of the curriculum is laudable, as well. Mrs. Paz, an acclaimed community educator, spearheads the school's Ivrit program. In addition to teaching Ivrit B'Ivrit to all grades, Mrs. Paz has created an Honors class for seventh and eighth graders, using a high school curriculum.
Building on their success with the Yediot program, Ahi Ezer is continuing to integrate Lashon HaTorah and Dikduk skills on the demanding level of the COJDS curriculum. They are ahead of the curve, and it is clear that this is just the beginning.
Secular Studies
Mrs. Aliza Beyda is the principal of the Secular Studies Department. She works together with curriculum advisor Mrs. Matalon. Their goal is to prepare students for higher education in every possible way. Here, too, the mantra is to expand in new directions of growth. This includes implementing new courses and teaching methods and staying on the lookout for future additions to the curriculum.
Advanced students in the fifth through eighth grades take part in honors classes for Math and Language Arts. Mrs. Beyda noted, "Astoundingly, this year's fifth grade honors have touched upon eighth grade-level statistics, while the eighth graders are preparing to ace the ninth grade Regents Exam." Preparing students to be competitive in today's world means including advanced computer skills. Beginning in fifth grade, students learn the basics of using a computer, typing skills, and essential programs like Microsoft Word, Excel, and Outlook.
Another program that is critical to helping students achieve future success is the STEM program, which integrates science, technology, engineering, and mathematics. Through this stimulating curriculum, students develop scientific literacy and critical thinking skills. Ahi Ezer is preparing the next generation of innovators.
Supplemental courses include Sephardic History, which provides students with an understanding of their rich heritage and instills pride in their community, tracing 3,000 years of the Sephardic heritage through photos and artifacts. In another popular course, a teen-mentor visits the seventh and eighth grades to present classes in self-confidence, social skills, emuna, and Hashkafa/Torah outlook. These invaluable weekly lessons provide the almost-graduates with the self-esteem and skills vital to handling life's challenges, readying them for their future roles as wives, mothers, and pillars of our community. New this year is a class called the Eternal City, during which eighth graders brush up on their skills by researching the history and archaeology of Jerusalem!
Lined up for Fall 2021 is a multi-faceted healthy living program, including nutrition education and physical education. To spice things up, each month the school will invite well-known Syrian chefs into their new state-of-the-art kitchen. These guests will demonstrate techniques for preparing healthy meals and desserts.
Ahi Ezer Weathers COVID
In March of 2020 Ahi Ezer's combination of love and professionalism stood them in good stead when NYC shut down. The previous month, with COVID still distant on the horizon, the Ahi Ezer principals foresaw the possibility of a lockdown. They started preparing for remote schooling – just in case. As a result, the school was able to spring into action as soon as the pandemic struck. Distance learning began almost immediately, and teachers helped students fill the long hours after Zoom School with weekly art classes, voluntary Parasha and Tehillim time, and a nightly teacher-hosted program nicknamed "Ahi Ezer Live!"
There was more: drive-through events, packages full of toys and games, the annual bat mitzvah presentation, and a surprise graduation trip – think hand-delivered souvenirs. There was a café-style breakfast and barbeque dinner, a virtual DC tour, and a Zoom Escape Room game. Amazingly, even during a pandemic, Ahi Ezer was creating fond memories. By the time in-person learning resumed, it was clear the school had pulled off a virtual miracle.
Making Everyone Feel Comfortable
Sometimes it is the smallest things that make a difference, such as a principal greeting students as they walk into school, or on-site babysitting services for the faculty. This attention to detail is especially visible in every aspect of the building's renovations.
Student comfort is paramount at Ahi Ezer. The brightly lit, color-coordinated classrooms feature brand-new furniture and colorful, self-healing cork boards. The cubbies and hooks take students' ease into account, in different sizes and heights according to the needs of their littlest and biggest members. Teacher cabinets neatly line the tops of the cubbies, providing a spacious area for educational resources. The new student restrooms could rival those at a wedding hall. Walls and floors throughout the school provide various types of atmospheres: impressive marble walls and glass portraits of Sephardic rabbis grace the entrance; warm, trendy tones with a pop of color and textured wallpaper are just right for the elementary students; and exciting-colored tiles brighten up the preschool. Teachers and staff are getting used to the reactions: parents will routinely comment that they feel like they have walked into a new school. And they are right!
From the play-yard to doors to windows, the transformed building is beautiful. The visionary new Board of Directors – Mr. Bunny Escava, Mr. Joe Indibo Cohen, Mr. Harry Adjmi, Rabbi Raymond Azrak, Mr. Victor Bibi, Mr. Gabe Khezrie, Mr. Eddie Mizrahi, and Mr. Zuki Jradeh, as well as tireless administrator Rabbi Elly Dayan, take pride in the renovations they helped to facilitate. One board member explained his motivations behind the school's changes: "When our little girls come into school, they are little princesses, when they graduate, they are queens."
Board Members Speak Up
Board member Rabbi Raymond Azrak says, "We have tremendous hakarat hatov to Hakadosh Baruchu for the incredible siyata dishmaya, Divine assistance, in the growth of Ahi Ezer in recent years."
Other board members weigh in on the conversation. "I've noticed the teachers and principals are stronger than ever and have more knowledge to make the school great," says Mr. Bunny Escava, president of the school board for 40 years. "The love they have for the students is beyond belief."
Mr. Harry Adjmi refers to the school as humble, explaining why the school's transformation has taken place mostly behind the scenes, out of the limelight. He notes that the administration does not veer from its main focus: "To educate good, respectable girls in our community."
Mr. Gabe Khezrie comments, "Being a graduate of Ahi Ezer myself, it warms my heart to see the school striving and succeeding in every aspect." He credits the dedication of Mr. Joe Cohen and the new board members as the driving force behind the tremendous success each and every student is achieving.
"Ahi Ezer Yeshiva has come leaps and bounds in terms of academic excellence, cutting-edge extra-curricular programs, and student enrollment," says Amy Setton, business office director. "I have seen firsthand the changes made at our school and I am truly proud to be part of the Ahi Ezer family. I call it a hidden gem in an ancient treasure known as Ahi Ezer Yeshiva."
New Look, Same Values
While the building looks and feels new, Ahi Ezer's trademark for decades has been its warmth. The school retains its signature family atmosphere, even as the staff and curriculum have grown. The new Ahi Ezer is a synthesis: the commitment to education with love has never wavered, it has just been combined with new creative and effective educational tools.
Rabbi Raymond Beyda reiterates the school's objective. "We are an institution with a long history of tradition, perfecting the education of our children so that they can fulfill their dreams and become anything that they want to be."
The Rabbi's ambition is shared by the entirety of the school's team, encompassing the Hebrew and English departments, administration, and board. Together, they are making it all happen.
Where is Ahi Ezer heading next? With the forward-thinking perspective that permeates the school nowadays, the sky is the limit.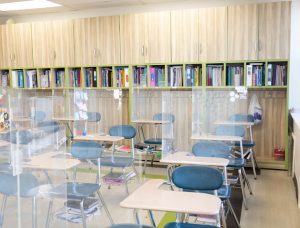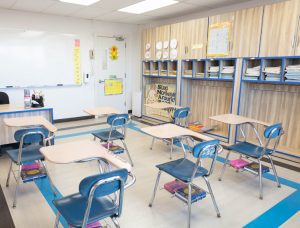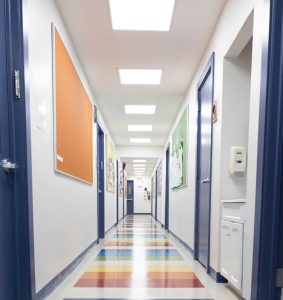 For inquiries, or to tour the school, please call 718.648.6100. To stay updated you can also follow Ahi Ezer @ahiezerpreschool and @ahiezeryeshiva.