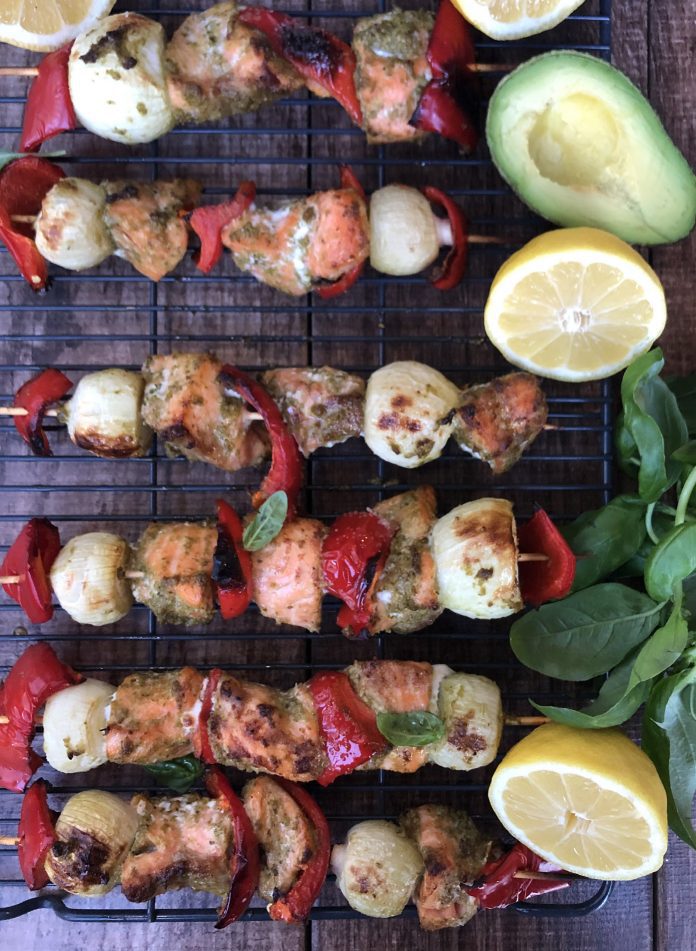 Adina Yaakov
May is National Barbeque Month. Kick-start the season by firing up the grill with these easy pesto salmon kabobs. These flavor-packed, flaky salmon skewers take less than thirty minutes to prepare, and the best part is – you can make them all year round by using your broiler indoors. Great as an appetizer, or double the servings to use as the main dish. Brush some extra pesto on your favorite vegetable like corn on the cob to grill along with the kabobs and serve with fresh pita for a simple dinner idea.
Ingredients:
1 cup basil pesto
2 lbs salmon filet, skinned and cubed
2 red bell peppers
12 pearl or small onions
2 lemons
6 wooden skewers
1. If you're using wooden or bamboo skewers, soak them in water for 30 minutes before using.
2. Wash and remove seeds from bell peppers. Chop into large squares. Peel onions, leaving them whole.
3. Toss salmon pieces, peppers, and whole onions together with pesto in a large bowl. Leave for 20 minutes or cover and refrigerate for an hour until you are ready to grill.
4. Thread salmon cubes and veggies through prepared skewers.
5. To cook outdoors on grill: Arrange salmon kabobs on a medium-heated grill, cover and cook for 6 to 8 minutes, turning them with tongs half way through.
To cook indoors in the oven: Turn the broiler on high and place the top rack about 5 to 6 inches below the broiler. Arrange the salmon skewers on a baking sheet and broil for about 5 minutes on one side, turn over on the other side and broil for another 5 minutes.
6. Serve immediately with lemon wedges.
Pesto:
3 cups fresh, cleaned basil
½ cup olive oil
5 cloves fresh garlic
1 tbsp salt
¼ cup pine nuts
In the bowl of a food processor or blender, combine all ingredients. Blend to a smooth paste and set aside.