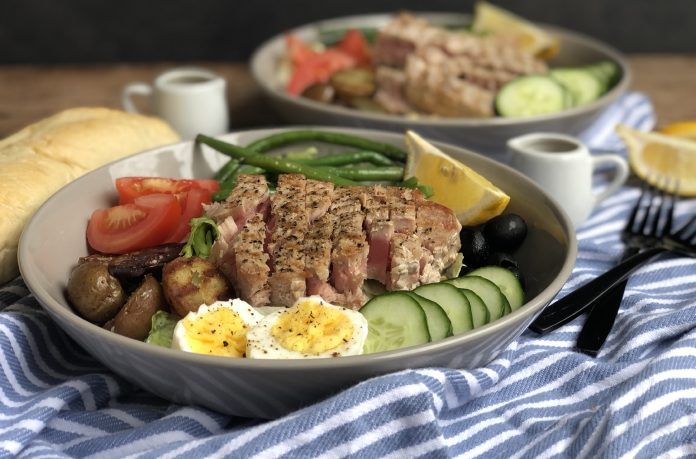 Niçoise salad is a dish that originated in the French city of Nice. It is traditionally served on a bed of lettuce and topped with cooked potatoes, hard-boiled eggs, string beans, olives, and tuna, and topped with a savory olive oil dressing. This recipe has a delicious honey-mustard vinaigrette which compliments the saltiness of the olives. Add-ons vary from cherry tomatoes to chickpeas. Feel free to add or subtract any ingredients to your liking. Regardless of what you add to this flavorsome salad, one thing's for sure – you'll be wanting more!
Salad
3 cans tuna in oil, drained
6 hard boiled eggs, peeled and halved
4 small red potatoes
2 Persian cucumbers, sliced
Salt
Black pepper
1 large bag chopped romaine lettuce
1 red onion, thinly sliced
1 cup canned black beans
8 ounces green beans, trimmed and cut
1/4 cup kalamata olives
Vinaigrette
1/3 cup lemon juice or red wine vinegar
3/4 cup olive oil
2 tablespoons basil or 4 frozen cubes basil
2 tablespoons Dijon mustard
1 tbsp honey
2 cloves minced garlic
Salt and pepper to taste
1. Make vinaigrette: In a jar, vinaigrette ingredients and cover with a lid and shake until well blended. Add salt and pepper to taste. Set aside.
2. Scrub potato peels and slice in half. Cut into wedges and place potatoes on a large baking sheet with 2 tbsp olive oil. Add salt and pepper and toss to coat. Bake uncovered at 350 degrees Fahrenheit for 20 minutes. Set aside.
3. While the potatoes are baking, fill a medium-sized pot halfway with water. Add 2 teaspoons of salt. Bring to a boil and add the green beans to the boiling water.
4. Cook the green beans for about 3-5 minutes and drain and either rinse with cold water to stop the cooking, or shock for half a minute in ice water and set aside.
5. Arrange a bed of lettuce on each salad plate. Mound tuna in the center of lettuce.
6. Arrange the potatoes and green beans at the edges of the plate.
7. Add the remaining salad components – sliced onions, black beans, hard boiled eggs, cucumbers, and olives
8. Dress salad with vinaigrette just before serving.