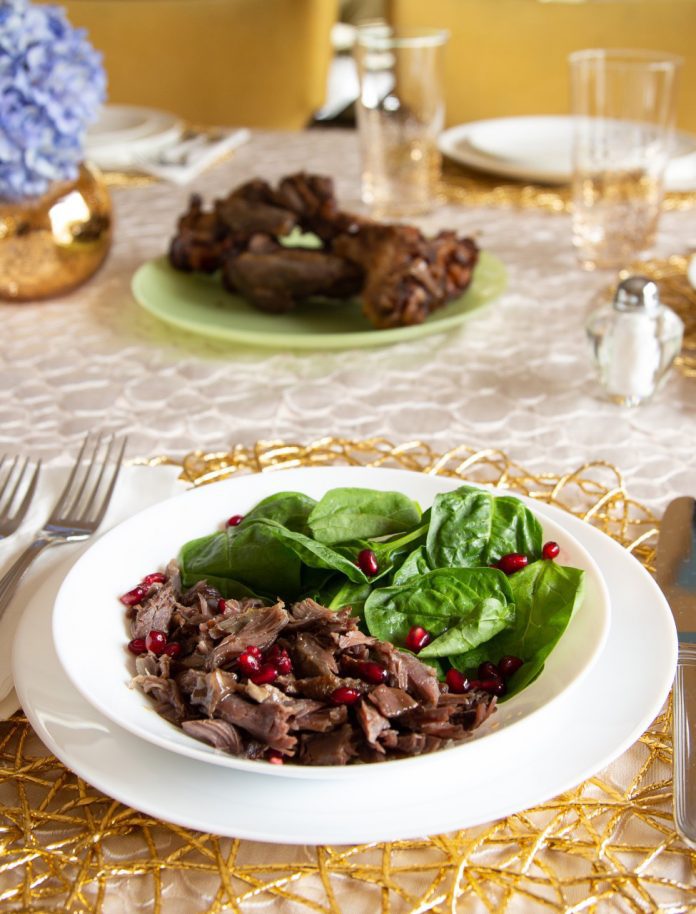 I hope everyone enjoyed the dinner series. Now is the perfect time to start the next series of holiday and Shabbat recipes. This recipe will be a great addition to any of your holiday meals. May we all be zoche to a year full of health, happiness, and all good things always! Tizku l'shanim rabot!
1 package lamb shanks
Salt and pepper
2 tbsp. vegetable oil
1 diced onion
2 cups pomegranate juice
1/3 cup balsamic vinegar
4 cloves crushed garlic
3-4 rosemary sprigs
1/4 tsp. chili flakes
1 tsp. honey
Pomegranate seeds
1. Preheat oven to 250 degrees Fahrenheit.
2. Season lamb shanks with salt and pepper and sauté on the stove in a deep oven-safe pan (a Dutch oven or roaster is fine) until they're browned very well on all sides. Once done, transfer the shanks to a plate and set aside.
3. Reserve around 1 tbsp. of the fat drippings, and discard the rest. Lower the heat to a medium flame and add in 2 tbsp. vegetable oil and an onion sliced in thin rounds. Sauté until translucent. Add in 2 cups of pomegranate juice, scraping the bottom of the pan to release any bits. Add in 1/3 cup balsamic vinegar, 4 cloves of crushed garlic, 3-4 rosemary sprigs, ¼ tsp. and ¼ tsp. chili flakes. Bring the mixture to a slight boil.
4. Add the lamb shanks back to the pan with any drippings that may have dripped on to the plate. Cover the pan and bake for around 3.5 hours.
5. Take out the lamb shanks and transfer to a serving plate (or tin).
6. Strain the liquid through a thin strainer and discard the solids that were left behind in the strainer.
7. Pour the liquid into a small pot and bring to a boil. Add in 1 tsp. honey and black pepper. Leave on the stove for around 5-10 minutes until the liquid reduces.
8. When ready to serve, spoon the remaining liquid over the meat and garnish with pomegranate seeds.
Photo styled and photographed by Sarah Husney.
Sarah Husney is a food photographer servicing NY & NJ. She has clients from the food businesses in the community upgrading their photos for Instagram and websites. She also takes photos for restaurants on UberEats, and is featured on Kosher.com for styling and photography. Contact info- 9176262991
@sarahhusney_foodphoto