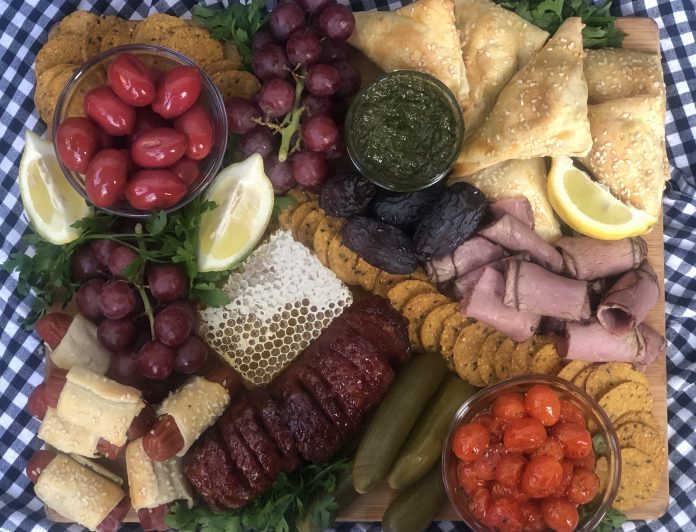 Charcuterie is the art of preparing and assembling meat products. Pronounced "shahr-ku-tuh-ree," the charcuterie board is an extraordinary appetizer to serve at any meal and great for parties. Although the typical foods placed on the board are cured meats, olives, nuts, dried fruit, crackers, and jam, there are no hard rules for making a charcuterie. Make it your own and think outside the box! Have some extra mazza? Add it to your board! The flavors on the charcuterie board are both visually appealing and palatable with the combinations of texture and color and the pairing of salty with sweet foods. The addition of honeycomb and dates make the charcuterie board perfect to serve on Rosh Hashanah. Try finding honeycomb at a natural or health food store or order it online to enhance your holiday meal.
Prepared Foods:
Glazed Salami
Franks in Blanks
Beef Bourekas
Additional Ingredients:
1 bunch red or green grapes
1 lemon, cut into wedges
Crackers or breadsticks
Cherry tomatoes (raw or roasted with olive oil)
1 package pastrami slices
1 jar pickles
4 dates
Pesto
Parsley
Honeycomb
Glazed Salami
½ cup apricot jam
½ cup vodka
2 tbsp ketchup
1 large salami
1. Remove the plastic wrapper from the salami and place chopsticks on both sides of the salami to prevent you from cutting to the bottom of the salami.
2. Cut ¼ to ¼ inch vertical slices while being careful not to slice through to the bottom.
3. Mix together the first three ingredients and then brush on to salami, making sure to get into grooves.
4. Place in a tin and bake uncovered for 25-35 minutes.
Beef Bourekas
1 lb ground beef
1 tsp salt
1 tbsp oil
1 large onion, diced
1 tbsp allspice
¼ cup red wine
8 oz can tomato sauce
1 package of mini puff pastry squares
1 egg
1 red pepper, finely diced
Sesame seeds
1. In a large sauté pan, heat oil and sauté onion for 5 to 10 minutes until golden.
2. Add ground beef and use a fork or potato masher tool to separate the beef into very small pieces.
3. Add the red wine, tomato sauce, salt and allspice and bring to a boil. Simmer until most of the liquid has evaporated, being careful not to burn.
4. Turn off the fire and add red pepper and mix.
5. Fill puff pastry dough with 1 tbsp beef and seal well.
6. Beat egg well, brush the tops and finish with sesame seeds.
7. Bake on 350 degrees Fahrenheit for 35 minutes.
Franks in Blanks
1 package puff pastry dough squares
1 package mini hot dogs
1 egg
Sesame seeds
1. Slice each puff pastry square into 3 strips.
2. Wrap each mini hot dog in a puff pastry strip.
3. Beat egg well, brush the tops and finish with sesame seeds.
4. Bake on 350 degrees Fahrenheit for 15-20 minutes.
Charcuterie Board Assembly:
1. Prepare a wooden board by washing and drying it.
2. Begin by placing the larger items like the cooked salami and honeycomb on the board.
3. Wash and dry grapes and lay them on the board.
4. Then add the cooked bourekas and franks in blanks.
5. Place small bowls on your board and fill with olives, tomatoes, and pesto (or any other favorite dips).
6. Roll each pastrami slice and add tightly together on the board.
7. Place crackers, and dates around the board.
8. Fill in blank spots with lemon wedges and parsley.