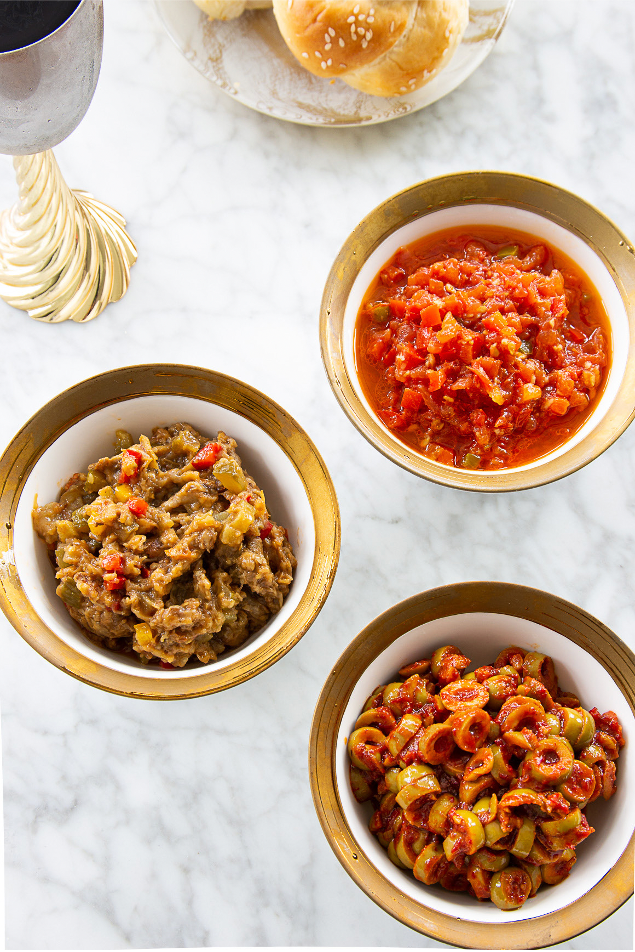 When choosing the Holiday and Shabbat table, I knew right away I wanted to add in dips. Whether we're home alone or with company, I always make sure to have an assortment of dips to serve with yummy fresh challah. It's the perfect way to enhance the Shabbat meal. Here are just a few of my favorites.
All of these dips can be made in advance and should be stored in the refrigerator until ready to serve.
SHEET PAN MATBUCHA
Tomatoes
Red pepper
Jalapeno pepper
Crushed garlic
Olive oil
Salt
Sugar
Cumin
Dash of black pepper
Lemon juice

Chop up 4 tomatoes, 1 red pepper, and 1 jalapeno pepper (leave the seeds in for more heat) very, very fine (I like to use the alligator chopper). Lay everything out on a sprayed baking tray. Drizzle 1 tbsp. olive oil on top. Season with 1 tsp. salt, 1⁄2 tsp. sugar, 1⁄2 tsp. cumin, a dash of black pepper, and 3-4 cloves of crushed garlic. Mix together and bake at 375 degrees Fahrenheit for around 1 hour and 40 minutes. Remove from the oven and pour over 2 tbsp. lemon juice while still hot. Mix well, and once cooled store in the fridge until ready to serve.

• Eggplant

Israeli pickles
Crushed garlic

• Small piece of red, orange, and yellow pepper

• Ketchup
• Lemon juice • Cumin

Peel and slice eggplant (don't slice too thin). Lay the slices on a sprayed tray. Pour some oil in a plastic cup and sprinkle in around 1 tbsp. salt. Using a pastry brush, brush the eggplant slices generously with oil. Bake at
350 degrees Fahrenheit for around 25 minutes until they feel soft.

Remove them from the tray, transfer to a bowl and mash them. Add in chopped-up colored peppers. I usually take 1⁄4 of each pepper and use the alligator chopper to cut the pieces very small. You're not going to need the full 1⁄4 of each pepper – just sprinkle some in and add 2 chopped-up Israeli pickles (I use the alligator chopper for that too.) Dress the salad with 1 tbsp. ketchup, 1 tbsp. lemon juice, 2 cloves crushed garlic, and 1⁄2 tsp. cumin. Mix together, and store in the fridge.

MEDITERRANEAN OLIVES

Can of sliced olives
Olive oil
Oot
Hot pepper paste
Cumin

Drain out a can of sliced olives and empty them into a bowl. Add in 2 tbsp. olive oil,
3 tbsp. oot, and 3 tbsp. hot pepper paste (this can be found in most Israeli and local stores), and 1⁄2 tsp. cumin.

Mix together and store in the fridge until ready to serve.