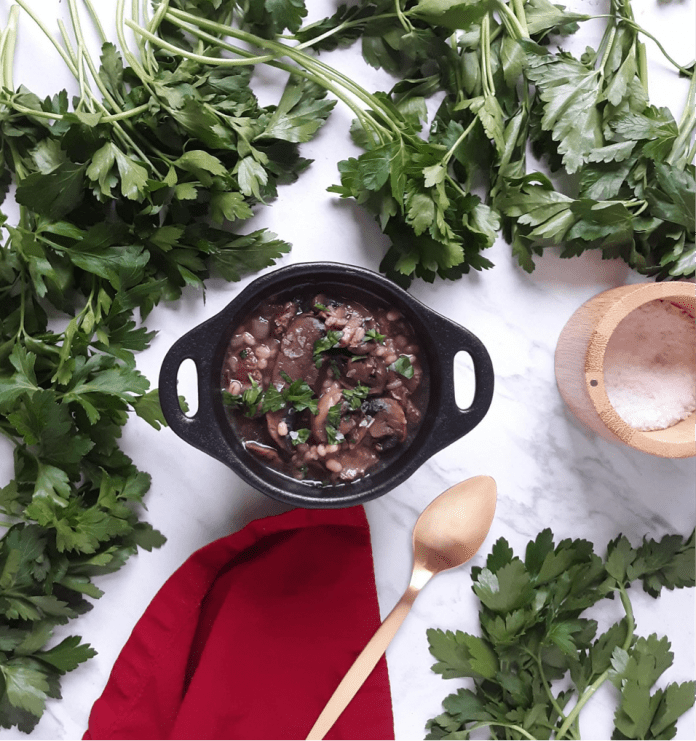 ADINA YAAKOV
Are you searching for a good, hearty soup? Look no further! With soft chunks of beef, chewy barley, two mushroom types, and layers of flavor, this soup is just the thing you need this fall.
There are many types of mushrooms, but most people tend to stick with the white button variety. Branch out and taste the umami flavors of cremini and portobello, and dare to add other mushroom varieties too. If you're still on the fence about cremini mushrooms, you can just double the portobello mushrooms. The cremini mushroom adds a subtle change, but a world of flavor.
2 tbsp oil
2 packages cremini (regular white) mushrooms (about 20 oz)
2 packages portobello mushrooms (about 12 oz)
1 tbsp salt
1⁄2 tbsp black pepper
3 onions diced fine
1 cup red wine
4 cloves garlic, minced
1 cup barley
1 lb beef cubes
8 cups water
Fresh parsley
Maldon Salt

1. In a large soup pot, sauté onion in oil until golden, about 10 minutes.

2. Sprinkle salt and pepper on the beef and add to the pot.

3. Sauté each side and then let simmer on low for 20 minutes, stirring often so it won't burn.

4. Meanwhile, wash and slice mushrooms and add to the pot.

5. Add garlic, barley, red wine, and water and bring to a boil.

6. Cover and let cook for 45 minutes until beef is tender.

7. Optional: Garnish with parsley and Maldon Salt.