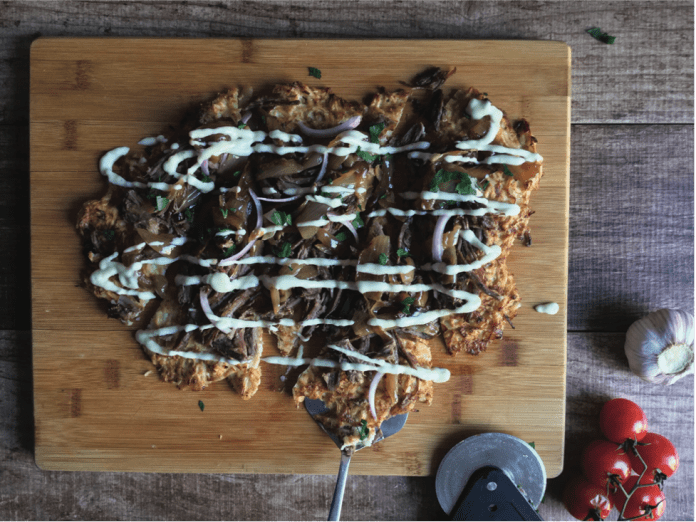 By Adina Yaakov
Potatoes are one of the most versatile vegetables. Making one large latke as a pizza crust and baking instead of frying saves time and makes a great dish for Hanukah. I've added my homemade barbeque sauce recipe, but you can swap with your favorite store-bought barbeque sauce for similar results.
Latke Pizza Base
5 potatoes peeled, grated, liquids squeezed out
1 onion peeled, grated, liquids squeezed out
2 eggs
1 tsp salt
¼ tsp black pepper
1⁄4 cup flour
Nonstick cooking spray
Preheat oven to 400 degrees Fahrenheit.
In a medium bowl, combine eggs and spices. Add the remaining ingredients and mix.
Generously spray a baking tray with cooking spray.
Carefully pour the entire batter onto the tray. Lightly press down to evenly flatten.
Spray the top with more cooking spray and bake for 20 minutes.
Pulled Beef
3 onions
1 tsp salt
1 tsp black pepper
2 lb brisket
2 tbsp oil
3 cloves minced garlic
In a large stock pot, sauté onions in oil until golden, about 10 minutes. Reserve half of the sauteed onions on the side, leaving the other half inside the pot.
Sprinkle Salt and pepper on both sides of the brisket and add to the pot. Cook each side for 3-4 minutes.
Add garlic and 6 cups of water to the pot and bring to a boil. Cover and lower to a simmer for 1.5 – 2 hours until tender.
Homemade BBQ Sauce
1 onion
5 cloves garlic
2 tbsp oil
1 ½ cup molasses
½ cup ketchup
1 tsp salt
¼ tsp black pepper
½ cup vinegar
½ cup brown sugar
In a processor, pulse onion and garlic until smooth.
In a pan, heat oil and sauté onion and garlic.
Add remaining ingredients and simmer on low for 15 minutes, stirring often so it doesn't burn.
Transfer to a container when cool. Keep refrigerated for up to 2-4 weeks.
Assembly:
Pull brisket into shreds with two forks and then mix in 1 cup BBQ sauce.
Place pulled beef on top of the latke pizza.
Slice diagonally to create triangular shaped pizza slices.
Garnish with reserved sautéed onions.
Optional – garnish with garlic mayo, fresh parsley and Maldon salt. Serve warm.