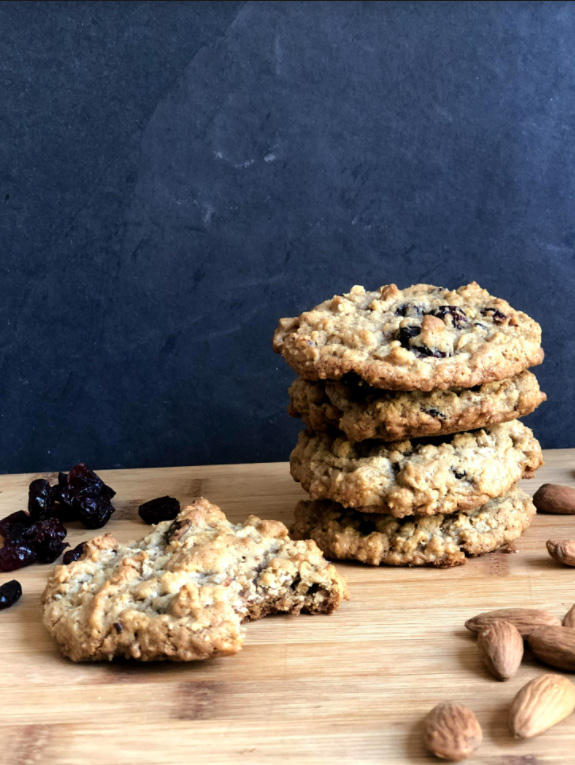 ADINA YAAKOV
These oatmeal cookies are my all-time favorite. The texture is everything and more you could want in a cookie – soft and chewy with just a bit of crisp on the outside. I usually make a double batch and keep some in the freezer. You can freeze both the cookie dough (after it's been rolled into balls) or the baked oatmeal cookies in a sealed container. You can also customize these cookies by adding in raisins, walnuts, white chocolate chips, Rice Krispies, or whatever you love in oatmeal cookies.
2½ cups old fashioned oats
2 cups flour
1 tsp baking powder
1 tsp baking soda
½ tsp salt
1 cup (2 sticks) margarine
1 cup sugar
1 cup brown sugar
2 eggs
1 tsp vanilla extract
12 oz chocolate chips
Optional: 1 cup chopped nuts or raisins
Nonstick cooking spray
1. In a medium bowl, whisk together oats with the flour, baking powder, baking soda, and salt; set aside.
2. In the bowl of an electric mixer, cream together the margarine and both sugars until light and fluffy, 3-4 minutes. Scrape down the sides of the bowl and beat in the eggs one at a time, beating well after each addition.
3. Beat in the vanilla extract. Reduce the mixer speed to low and gradually add the flour mixture, beating just until incorporated. With a rubber spatula, fold in the chocolate chips and any optional add-ons.
4. Roll the dough into balls and place about 2 inches apart on the baking sheets. Bake at 375 degrees Fahrenheit until the edges are set but the center still looks undone, about 10 minutes.
5. Cool the cookies completely on the baking sheets. The cookies can be stored in an airtight container at room temperature for up to 4 days (they can also be frozen for up to 2 months).
Recipe, Photo, and Styling by Adina Yaakov, Dietetic Intern and Recipe Developer. For more recipes follow @OnceUponAThyme__ on Instagram. NEW! Find more recipes on www.OnceUponaThyme.us