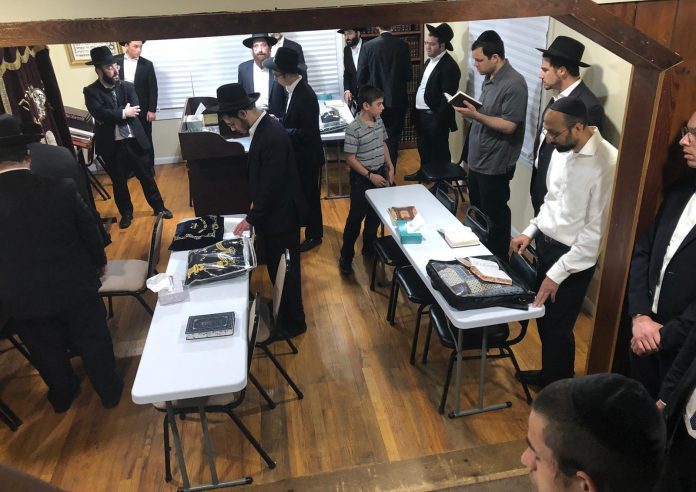 DAVE GORDON
Nearly three years ago Rabbi Aharon Mizrahi called up Joel Berdah and proposed the founding of a new Sephardic minyan in Jackson – to be housed in Berdah's basement on Shabbat.
Thus, was born the Sephardic Congregation of Jackson, located on Metedeconk Trail, adjacent to the Lakewood border.
Humble Beginnings
Berdah, who was born in Paris and moved to Jackson from Lakewood, recalls, "I reluctantly accepted. I was already going with Ashkenazi for a while, and I was very used to it. I said, 'You know what? Maybe it will be good.'" Initially there was a core group of seven interested men from the area, and a few guests were recruited.
With a table and eighteen chairs, and a little playroom for the children, everything came together. Locals were joined by a few men who lived a twenty-minute walk away. Encouraged by the successful start, the group decided to meet monthly. After two months, they began to meet every other week, and within a few months, weekly.
A Place That Feels Like Home
"I went for that first Shabbat and felt at home. I decided this was a good project," Berdah recalled. "It's important for the next generation to feel what it is to be in a Sephardic environment, that is community based, where everybody knows each other and has – more or less – the same background, and the same feelings."
Berdah loves bringing his six children to services. "They love it. They absolutely love it. We're constantly finding new ways to make projects, learning programs, reading along with the Torah, and getting young people involved," he says. "My kids wouldn't go anywhere else. It's a warm, welcoming – yet serious – place." The bulk of members are in their thirties, although both younger and older participants attend the services.
Berdah is passionate about the project. He is one of the key outreach people, and he helps newcomers to move into the area and to join the congregation. Berdah attributes economics as the reason for the rising influx of neighbors from Lakewood. People are looking in Jackson to find less expensive housing options.
"I see a lot of young families interested. I see a lot of involvement with the members. And I see that we are going to be a hub for the Jackson Sephardic community within the next 12 months to two years." Another selling point for newcomers is the large kosher supermarket down the block from the shul, called NPGS Jackson, Berdah added.
Mizrahi, a Jackson resident of three years, proudly noted that twenty families are already affiliated with the synagogue. As of 2022, they have a property to call "home," a fully renovated house-shul, that seats forty. "It was such an unbelievable accomplishment with such a small crowd to put in the money and build this," said Mizrahi.
Events That Bond
Various events have been held in a short time, such as Sunday breakfasts, bar mitzvah learning programs, and Simhat Torah celebrations.
Two of the older members of the shul married their daughters off, and they made Melava Malka/Sheva Brachot for them both. "It was very nice, and some of the weekday people came as well. Even people who don't come often came for that. It was really great. You can do it when it's a small shul. It's a homey feeling," said Mizrahi.
During the winter there is a motzei Shabbat learning program for the boys, "a big hit in the shul." There are ten fathers learning with about 15-20 kids. Another recent development is the "night seder" evening learning sessions where other locals in the community have joined in.
Mizrahi noted that, although there are "at least forty other shuls" in the area, and one other Sephardic shul that follows the Moroccan tradition, the Sephardic Congregation of Jackson is the only Syrian shul in the vicinity.
Chazzan Dabbah Sings the Shul's Praises
Rachamim Dabbah, the shul's chazzan, is also a founding member. He and his family moved from Lakewood to Jackson five years ago. He said he enjoys the neighborhood because it is quiet, and does not cost as much as surrounding areas. In terms of the shul, he especially noted how the youngsters have taken a liking to the atmosphere, and feel at home.
"I think, so far, for us and the kids, it is working out very well. All the kids enjoy coming. And mine, ages twelve, eleven and six, all love it so much. They feel very much a part of it. It's a pleasant place to be."
"They really feel like it is their place. They look forward to coming every week. We have all kinds of programs for them."
Overall, the shul has made a deep impact on him, and others – from humble beginnings to rapid growth in short amount of time, it's a true success story of bringing people together for a common cause, and celebrating our Jewish life.
"It's a very friendly, open, accepting place," Dabbah added.
"Even though we are of different stripes and colors, it's all very tight knit. Everybody who is there is appreciated and welcomed, and they are happy to be there."
The Sephardic Congregation of Jackson
To learn more about the Sephardic Congregation of Jackson, please contact one of the following members:
Rabbi Aharon Mizrachi – 732-779-9041
Joel Berdah – 732-664-2539
Rachamim Dabbah – 732-740-8304 / 732-284-8757