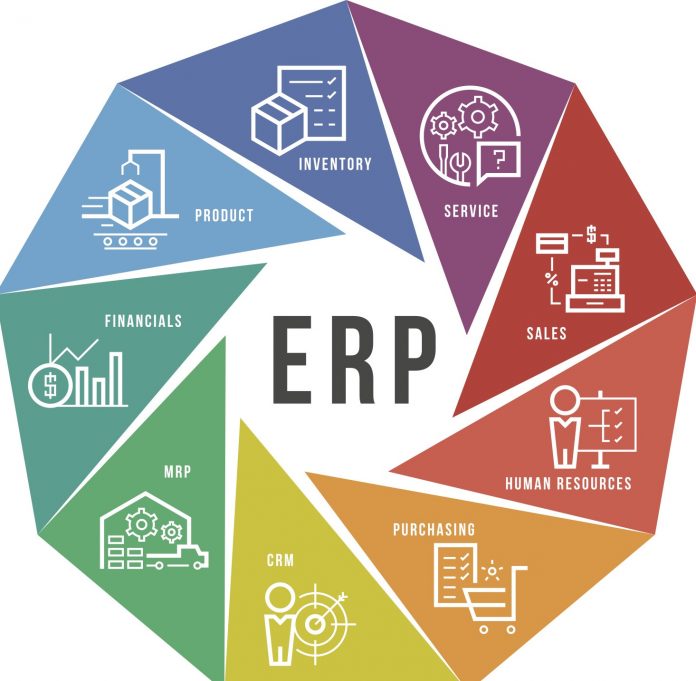 So, your business is set up and ready to go. Now you need to create orders, issue invoices, and track inventory. Handwritten order forms with carbon copies just don't cut it anymore. Today, software programs are essential for running most any business. Enterprise Resource Planning tools, known as ERPs, are software programs that leading companies around the globe use for various facets of their business, including style creation, purchase order entry, stock receiving, inventory upkeep, sales orders, and invoicing. Some ERPs may even include a detailed accounting and financials section.  
One Stop Shopping? Not.  
ERPs are generally marketed as a one-stop solution to all business needs. However, it is not possible for any pre-set ERP to cover the totality of every business's needs. After initial set-up, many owners find that their chosen ERP really only handles a portion of their business obligations, and they are left in the position of finding special consultants and developers to build out custom solutions to fill the gap. 
Unfortunately, some ERPs tend to stretch the truth about all the features that they offer. It is very difficult to weed out issues with ERPs before going through the process of working with them. Many important details may not be apparent until after you have been all set up and are dealing with them yourself. You are led to assume that they have certain capabilities, when indeed all of the features are not yet built out. The reason for this is an ERP is ever evolving, and their general mode of operation is that a feature will eventually be available to you. Technically speaking, all ERPs can offer every feature imaginable, but it is financially in their best interest not to build everything out ahead of time, but rather, provide the basics and wait for your detailed, lengthy and ultimately expensive customization, which they can possibly offer their other customers once built out, and funded by you. 
To give an example, a very popular and widely used ERP that will not be named, started in the late 90s and touts itself as being the #1 Cloud ERP. This ERP offers a pre-scribed on-boarding with a seamless set up. They give a general three-month implementation timeframe, but in actuality the go-live takes much longer and requires much more hands-on work. Their team is trained on the canned set ups, and customer service conversations seem to be read from out of a binder. They are largely built to have only about 30-40 percent pre-set capability for any particular business model. During go-live implementation you will see quickly that most of your needs are not provided for,  and they will require customization as you go. Even basic reporting, such as a Profit and Loss report, is not readily available in the first implementation. 
ERPs Struggle to Keep Up with the Times 
Another main drawback of some of the more commonly used ERPs out there is that they are not very modern in themselves, where their user interface is more aligned with the era of Windows 95, and there are only a small handful of ERPs that are aimed at being more user friendly.  
Decades ago, much of the apparel manufacturing was done domestically in the United States. There are few facilities that remain in the U.S. today. You can see still find them in places like California, Miami, and New York. But with time, the larger portion of apparel manufacturing moved overseas, and now businesses that were once considered manufacturers are now considered to be importers. So, the ERPs that were built around the 1990s era were originally aimed at manufacturers, and now, in order to not go bankrupt, they had to start adding special features to accommodate the needs of importers. 
The quick rise of E-Commerce and Drop Shipping has also put pressure on the long-held ERPs that are trying to catch up. Almost all ERPs claim that they can handle the software burdens that come with drop shipping, but very few actually do, and the few that do only handle a small percent of the market. 
What To Look For 
When looking for the right software or ERP to help run your business, your focus should be on ERPs that have a long standing in the industry. They have the experience and the infrastructure to work with businesses such as yours and are willing to grow with you. Going for the flashy new ERP does not always work out best, as they may lack the intricacies and understanding of what your business truly needs.