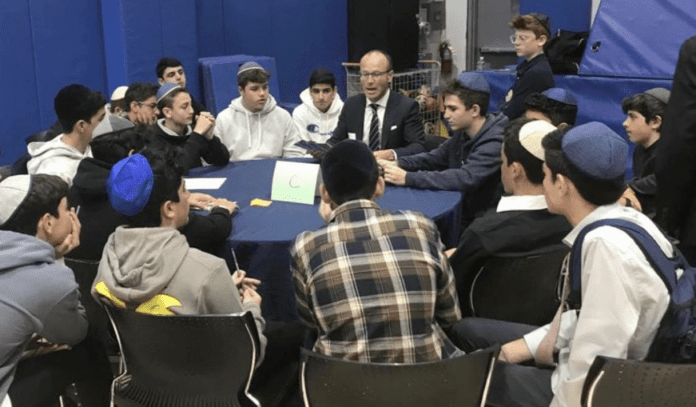 Visitors to Magen David Yeshivah High School's gym last February were treated to the sight of some 385 students huddled in groups engaged in animated discussions about a topic that one might think only involves Jews halfway around the world. They learned that, in fact, the mitzvot involved in shemittah, the Sabbatical year, (which is happening now) are important for all of us.
Magen David Yeshivah was proud to host NCSY educators for a spiritually uplifting and meaningful Yom Iyun, a communal day of learning, centered around these beautiful and complex mitzvot.
Shemittah refers to the sabbatical year, which is observed in the Land of Israel. Farmers are dictated by the Torah to leave their land unfarmed and unharvested during this year. It may seem like an archaic concept to contemporary U.S. teens, but Jews in Israel from North to South have learned about the laws of shemittah in order to observe them. This includes both professional farmers as well as city dwellers who happen to have a fruit tree in their yard or herbs growing in their herb garden.
Day of Learning Planned as Team Effort
MDY is dedicated to bringing Torah to life for its students. Since they were aware of NCSY's excellent educational programming, the MDY staff recruited NCSY to lead an informative and dynamic day of learning for their students.
"NCSY provided our students with a meaningful, interactive, thoughtful program that spoke to the core values of the laws of shemittah, connected our students to the larger Jewish world, and gave our students an opportunity to reflect on their own values," said Esther Tokayer, MDY's Assistant Principal.
The Yom Iyun was led by Rabbi Josh Grajower, NCSY's Director of Day School Engagement, and a team of NCSY educators.
After a video presentation featuring farmers in Israel discussing the challenges of observing the mitzvot related to shemittah, students split into six groups led by NCSY staff. The groups rotated, and with each rotation they focused on different ways to connect to the mitzvah of shemittah. In one group they wrote letters to show their gratitude and give support to these selfless farmers. In another group the students did an activity in which they discussed their personal priorities and life values. In a third group the students discussed the emunah shown by the farmers and how they can inculcate that level of emunah into their own lives.
"It was such a privilege and pleasure to be able to run our Shemittah Yom Iyun at Magen David Yeshiva where students were extremely engaged in the activities with our staff. The interactions were genuine and meaningful," said Rabbi Grajower. "The gym had an incredible energy as we had six groups of NCSY staff educational activities with the students. It was clear that this was a unique experience for the students and one which definitely brought the meaning and purpose of shemittah to life for them."
The Take Home Message
Rabbi Gideon Black, CEO of New York NCSY, closed the program. He told the students that farmers know their avoda (mission) this year is to leave their fields empty. They can be proud of their tremendous mesirat nefesh (self-sacrifice). Rabbi Black then challenged the students attending to discover their own personal "empty fields." What for them would be a mitzvah equivalent to shemittah in their own lives that they will take ownership of and prioritize this year?
"I was deeply impressed by the caliber of the students' and the questions they shared with NCSY's team of educators," said Rabbi Black. "Learning is more dynamic when it's interactive, and Magen David should be very proud of its students for fully engaging with the material presented as they strived to relate it to their own lives."
Rabbi Mikey Albala, NCSY's new Chief Development Officer, commented, "NCSY has so much to offer Jewish teens of any community, and we are thankfully able to reach and inspire a diverse swath of young adults who thirst for spiritual inspiration and a way to relate their religion and heritage to their everyday lives. I very much look forward to continuing to build on this incredible partnership between NCSY and Brooklyn's Sephardic community."