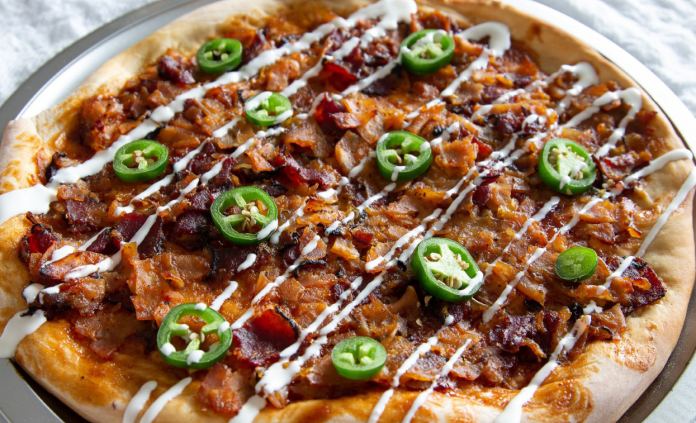 We're now on to our next segment of HungryMom's Food diary which is Pizza. That definitely doesn't mean plain old sauce and cheese. I love serving different types of pizzas for appetizers in both dairy and meat dinners (obviously keeping that non-dairy.) This week I'm starting off with one of our favorites. I like to serve this when during dinner parties or even for Shabbat lunch. 
I always buy store bought frozen pizza balls. The way I defrost and proof the dough is as follows. I put a nice amount of olive oil on a plastic plate. I put the frozen dough on the plate with the oil, flip it so both sides get covered in oil, and put a piece of saran wrap lightly on top. I leave it out on my counter for a few hours until I'm ready to use it. I then roll it out lightly and put it on a greased pizza tray. It's hard to get the exact shape so I gently push the pizza dough all around with my hands to cover the pizza tray. 
Now for our pastrami topping. 
Ingredients 
Half an onion 
Olive oil 
¼ lb pastrami 
¼ lb Mexican turkey 
2 tbsp duck sauce 
3 tbsp spicy brown mustard 
BBQ sauce 
Jalapeno 
Garlic mayo 
Sauté half an onion in 1-2 tbsp of oil until translucent. Add in ¼ lb of sliced deli pastrami, and ¼ lb of sliced deli turkey, my favorite is Mexican turkey, and sauté for around 3 minutes.

 

Add in 3 tbsp spicy brown mustard and 2 tbsp duck sauce. Lower the flame to a lower heat and cook for around 5 minutes, mixing every few minutes to make sure it doesn't burn.

 

Meanwhile brush BBQ sauce on the pizza dough, and spread the deli mixture on top.

Bake on 350 degrees Fahrenheit for 20 minutes, until the pizza dough cooks.

 

Before serving – slice jalapenos and arrange on pizza, and drizzle spicy mayo.