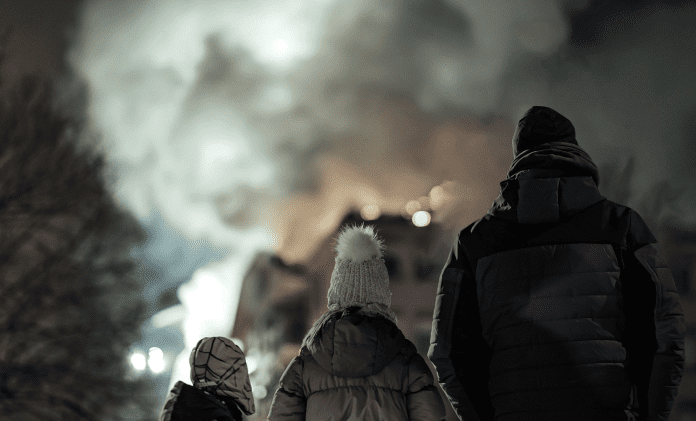 Avi Kumar 
The Ukraine Rescue Mission, recently organized by the Sephardic Heritage Museum, was nothing short of miraculous. The Russia-Ukraine War has been raging since February of this year, and with no end in sight, fleeing Ukraine is the only option for the Ukrainian Jews. The Sephardic Heritage Museum went to heroic lengths to coordinate internationally and aid the Ukrainian refugees in their hour of need from across the Atlantic. We remember that over 70 years ago Ukrainian Jews faced annihilation during the Holocaust. Again today, survivors of the Shoah and their descendants face dire uncertainty if not evacuated from Ukraine. 
The U.S.-based Sephardic Heritage Museum teamed up with the Sephardic Diaspora in Latin America to help over 13,000 Ukrainians (six percent of Ukraine's Jewish population) to escape from the line of the fire and to move to relative safety in the first three weeks of the war. And the efforts are ongoing.  
Acting in Complicated Dire Circumstances 
Extracting the refugees was complicated on many levels. There was constant Russian bombardments and fighting. There was a lack of electricity, which made it extremely difficult to communicate via phones. And, of course, without electricity phones could not be readily charged. The lack of basics such as food, water, clothing, and medicine compounded the challenge of providing an escape through perilous pathways.  
Ukraine is a large country, about the size of Texas, and the Jews are dispersed throughout the country. It is estimated that  Ukraine's Jewish community is probably the fifth largest Jewish community in the world at 200,000 to 250,000 strong, with some estimating even 400,000 (this larger number probably reflects the inclusion of those with at least one Jewish grandparent). Thirteen yeshivot across North America and a dedicated team joined together to accomplish phenomenal work, by gathering funds and focusing on meticulous planning.  
Saving Jewish Lives – the Sephardic Community Steps Up  
Rabbi Elie Abadie, Senior Rabbi of the UAE, in an exclusive interview with Community Magazine said, "The Sephardic Heritage Committee have always been attentive to the needs of Jews all over the world. The organization and I were involved in the rescue of Yemeni Jews most recently last year. This was with the help of UAE authorities. If we can rescue someone in need, we will. I cannot reveal exact details of what we did and are doing in Ukraine, but our end goal here is to transfer the refugees to a third country. Again, I cannot say too much, but I will tell you that we are raising funds to help those in need. We also must sort out logistics, which is very important: We need to provide the refugees with food and places to house them. This requires dedication, time, and money. Unlike Yemen, the Ukrainian Jewish community is bigger. It numbers an estimated 250,000 people."  
Mr. Harry Adjmi said in a community-live broadcast, three weeks after the initial plan was conceived, "I cannot believe how much has gone on in Ukraine over the last three weeks. I cannot believe much death and injury is happening to the civilians, to children, to the people in Ukraine, city by city, town by town. But we are blessed to be able to have our hand in the rescue mission where saving lives – thousands and thousands of lives – you can hear tonight. The things that we have been able to do since that first Sunday when we came on the scene are phenomenal. And we are very proud of that.  
"And when a crisis happens you must come immediately to the rescue of whoever or whatever it is! And in this case, it is the 200,000 Jews who are in Ukraine who are struggling and suffering. And we made a difference! As you know, every single life that you can save matters, and we have saved thousands and thousands today. We will not stop. We are committed to continue to help these people in this country, Ukraine. We are committed to provide them with safe passage. They are being moved out by buses and vans, town by town, city by city."  
Adjmi highlighted the active effort by the youth. "You are never too young to be involved in acts of tzedakah," Adjmi said. He proudly noted that the effort to raise money and work on the ground was carried out by people of all ages. The thirteen yeshivas involved in mobilizing youth were Magen David Yeshiva, Yeshiva of Flatbush, Hillel Yeshiva, YDE Yeshiva, Barkai Yeshiva, Ramaz Yeshiva, Shaare Torah, Beit Yaakov of Brazil, Ilan High School, Magen David Academy of Panama, the SAM School, Hebrew Academy of Panama, and Magen David Congregation of Mexico.  
The long-established presence of Sephardim in Latin America traces its roots from waves of migration, beginning since the arrival of Spanish Jews in the 1500s (some crypto-Jews). Other waves included Moroccan Jewish migration in the 1800s and Syrian Jewish migration in the early 20th century. Today, the Diaspora in Brazil, Panama, Mexico, and the U.S. were all mobilized and ready to help the Ukrainian Jews in dire straits.  
Inspiration from Ike Sutton
Ike Sutton, describing the turn of events that unfolded and inspired them to help, said, "What if I told you and you imagined for a moment (with real thought and understanding) that your brother was stuck in Ukraine? Not your cousin, not a relative, not just another Jewish person, but your real blood brother. Imagine your brother stuck in Ukraine, with no electricity, no food for a week, bombs exploding, guns shooting, and people dying all around. He calls you up and says, 'I need help, I got to get out of here!'"  Sutton went on, "You know what, you make a phone call or two and find out that there is an Israeli special-ops unit that you can send in to save your brother's life. It costs $50,000 to hire that group and get them in to Ukraine under those conditions and get them out. Would you spend the money? Would you spend $50,000 to save your brother?"  Sutton added, "I know every one of you would beg, borrow, and steal to try to get that money to save your brother's life."  Sutton paused. "We did that over 12,000 times."  
Teamwork and Experience  
Sutton described the methodology employed. The groups on the ground dealt with all of the issues happening on a daily basis. They had to get the buses and ensure the escape route was clear. He also cited that funding was the most essential item to keep the effort and extraction ongoing "everything costs money."  
The Sephardic community had been generous in that regard, having raised over 4 million dollars. Within the first three weeks, it cost them over 2.5 million dollars and they still had 1 million left in the bank account. The teams traverse back and forth via busses between Odessa, a town in western Ukraine, into the neighboring nation of Moldova. The teams go across the borders regularly. With time and experience they now are better equipped and have a better understanding of what to do, and how to traverse the journey that could take hours, depending on where they are geographically. A woman described how the team rescued her 80-year-old grandparents within 48 hours of notice. "Now that we really understand what we are doing and how to navigate and move about and bob and weave, we are ready to do more," Sutton said, giving the firm indication that the experience garnered will only help them continue the ongoing effort to bring out more souls that need saving.   
Divine Intervention 
Mark Adjmi, one of the organizers described a story that was clearly hashgaha pratit. Adjmi had recently undergone surgery on a finger, and subsequently had and appointment to see a physician's assistant (PA) to help with his bandage. The procedure went longer than expected. He was still with the PA when he received an urgent conference call with the team. Of course, the PA overheard the call. He said, "And I saw in her eyes something, and I asked her, 'Where are you from?' and she said, 'Ukraine'." Her parents were still there and needed help. The team had no idea where the parents were in Ukraine at the time, but they were able to get them out.   
"Again," Adjmi said, "people are people. We help whoever we are able to help."  He later found out afterwards that the PA's parents had delayed leaving because they were helping an elderly Jewish couple and so they did not flee when they had a chance earlier. "To me it's amazing," Adjmi said. "There is no coincidence. So my story is that I was in the right place at the right time to have the zechut to help someone."
Adjmi went on to note the critical contribution of a woman who also is blessed with the zechut to help others in Ukraine. "The star of our Ukrainian emergency effort is Magalit," Adjmi said. "This woman has taken on the challenge to put together a team in an undisclosed location to work day and night, because there is a six to seven hour time difference, depending on time of year, from here to Ukraine."  Magalit had lived in Ukraine and therefore was able to help provide useful information that enabled the team to figure out the data needed to carry out the mission in the field.  
Zaparizhzhia and Mariupol  
Rabbi Raymond Sultan, Executive Director of the Sephardic Heritage Museum described how he worked with many rabbis and Jewish leaders across the vast span of the former Soviet nation. He said they were able to mobilize "buses and buses" of Jewish refugees out of Zaparizhzhia, a city that had a vibrant Jewish presence only months ago. Rabbi Nachum Ehrentreu described the ordeal, constantly facing shelling. They "did not know what to do" until they got a miraculous phone call from the Sephardic Heritage Museum offering help! Describing the town of Mariupol near the Russian border, Rabbi Sultan adopted a grimmer tone, "If you are listening to the news, you may have heard of the city called Mariupol. It is a very, very sad story. It is not like Zaporizhzhia that still has a chance, maybe. Mariupol is surrounded. It is besieged for a long time. There is no electricity, no water, no telephones, and no internet. Hunger is rampant, and people are dying of starvation."  
Rabbi Mendy Cohen had served as a Chabad emissary for 17 years here. He initially thought that "there was no hope" until he got a lifeline via a phone call from Rabbi Sultan, Rabbi David Haber, and Magalit. In what seemed like the blink of an eye, everything was wiped out, the kindergarten, homes, the school, and the synagogues (including a new one). Every building was damaged in the shelling. It was also almost impossible to evacuate Mariupol because the city was closed off. Right at the onset of the war with Russia at least one hundred families managed to drive away with cars when they still had fuel, although it was risky. Those who remained, however, were less fortunate. Many are still in shelters with no food or electricity. They cannot shower, and they can only long to see the news. Their only goal is to survive for the next few hours or days while they wait. Rabbi Mendy says that 80 percent of the city has already been destroyed. He described how many fled with just their passports (maybe) and the clothes on their backs, many passing  scores of dead bodies as they fled. "The Jews from Mariupol have to start their lives from scratch," he said. Rabbi Cohen then smiled. "I know that your community has a lot of Cohanim" but he and Rabbi Ehrentraub (also a Cohen) insisted on giving a beracha out of gratitude for them helping Jews "from another community."  
Let Us All Join Together to Help 
The president of the Panama Magen David community spoke about how only six months ago, a number of Sephardic groups across the Americas gathered to form an initiative to get leaders to share ideas together. The groups hailed from Brazil, Panama, Argentina, and the United States. He highlighted how such groups are more important than now in crises such as this.  
"We have put our money together for something good" Adjmi said. Long after the Holocaust where many Ukrainian Jews died, unable to flee, they made a difference. This time in a crisis, the Jews were able to escape because the Sephardic Heritage Museum was able to raise money, coordinate the logistics efficiently and save them. For the mission to continue, it requires money to help the thousands more who are stuck in Ukraine. Given the efficiency of the group that formed on such short notice, they will continue to save more Jewish lives in need.