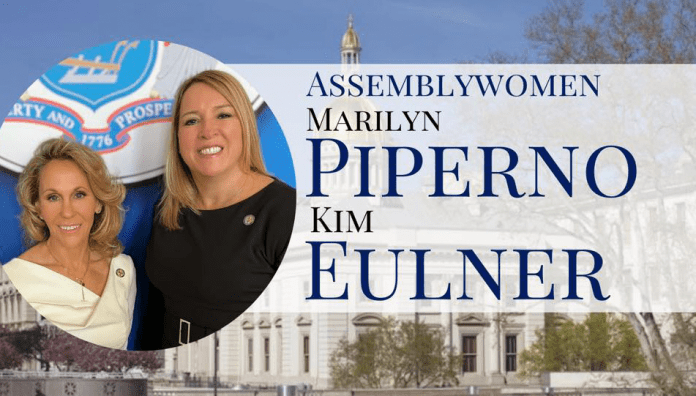 As your newly elected members of the New Jersey General Assembly, we are proud to represent a large and growing Jewish community in the 11th Legislative District and we welcome back our summer residents to the Jersey Shore. We are focused on collaborating with community members and local leaders to tackle antisemitism and to keep our neighborhoods safe and secure amid the rising level of car thefts and home invasions.  
To that end, we encourage all our residents to lock their car doors, remove their keys, and never leave their vehicles running, to prevent these egregious thefts. While these preventative measures will go a long way to deterring criminals, we understand that this is not enough to attack the problem afflicting our communities.  In 2022 alone, 14,320 vehicles have already been stolen, a 53 percent increase since 2020. So far, the Legislative Majority has done nothing to confront this issue. We believe this must be addressed legislatively, and in the coming weeks we will be introducing legislation that will demand increased penalties for criminals charged with these crimes. Our proposed legislation is dedicated to keeping these lawbreakers behind bars and off our streets. It  includes lowering the monetary threshold for stolen vehicles, not just luxury cars, to constitute a second-degree offense, making joyriding a third-degree crime, and removing pretrial release for suspected offenders. 
We look forward to supporting the passage of these bills in the legislature. However, this is just a glimpse into our actions during our first three months in the General Assembly. We are aggressively fighting to get New Jersey back on track and to make our state more affordable as a place to live, work, and raise a family. We have introduced, sponsored, and voted on legislation to support our small businesses, to protect our first responders and front-line workers, to advocate for mental health and suicide prevention, to preserve our beaches, to lower our taxes, and to honor our veterans. We are equally dedicated to providing equitable access to high-quality education and achieving academic excellence, while combatting the loss of state aid, which results in staff and program cuts, increased class sizes, and local tax hikes.  
District 11 public schools have collectively lost $28 million since the implementation of S2, the law that dictates the school funding formula, in 2020. This year, these public schools are losing another $11 million in state school aid. Five of the schools are considered high poverty/high need districts and are entitled to receive $18 million in funding increases under the federal American Rescue Plan. Instead, they face $15 million in cuts. This is completely unacceptable, and these cuts are truly a  disservice to teachers, administrators, parents, and children. We call on the Murphy administration to reevaluate the unfair school funding formula and to put an end to this failed policy disaster. Additionally, a top priority is protecting all our students through improved security measures. That is why we are working to secure additional security and technology funding for our local private schools, such as Hillel Yeshiva.  
We also stand in opposition to the learning standards for grades K-12, as we are actively engaged in ensuring parental involvement in what their children are learning in school.   After two years of learning loss, this shift away from hard academics in favor of social justice subjects is shortsighted. Thankfully, after a considerable amount of pushback from lawmakers and parents across the state, we are glad to see the state is reevaluating its curriculum standards. Our fundamental belief is that these sensitive conversations are best held at home, and parents should remain involved in their children's education moving forward.  
We are proud of our work so far in Trenton, and this is just the beginning. We hope to hear from you and learn more about the issues affecting you and your families. In the meantime, if you require assistance, or if you have any suggestions or ideas to help our district, please call the 11th Legislative District Assembly office at (732) 268-8968 or send an email to District11Help@njleg.org. 
Yours in service,
Kim and Marilyn 
Assemblywomen Kim Eulner and Marilyn Piperno represent the 11th Legislative District in New Jersey's General Assembly, comprised of the following towns in Monmouth County: Allenhurst, Asbury Park, Colts Neck, Deal, Eatontown, Freehold Borough, Freehold Township, Interlaken, Loch Arbour, Long Branch, Neptune City, Neptune Township, Ocean Township, Red Bank, Shrewsbury Borough, Shrewsbury Township, Tinton Falls, and West Long Branch