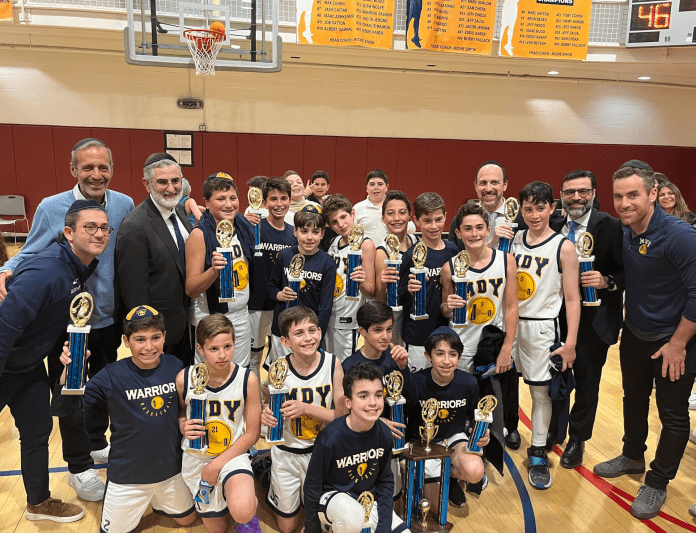 Ezra Sultan
The highly anticipated basketball championship game between the sixth grade undefeated MDY Warriors and the Flatbush Falcons was battled out in front of a standing-room-only crowd.
Fans had anxiously been waiting to witness the fateful championship game. The crowd, understandably, had trouble staying in their seats as the screamed and cheered on their teams with a gusto like that seen at face-offs at Madison Square Garden
Exciting Start!
The game got off to a great start, with both teams playing at the top of their game, with some striking defense interspersed with the sinking of gorgeous baskets. The quick-paced back and forth would excite any crowd, and the fans were on their feet! At the end of the first half the Flatbush Falcons took a slim 21-17 lead.
The second half began with more of the same tight play. Team members from both sides were vigilant, and neither team could pull away far enough for a comfortable lead or even a breath. Flatbush, riding on the inertia of their momentum, took a 34-31 lead into the fourth and final quarter.
MDY was not used to being in a tight position all season. But with three minutes remaining, the Flacons held on to a one-point lead, with the score at 34-33.
Fans in the know had the feeling that this game would be decided by a just a few points. As the end of the game grew closer there was a palpable tension in the air.
High-Tension Finish 
MDY, of course, would not go down without a fight in front of this sold-out crowd. They were undefeated the entire season, and were not about to let that go. They had on their side spectacular coaching, amazing point guard skills, and timely sharp shooting from their guards. The Warriors hustled to grab a 38-35 lead with 1:38 remaining.
As they took the lead, the Warriors understood the history that was about to be made, as they felt victory within their grasp for an unbelievable perfect season. Teammates' adrenalin ran high, as they committed to not letting this opportunity slip away. With a huge jumper and a gorgeous steal and finish, the mighty Warriors mounted a 42-35 lead as the clock wound down on a spectacular season. The Warriors managed to stave off the Falcons charge and take it home with a score of 46-39. They truly earned the title of champions and they will be enshrined on the MDY Warriors Wall of Honor with a championship banner to last a lifetime.
This will not be the last time we see these two hometown rivals face off against each other. 
Congratulations to the Flatbush Flacons on an excellent season and to the 6th Grade MDY Warriors on completing a perfect undefeated championship season, going 12-0.