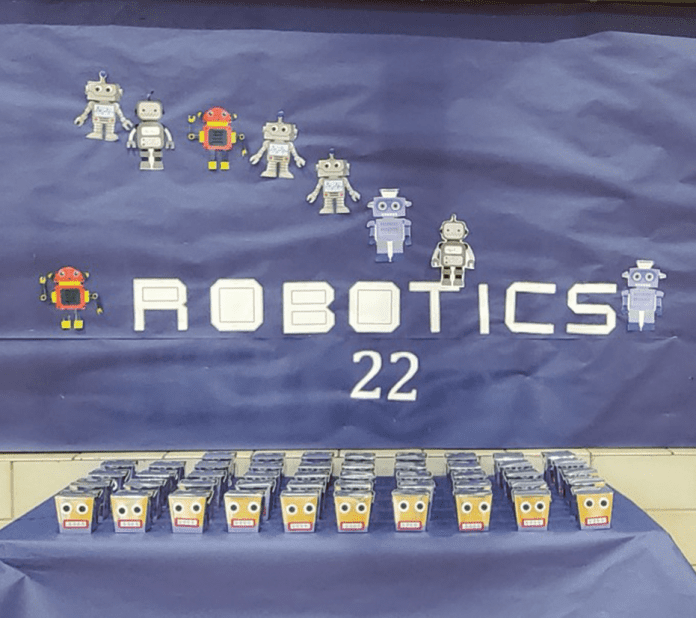 Two years ago, Bet Yaakov of the Jersey Shore partnered with CIJE to enhance their STEM curriculum in the elementary school. With each year the school continues to improve the curriculum. This year the enhancement was in robotics. Although the school has dabbled in robotics previously, this year robotics was taken to a whole new level.
Throughout the school year, under the tutelage of Mrs. Betti Missry, the girls have been learning coding, physics, mathematics, engineering, design, and much more to build their robots. With a great deal of learning and diligence in their work, the girls created impressive robots that they could use to accomplish tasks.
With the robots built, Bet Yaakov then decided that they would like the robots to compete! So BYJS created, for the first time ever, an all-girls interschool Robotics Tournament. Bet Yaakov seventh graders hosted YBH from Passaic and Bais Yaakov of Baltimore to compete in this great event!
The event was very exciting for all the students involved and for the students who got to see what robotics is all about. The learning experience throughout the year was tremendous, as the girls tapped into new skills and experiences while at the same time practicing good teamwork and using leadership skills.
Bet Yaakov of the Jersey Shore hopes that this will be the first of many such tournaments with an ever-expanding list of participating schools.
NYPD Inspector Richie Taylor Honored at the Jewish Heritage Celebration
(L-R) David Heskiel, Mr. Albert Allaham, and NYPD Inspector Richie Taylor at the Jewish Heritage Celebration
During Mayor Eric Adams' first Jewish Heritage Celebration as mayor, he spoke about the strong relationship between the mayor's office and the Jewish community, and the need for everyone to publicly show support for police officers.
During his remarks, Mayor Adams bestowed a prestigious and unique honor upon NYPD Inspector Richie Taylor, who serves as the Commanding Officer of Community Affairs Outreach throughout NYC. Mayor Adams publicly read Inspector Taylor's bio, which includes the commands he has previously served in and stated, "Before becoming a police officer, Inspector Taylor was a New York State EMT and a member of Hatzalah, one of my favorite organizations." The crowd of over 700 people cheered and rose to their feet for a standing ovation. The mayor presented Inspector Taylor with a distinguished Proclamation, declaring June 24th, as "Inspector Richie Taylor Day" in New York City
Monthly Update from Assemblywomen Kim Eulner and Marilyn Piperno
After the horrific mass shootings afflicting our country, now more than ever, we need to have an honest conversation about the state of mental health. We must ensure school districts and counselors have the resources and funding to screen their students for warning signs, help identify disorders early, and decrease suicide attempts and substance abuse rates amongst children and teenagers
We have sponsored legislation dedicated to improving mental health and to increasing access to mental health resources, such as the Improved Suicide Prevention, Response, and Treatment Act. Others would require annual suicide prevention training for mental health practitioners and would require higher education institutions to implement suicide prevention programs and to raise awareness of mental health services
But we must also enact laws that protect our schools and keep our children safe. Two bills we are proud to have introduced addressing student safety are A-299, which requires State Police to maintain a 24-hour hotline for receiving anonymous tips regarding potential threats to school safety and security, and A-303, which would standardize school emergency response training for police officers and would require in-service training regarding school emergencies
Unfortunately, the latter was blocked at our last voting session, only two days after a gunman murdered 19 innocent schoolchildren and two teachers in Uvalde, Texas. We proudly support common-sense gun safety legislation, and it is frustrating the Assembly majority has chosen to play politics instead of securing our schools. But we will continue to fight for its passage and to protect our children