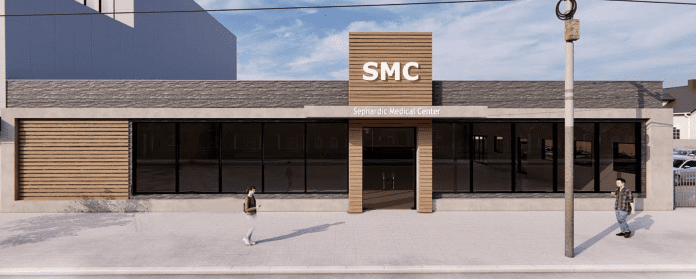 – Avi Kumar
"We will open in the fall of this year," Dr. David Orfali proudly announced in an exclusive interview with Community Magazine. He was referring to the grand opening of the Sephardic Medical Center, a groundbreaking medical facility built specifically to cater to the New York Sephardic Jewish community and provide them with the highest quality healthcare, starting in September of this year.
The innovative facility will offer primary healthcare and preventative services for both adults and children. They intend to bring six doctors on board within the first year after its inception. The facility includes capabilities to do on-site blood work and testing, as well as x-ray services.
"Something Wonderful to Contribute"
A Brooklyn native from the Syrian Jewish Community, Dr. Orfali studiedmedicine at TouroUniversity School of Medicine,then went on to complete his residency training at Garnet Health Medical Centerin Upstate New York. He is currently Board Certified in family medicine, treating all age groups, and a member of the faculty at the esteemed NYU Langone Health. And he is now enthusiastically looking forward to sharing his expertise and acumen with our community in the best way possible.
For a very long time, I have personally feltthat we as a community needed a central location where we could turn to," Dr. Orfali says. "I also realized how much our community would benefit from such a move. So, I decided to take this initiative myself. Our team built this facility from the very ground up, from an idea that came to me around two years ago. And finally, today, we have something wonderful to contribute to our community."
"The process was long and complex," he reflects. "It took a lot of planning. We first started with our hunt for a building, which proved very tedious. Once that task was completed, we brought on a specialized medical facility architectural firm and a very dedicated design team to plan our building layout. We put in countless hours in the planning stages, meticulously glancing over every detail to ensure the most up-to-date features. In the end, it was all worth it!"
Dr. Orfali explains that the new facility – to be called the Sephardic Medical Center – where he will act as Medical Director, will strive for excellence in healthcare.
He goes on to explain, "We are very fortunate to have NYU Langone as our main hospital system, well known to be synonymous with excellence, who will be providing medical care to our community," he enthuses. "We have built a strong relationship with their leadership, and the support they have given our team has been incredible, to say the least. Our Electronic Medical Record system will be directly linked with NYU providers across New York. So, if a patient of ours is seen by an NYU provider outside our facility, we will have immediate access to records and can communicate more effectively with those specialists."
"We Truly Care"
Addressing specific health issues faced by our community, Dr. Orfali says, "We need to provide more thorough preventative care. I cannot stress enough that screenings are crucial for preventative care, because they help us identify issues at the earliest stages, which gives us the best odds of getting better outcomes. For example, all adults should undergo a colon cancer screening beginning at age forty-five. Likewise, women should undergo a breast cancer screening beginning at age forty. The list goes on. I myself put a lot of emphasis on 'educating' my patients about these very important screenings and making sure that they are well informed about the benefits. Asthe old saying goes, 'An ounce of prevention is worth a pound of cure'!"