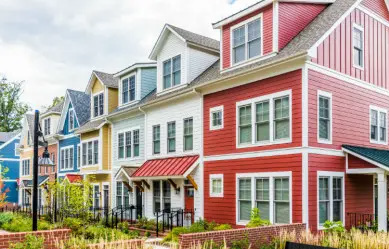 Ever browse homes and pause at a home that has a stand-out front door? Perhaps it's a fresh red or canary yellow. There's a reason you paused – and it's likely the seller hoped to catch your attention.
Choosing a color to paint the front door may sound unimportant, but it can potentially boost – or reduce – the price of the offer you receive. (Who knew this could be so important?!)
So which color may be the most likely to catch a buyer's eye or prompt them to put in a higher bid? According to actual and prospective homebuyers, it's slate blue. This color appeals to more buyers, meaning the home could sell for a higher price. I never did my own statistical research, but definitely the care one puts into their home gets noticed.
When I go see a seller's home, I take just 60 seconds to look at the exterior of the home. I look to see how solid the stairs are. I look to see how well the garden in the front is maintained. Is the fence painted? Is the doorknob of the front door half broken, and falling off? Does the furniture on the porch look presentable? I don't mean luxurious. I only mean presentable.
The exterior of the home gives a feeling that the sellers love living there and are interested in keeping it well maintained – or not. If you have broken garbage cans, consider upgrading them just for the sale. I really believe that the outside of someone's house sets the tone. The outside reflects the value of the house, and the amount of care the sellers put into it.
Many times, we sell houses upward of $2,000,000, even though the whole vibe of the house is one that reflects the owners not caring to properly maintain their home. Between me and you, even if the home was gut-renovated 20 years ago, I'm sure those sellers are not the type of people who maintain their home meticulously and fix every little thing that comes up. So, take a few minutes, and ask a friend or a neighbor or try to put your buyer's glasses on. Look at the outside of your home, and make sure it looks presentable, and has a feeling of, "I live here, and maintain it well."
Highest Resale Price: Black
If you're looking for the best color to paint the front door for resale, seriously consider black. Yes, the starkest color also has the potential to nab a higher resale price for a home. If you were to paint your front door black, the right buyer could be willing to pay $6,449 over your home's typical value.
Not bad for such a minor change.
But it's risky. The color also could turn many buyers off. They may think a black front door feels too imposing or doesn't give the overall property a positive feeling.
But the payoff could be worth it if you're willing to take the risk.
Avoid Pale Pink
To each their own with their preferences. But when it comes to selling your home, you may want to avoid certain front-door paint colors, which could possibly turn away prospective buyers.
Yes, that could mean not painting your front door pale pink.
Zillow's study shows pale pink is off-putting to homebuyers, with some claiming this color makes the home appear more "shabby looking."
More specifically, a pale pink front door received the lowest score from study participants and homes with pale pink front doors received offers of $6,516 less – a significant difference compared to prices for homes with slate blue or black doors.
While your front door color may not seem significant, it is important to consider how your front door acts as a visual cue to prospective buyers. After all, you want to maximize your potential selling price.
Of course, just because you chose the best front door color you are not guaranteed a high selling price. Numerous other cosmetic factors, including curb appeal, could skew a buyer's perception of your home