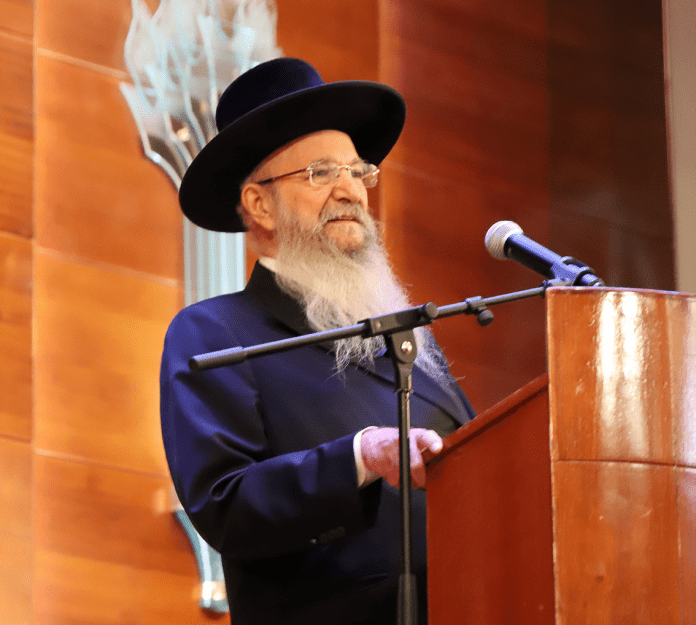 Last month, the students and faculty of Magen David Yeshivah were privileged to receive a visit from the esteemed Hacham, Rabbi Yaakov Hillel, the Rosh Yeshivah of Ahavat Shalom in Israel. The rabbi was welcomed to the yeshivah by MDY's kindergartners and first and second grade students. The third and fourth graders lined the lobby as Rabbi Mustacchi's MDY Boys choir sang a warm and beautiful rendition of Yahid El Dagul.
Rabbi Hillel was then led by a procession of rabbis, faculty members, and Principal Rabbi Ezra Cohen-Saban to the stage in MDY's auditorium to address the fifth to eighth graders. The rabbi's message to the over 400 students and faculty was to remember, honor, and respect our heritage and not to forget where we came from, and to let Torah permeate all aspects of your life.
"The children of the community are the future of the community…knowing where you came from will help lead you to where you are going," were the words at the heart of Rabbi Hillel's message.
The visit was an inspiration to all the students. "The rabbi's visit put everything into perspective for me," commented eighth-grader Nate Ben-Zaken. Aaron Cohen added, "From the moment the rabbi walked into the room, our eyes lit up like diamonds!" The rabbi's visit was truly impactful on our students; they will remember this day for years to come.
At the end of his address to the elementary school students, Rabbi Hillel was joined on stage by the entire rabium of our school to capture this memorable and historic moment. He left the building with a throng of students and teachers surrounding him, eagerly awaiting his greetings and blessings.
This special and memorable morning at MDY came on the heels of the Hacham's visit to Magen David Yeshivah High School the day before. Rabbinical leader Rabbi Eli J. Mansour ushered Rabbi Hillel into the bet midrash where the young men of the yeshivah greeted him with song before hearing his inspirational words. He instructed his listeners to have patience with Torah and to let the Torah affect all aspects of who you are, not just intellectually, but spiritually as well.
Before leaving, Rabbi Hillel spent some time with the young ladies of the yeshivah and gave them a "Blessing for Queens," expressing how important women are for the continuation of our beautiful community and heritage