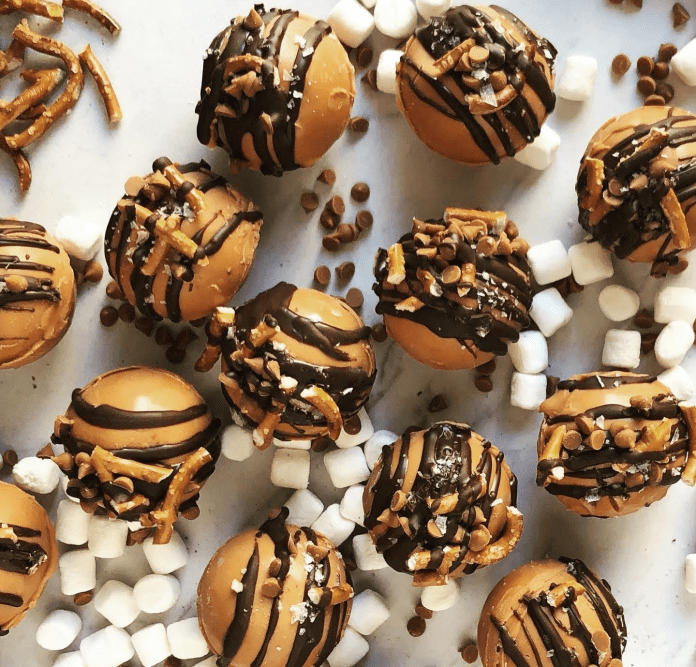 This treat has maintained its popularity for good reason. It breaks open in the most
captivating way – releasing its contents and instantly creating an extraordinary cup of hot cocoa. Cocoa bombs are a great activity for cold winter nights and make great hostess gifts as well. You will need two half-sphere silicone mold trays with six cavities each for this recipe. If you don't want to purchase molds, you can use paper cupcake liners and add enough melted chocolate to cover the hot chocolate and marshmallows completely.
12 ounces high-quality caramel flavored bars or chips
2 ounces high quality chocolate bar or chips
6 tablespoons hot chocolate mix
1 cup mini marshmallows
1 bag pretzels, broken into pieces
Maldon salt
6 cups whole or 2% milk

Melt chocolate double broiler style: Fill 2 small pots halfway with water and set over




medium-high heat. Place a heat-proof glass bowl in each, making sure that it fits




securely on top of each pot without touching the water.




2. Place caramel chocolate in one bowl and regular chocolate in the other.




3. Coat the molds with the melted caramel chocolate. Drop 1 tablespoon into each well of the half-sphere silicone mold trays. Use a brush to spread the chocolate up the sides




and over the edges of the molds by just a bit. Place in the freezer to harden quickly,




about 5 minutes.




4. Fill half the spheres with 1 tbsp hot cocoa mix and marshmallow.




5. Wearing gloves, gently release the remaining 6 unfilled shells from their molds. Use a




pastry brush to coat the sphere rim with melted chocolate to adhere to the filled shell.




6. Let sit at room temperature to harden and set, at least 15 minutes.




7. Drizzle with melted dark chocolate and quickly top with extra caramel chips, pretzel




pieces, and Maldon salt. Using gloves when decorating or moving the cocoa bombs




prevents fingerprints.




8. To serve the chocolate bombs, heat 1 cup milk for each hot chocolate bomb gently on the stovetop or in the microwave for about 2 minutes until very hot. Place the bomb in an empty mug and then pour the hot milk on top. Stir when chocolate bomb breaks open.