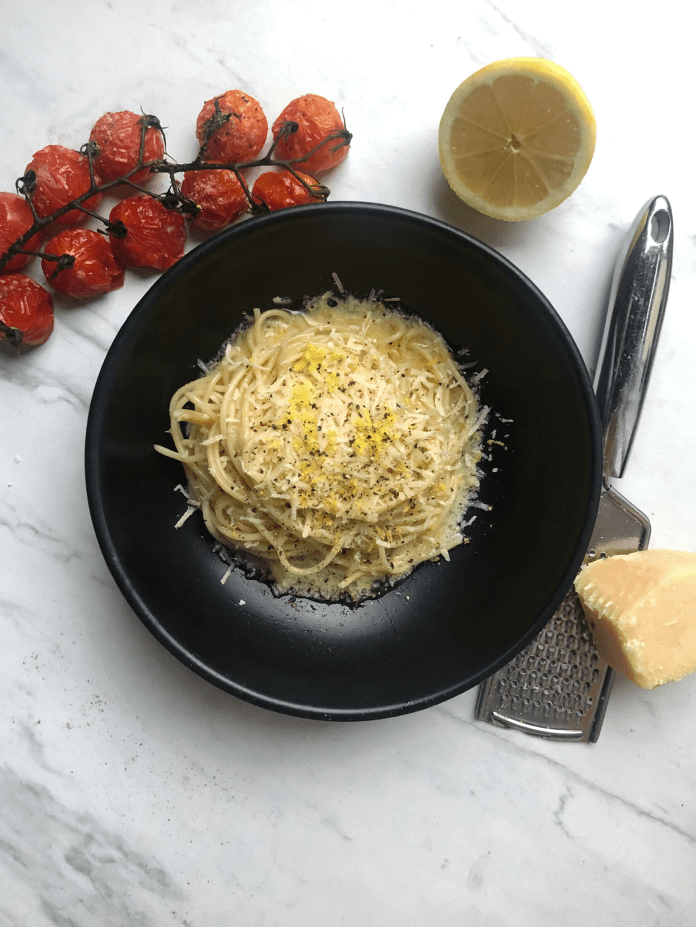 Pasta Limone is especially popular in southern Italy and Sicily which are known for their lemon trees. You may already have most of the ingredients in your pantry and refrigerator. All you need is pasta, lemons, parmesan, heavy cream, butter, salt, and pepper. Using super fresh ingredients like hand-grated parmesan, fresh squeezed lemons, and cracked pepper from a mill grinder is what makes this dish worthy of an Italian restaurant. Buon appetito!
Ingredients:
6 cloves garlic
6 tbs butter
1 cup heavy cream
1 cup grated parmesan
2 tbsp fresh squeezed lemon juice
3 tbsp lemon zest ( about 2
large lemons)
Salt and pepper to taste
One box spaghetti
1 cup reserved pasta water
In a large pot, heat water over high heat. Generously salt the water.

While the pasta is cooking, carefully scoop out 1 cup of pasta water and set it aside to add to the sauce later.

Heat a large skillet over medium heat. Add butter and garlic and sauté for one minute.

Add heavy cream and stir. Add lemon zest, lemon juice, salt, and pepper. Cook for about 5 minutes until the sauce begins to thicken. Add in parmesan cheese and stir well.

Stir in ½ cup of pasta water into the sauce. Let thicken for about 3-4 minutes.

Mix the cooked pasta with the lemon cream sauce. Garnish with any remaining lemon zest, grated parmesan, and black pepper.